A great number of people place bets every day. Some do it just for fun, others make a living out of it. With the advent of technologies and the Internet, sports betting has become more convenient. You do not have to go out in order to place a bet, because you can do it online at any time. Not to mention, web-based bookmakers cover a wide selection of international and domestic sports events, different types of bets and the best, frequently updated odds.
But we live in a busy world and we find ourselves away from computers and laptops very often. The good news is that there is a solution to that problem. Most online bookies are available in a mobile format, which gives you the opportunity to follow events and place bets, regardless of your location. The list of sports events is as long as is that of online bookmakers, so you will not miss anything. Everyone wants to benefit from the latest odds and they do so while using their mobile devices. Plus, you can place different kinds of bets, too. Most popular and reliable websites offer mobile apps or versions that are compatible with Android and iOS based devices.
Find the best bookmakers here
iOS Devices
Nowadays iOS based smartphones, iPads and iPods, are among the most favoured devices for sports betting. The devices offered by Apple have big screens and fast Internet loading, which makes them perfect for placing bets.
Most online bookmakers that hold iOS sports betting options offer exactly the same menu which can be found at the PC version. You can enjoy NCAA and NBA basketball, NHL hockey, MLB baseball, NCAA and NFL football, soccer, tennis, horse and motor racing, MMA and many more.
What about the betting types? Basically, you can place whatever type of bet you want – moneyline, spreads, run line, puck line, totals, parlay bets, reverse bets, teasers, if-bets – the list goes on and on. If the type of bet is available on the website, it can be placed via an iOS device, as well. The minimum amount of bets ranges from £1 to £5, while the maximum sum you can put on stake is £5,000. Some mobile bookies accept even bigger bets of up to £20,000.
Depositing is another thing that you should not worry about. Any payment method accepted on the website is available at your Apple device, too. You can choose from Credit and Debit Cards, Neteller, Click2Pay, Moneybookers, wire transfers, e-wallets, bank transfer etc. Depositing money via your mobile device may be time consuming, so it is recommended to do it via your PC or laptop.
Most online bookmakers offer an app, which you can download from the Apple Store. The apps are easy to use, so you will not have any problems. If there are no apps, you can place bets via the mobile version using the browser of your device.
If you have already registered at the online bookmaker you have chosen to play at, you can just sign in from your iOS device. If not, you can easily create an account. It will not take long and you will not face any problems.
One of the advantages of using your iOS device to wager is that you will receive many bonuses and free bets. If you create an account from your iPhone, iPod or iPad, you will get a special welcome bonus. Moreover, if you just login from your device for the first time, you can enjoy generous bonuses, as well.
Android Devices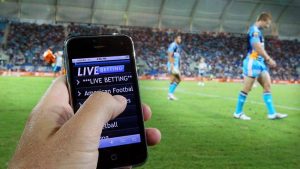 Android based devices are yet another option if you wish to bet on the go. Most famous brands of smartphones and tablets use this operational system, which is a solid choice for punters. Thanks to the advent of mobile technologies, many online bookmakers offer downloadable applications, compatible with Android based smartphones and tablets.
The devices based on Android have full screens for apps and the best graphics which makes placing bets easier. Moreover, the fast Internet speed will further contribute to your betting experience.
Again, most online bookmakers offer you to wager from their mobile versions. You simply need to load the webpage of the bookie in your device's browser. But most websites have developed applications, which can be downloaded in no time. You will have full access to every sports event available on the website. Moreover, you can take advantage of the most competitive odds and place different types of bets.
If you already have registered at a certain bookmaker, you do not have to create a second account in order to log in via your Android phone or tablet. If you are a newcomer, simply register. It will take only a few minutes.
Not to mention that generous bonuses are offered to you only for using your phone to place a bet. Plus, if you have registered via your Android device, you will receive a special welcome bonus.
In order to place bets, you need to make a money deposit first. The minimum sum that you need to wager depends on the bookmaker you've registered with, but in most cases it rages from £1 – £5. You can use your debit or credit card, bank wire transfers, e-wallets like Neteller, Moneybookers, Click2Pay etc. You can make your deposit via your Android device, but it is time-consuming. We recommend you to use your PC or laptop to fund your account.
Live Betting
Live Betting is very exciting, because you are watching the game, you see how it goes, you change your mind a couple of times. You can place a bet on what would happen 3 minutes from now, which is very thrilling.
You can enjoy a great variety of sports such as soccer, basketball, volleyball, golf, American football, rugby, baseball, tennis, horse, motor and greyhounds racing, boxing and many other sports. Every international and domestic event is covered and you can follow it, regardless of your location, by simply using your mobile device.
Sports Betting
As mentioned above, mobile betting gives you the opportunity to place a bet via your cellular phone or tablet from any place you like. If you happen to forget to place a bet from your laptop or PC, you do not have to worry or get angry, because you simply need to reach into your pocket and pull out your cell phone. If you have installed an application, that is compatible with iOS and Android devices, you will bet even quicker. Other devices like Blackberry are also available for mobile betting – just enter the webpage address in your phone's browser.
Technology and the Internet have made sports betting possible from every corner of the world, at any time around the clock. You can check out the updated odds and take advantage of them, you are able to place over 200 betting types, besides, every international and domestic sports event is covered. In a few words, the 21st century is a wonderful time for punters.
Soccer Betting
Soccer is the most popular sport in the world and there is no second opinion about it. Millions of people place bets on football and hope to win a great amount of money. When you are on the move, search for an app at your favourite online bookmaker so that you never miss the action. You will be able to place bets very quickly and will experience no problems at all.
It does not matter whether you prefer domestic events or international leagues and championships. Football events from every corner of the world are available. You can easily find any soccer game that you look for and place a bet on it. Moreover, the best odds are also on offer to help you make the right choice.
NCAA and NBA Backetball Betting
Basketball fans are offered to wager on NBA and NCAA college games. If you want to place a bet on those matches, regardless of your location, you can download the application of the online bookmaker you prefer, or enter the web address in your phone's or tablet's browser – as long as mobile betting is offered, of course.
You can enjoy a large number of NBA events and the most exciting NCAA college games. Moreover, punters can benefit from a wide selection of live betting options for basketball. Plus, the earliest and most competitive odds are on offer.
NFL Betting
NFL events are very popular in the USA, so most US punrers place their bets on this sport. Since it is the top sport in the States, there are many apps that you can use in order to bets even easier, regardless of where you are. Of course, professional odds and a great number of betting types are on offer. It goes without saying that you will have a great time.
Horse Betting
There are so many horse races punters can place their bets on. Some of the best known online bookmakers cover all global and domestic tracks, but others offer those which are located where their customers come from. For example, a UK online bookmaker would focus on UK and Irish tracks and less on international ones. But the biggest web-based bookies offer the widest selection of horse races. They cover events in the UK, Ireland, Australia, New Zealand, the USA and other countries.
You can benefit from the most competitive odds and choose from a great variety of betting types. Place your bet and hope for the best.
Sportsbooks Offering Mobile Betting
The sports mentioned above are only a small portion of those you can place bets on. Popular sports such as football, volleyball, boxing, golf, horse and motor racing, MMA, basketball, tennis and hockey are among those that are offered. Less known sports such as futsal, bandy and trotting are also covered. Mobile betting gives you the opportunity to place bets while you are on the go. It is the perfect solution, because it does not matter if you are in a bar, or on the bus, you can still follow matches and bet on sports events. You are able to take advantage of the most detailed and professional betting odds in order to place better bets and be more successful. And, of course, the excitement of placing different types of bets cannot be compared to any other feeling.
There are countless online bookmakers available on the Internet. The most popular ones are Bet365, BetVictor, 888sports, Bovada, William Hill, Betfred, Sportingbet, Coral, Titanbet, BetOnline, Ladbrokes – the list goes on and on. The most important thing is to bet at licensed and authorised web-based bookmakers. The legal online bookmakers are transparent and you will see the license numbers at the bottom of the website.
Using your mobile device for placing bets has other advantages, too. Online bookmakers offer special bonuses and free bets only if you log in via your smartphone or tablet. Also, if you create an account via your mobile device, you will be rewarded with a sign up bonus, which you can use to explore your betting options. In conclusion, you will have so much fun, while placing bets via your mobile device and you definitely will benefit from it.
(Visited 249 times, 1 visits today)