Gone are the days when enthusiastic sports fans had to visit a brick-and-mortar bookmaker to place their wagers. Modern technologies allow for bets to be placed from the comfort of one's home. The only things that are required for the purpose are a desktop computer and Internet connection. As most sports betting websites are available in a mobile format or offer downloadable mobile applications, punters can easily place a bet while on the move.
Convenience is not the only advantage web-based bookmakers have to offer. Specialized betting websites typically offer a greater variety of sports markets. What's more, punters can easily register at several betting websites to compare the odds on offer and place a higher-value bet. All sports one can imagine are covered – bets can be placed on soccer, tennis, basketball, baseball, golf, American football, horse and greyhounds races. And these are only some of the options. Less conventional sports such as futsal, darts and trotting are also decently covered.
Find the best bookmakers here
But that's not all. Punters are provided with the opportunity to "lay" bets as well. The roles are switched as sports fans can easily put their own odds on offer and "sell" their bets. You have probably heard one of your friends say "I bet the Red Devils won't win the game tonight" or even "Federer will never win against Nadal". Well, in a way your friends are actually laying a bet that something won't happen. They are predicting the outcome of a sports event.
How does Betting Exchange Work?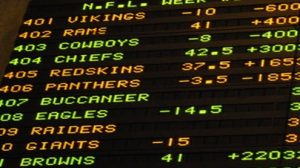 Generally speaking, a betting exchange is a marketplace where punters are allowed to place bets or to provide odds on the outcome of different sports events. This means you can also sell your predictions on games' results. Sports fans can easily "trade" their bets in real-time, if they deem it necessary. This can prove to be really helpful as trading your bet for a better one can significantly cut down on your losses. Thus, exchanging bets can result in greater long-term profits.
The practice of selling bets at odds set by punters is called "laying a bet." Betting exchange is based on punters betting against each other. It's actually simpler than it sounds. The purpose is to match up people who are willing to take the opposite side of the bet. Punters who exchange bets act as mediators between those, who back the selection and those, who bet on the selection to lose. Such punters collect the wagers and consent to pay out the winnings at the agreed odds. Generally speaking, they assume the role of bookmakers.
However, it is the betting exchange providers who handle all the money. They are the ones to collect backers' stakes and the layers' payouts. If the selection turns out to be a winning one, the betting exchange would return the stakes to the backers and pay out their additional winnings with the money they've collected from the layers. But if the selection loses, it is the other way around – the bookmaker would refund all punters who have laid the bets and would collect the stakes of the backers. Naturally, to profit bookmakers charge the winning party with a small commission.
Keep in mind not all web-based bookmakers offer this service. However, you will be able to find a number of betting exchanges online. Such websites run in a similar fashion to regular online bookmakers. To back a selection or lay a bet, punters are required to first register with an account and then, fund it by choosing one of the many deposit methods available. When you sign in, you will be able to browse through all the betting markets. Once you've found the market you want to bet on, you can choose between backing or laying the selection.
Backing a selection is pretty straightforward and you won't experience any difficulties there. Choose your selection and place your bet at the set odds. Yet there is a slight difference as it is other punters who will take your wager. There is a difference in regard to how odds are set as well, but you will find more detailed information on that in the section below.
You have probably noticed the expression "to lay a bet" was used on several occasions. It is important to explain in detail what that is and how it works. Now, ask yourself how many times you have said to one of your friends or relatives "I bet that won't happen". You were actually laying a bet each time you've said so. In other words, when bets are laid, punters wager against a team or an athlete. They predict the said team will lose.
Lay betting is especially popular among horse racing fans. Bets are placed against the winning horses. This doesn't mean punters can't lay bets on other sports. To better demonstrate it, we'll provide examples for a horse race and a soccer match.
The first example is for a soccer game. Surely, you've placed a bet on a team and they've let you down by allowing for a late equalizer to be scored. This happens to all punters every now and then. But if you lay a bet on the opponents to lose, then your wager would win in spite of the late equalizer. For example, you lay a bet on Chelsea to win against Liverpool at odds of 10/1. You wager $500 against Chelsea winning. If the Blues lose, you will collect a profit of $50, provided that Liverpool wins or the game ends in a draw.
The following is an example of laying a bet on a horse race. Let's assume you lay a bet on Black Beauty and the odds are again 10/1. The size of your stake is once more $500 and you're practically betting against Black Beauty. As the horse is competing against 39 other runners, you would end up winning $50, if one of them wins the race. It matters not whether Black Beauty finishes or not.
You've probably noticed the odds for both the soccer game and the race are kind of reversed. Your bet was laid on Chelsea and Black Beauty at odds of 10/1. However, the winnings you collect correspond to odds at 1/10. You've wagered $500 to generate a meager net profit of $50.
But don't be too quick to think laying bets doesn't pay off well. On the contrary, this way you will end up generating more substantial profits in the long run. Laying bets on selections which will surely lose, can be quite profitable over time and is less risky. Naturally, if you lay the sure winners, you will collect more winnings, but you also risk losing your stake altogether. Read on for more information on how betting exchange odds are adjusted.
What are the Odds for Laying a Bet?
Typically, betting occurs between a punter and a bookmaker where the former backs a selection and the latter lays the odds for the outcome of a game. Betting exchange providers give punters the opportunity to both back selections and set the odds for them. So, how are odds set in this case?
Punters who register at betting exchange websites are allowed to propose the stake and the odds for wagers. Once you've put your odds on offer, other punters can decide whether your proposition suits them and accept your terms. When both parties agree to the wager, the stake will be transferred from the account of the punter who has proposed the odds. Similarly, if you find the odds set by another punter to be competitive, you can in turn accept their wager.
Keep in mind, the exchange provider will deduct your potential liability from the sum, you're supposed to pay the backer of the bet in case the selection wins. When you propose your odds for the outcome of a given sports event, you must simply wait for another person to accept the offer. However, don't forget the odds for backing and laying bets differ greatly. When you back a selection to win, typically, you look for the highest odds possible. With laying bets against a selection it is quite the opposite – you're supposed to offer the lowest odds possible to backers. If you fail to provide fellow punters with low odds, your offer would remain unmatched, nobody would accept it.
It would be best to demonstrate this with yet another example. Let's assume Juventus are playing against Barcelona. You decide to lay a bet on Barcelona, which means you're wagering against this team. You've chosen to set the odds at 5.00 and you lay $50, for example. If Barcelona lose the match, you will collect the backer's stakes and therefore will generate a net profit of $50. However, if Barcelona win, you would be forced to pay the backer $50 x (5.00 odds – 1). Therefore, the backer will generate overall profits of $200. From this, it follows that you are actually risking $200 to generate a net profit of $50. It would be the same as if you're backing Barcelona to lose at odds of 1.25.
Before you proceed to lay bets, you should consider the fact a small commission is paid to the betting exchange providers for their services. Naturally the sum varies from one website to another. In most cases, the punter who loses the bet is not charged with any fee, while the winner is supposed to pay out a certain percentage of their net profits. This is not the case with bookmakers as they don't charge punters with such fees.
Thankfully, punters who lay bets at betting exchanges are given the opportunity to see the odds' net of the charged commission. For the purpose, one must simply open an account at the betting exchange and enter their commission. Unregistered punters are also able to see the fees, but they're allowed to browse through the default commissions the betting exchange has entered.
While the amount of the commission may vary with different exchange providers, there are two rules which are always applied. The bigger the amount of your stake, the smaller commission you will be charged with. Please note that normally to receive a decreased commission, you are expected to place quite a substantial bet.
The second thing to consider is that the fee is charged on your net profits only. Let's go back to the Juventus – Barcelona example. If you back Barcelona to win and later you lay the team, you will end up both losing and winning money. The amount you'd win, if you back Barcelona, would be $100 but your lay bet against the team would earn you $80. You won't be charged with a commission on your entire profit, but 5% would be subtracted from your net profits which in this case are equal to $20. So you would have to pay a $1 fee.
Advantages of Betting Exchange
Punters who decide in favor of exchange betting are provided with four major advantages. The first one is the very fact exchange betting providers allow you to lay bets on selections to lose. This practice is not common at regular land-based or online bookmakers. This alone can help you generate more substantial profits in the long run.
Betting exchange is especially helpful for individual sports such as tennis. Now, imagine you want to bet on a tennis tournament but struggle to decide which one of the three players you've picked, will emerge as a winner. Of course, you can always back all three tennis players, but naturally only one of them will win and you'll lose your other two bets. Exchange betting, on the other hand, allows you to lay several other participants in the tournament. If you do it and one of the three players you've backed wins, you will collect profits from all wagers you've placed.
The second advantage is that it is much easier to predict who will lose the game. The third benefit you'll get from betting exchange is that it will not be difficult for you to manage your liability. In other words, you're well aware of how much money you can win or lose. This can be explained with the fact you are sure to generate profits regardless of the event's outcome. Besides, you can always opt for laying a smaller bet.
And finally, the last advantage betting exchange providers offer are good odds for backing your selections. If you compare the odds offered by regular bookmakers with those offered by betting exchange providers, you will quickly find that the latter are much more competitive. At first glance the difference appears to be insubstantial but despite that, the improved odds will help you generate more profits in the long run.
Disadvantages of Exchange Betting
Naturally, some risk is involved too, but this is always the case as far as betting is concerned. Some punters consider the fact they are charged with a commission a major disadvantage. As was said above, the commission typically starts from 5%. But this number can quickly change, depending on the number of bets the punters have placed or laid. That is why some people experience difficulties in calculating the actual odds once the commission had been applied.
Others are not so good at keeping track of the number of unmatched bets that are placed. Punters are also expected to factor in all kinds of circumstances which may influence the outcome of the game. Such factors include injured or benched players or non-runners in horse races. However, some betting exchange providers allow for such markets to be automatically closed, in which case the bets will be canceled and the stakes – returned to the punters.
If you're not careful enough, there is always the possibility to place the decimal point behind the wrong number. There are cases when absent-minded punters lay bets at odds of 35 instead of 3.5. As you can imagine, such mistakes typically result in disastrous losses.
And finally, the last drawback is that sometimes the bets you've laid may not be matched by other punters. Keep in mind, the latter is bound to happen sooner or later, especially if you're betting on less popular markets and sports events. So if you're new to betting exchange, it would be best to stick to mainstream markets.
(Visited 476 times, 1 visits today)