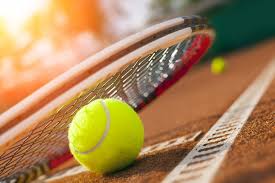 Tennis is among the most popular individual sports in the world. It is a racket sport which first emerged in Birmingham, England in the late 19th century. Back then it was known as "lawn tennis" and borrowed aspects of field sports such as croquet and bowls. Tennis has greatly evolved since its inception and quickly went on to become of the most popular field sports. Today it is played by millions of professional and amateur players throughout the globe.
The game is typically played by two opponents, but in some cases two teams, each consisting of two players, can compete against one another. Every player uses a racket to strike a small hollow rubber ball. The objective is to strike the ball in such a way so that the other player fails to play a valid return. If the opponent fails to strike the ball, a point will be given in favor of the other player.
As tennis enjoys such a great popularity, it is not surprising that many fans of the game are enthusiastic about backing their favorite players by placing a bet on them. Today wagering is easier than ever, as there is a great number of web-based bookmakers, which accept bets of many tennis markets. Such betting providers typically offer a decent coverage of all prestigious tennis tournaments, including the Grand Slam, the ATM, the WTA and the Australian Open tournaments. What's more, many web-based bookmakers provide fans with the opportunity to watch tennis games directly from their computers or mobile devices thanks to the Live Streaming feature.
Find the best bookmakers here
There are different types of bets that can be placed. These include parlays, futures, propositions, straight and over-under bets. Most online bookmakers allow for bets to be placed while a given game unfolds. This is known as In-Play or Live betting and can significantly increase punters chances of winning as it allows for a better assessment of the game's outcome.
Naturally, if you wish to place a winning bet, you must be familiar with the game's rules and the players' form, but there are other factors you need to take into consideration, as well – the weather and court conditions, for example. If you're new to sports betting and wish to stake on a tennis game, you might find the following article handy.
Tennis Markets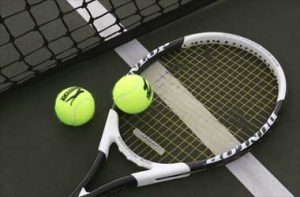 As said above, the abundance of tennis markets that online bookmakers have to offer is truly staggering. The popularity of the game among betting enthusiasts can be explained with the extensive TV coverage of tennis. The fact there are only two possible outcomes of the match further contributes to this sport's popularity. However, understanding the most common betting types, placed on this game is of crucial importance if you wish to generate profits with your bets.
Most punters, especially less experienced ones, prefer to bet on the Match Winner Markets as they are quite simple to grasp. As the name itself suggests, bets are placed on who you think the winner will be. Let us demonstrate with an example. Imagine David Ferrer and Tomas Berdych are playing against one another. The odds for Ferrer are set at 1.445, while those for Berdych are 3.020.
Punters who back Ferrer to win and place a $100 bet in his favor can generate profits of $144.50 (the initial $100 stake + net profit of $44.50). If Ferrer is defeated by Berdych, those who backed him will lose their initial stake, while punters who bet on his opponent will win $302 (the original stake of $100 + $202 net profit). Don't forget the bigger the player's chances to win, the smaller net profit you will generate. Sometimes it is advisable to bet on the underdogs as their odds are better since their chances of winning are smaller. But higher odds are synonymous with greater profits, as was demonstrated by the example above.
The Over/Under market is another favorite of less experienced punters. This type of market often goes by the name "Total". The term is used to refer to the total number of games that are to be played throughout an upcoming tennis event. The bookmaker sets a number to represent the total.
For example, if Djokovic plays against Ferrer, the bookmaker might set the total at 41.5. The punters, on the other hand, are expected to choose between placing a total Over or a total Under bet. If the match ends with a total of 42.5 games, those who bet on Over will emerge as winners. However, if the match's total turns out to be 39, then punters who placed bets on total Under would win. As you can see, the Over/Under market is suitable for betting newbies as it is much easier to predict whether the total number of games played, would be higher or lower than the number set by the bookmakers.
Another option is placing a tennis bet on the Futures market. This type is also known as an "Outright" bet, but is less suitable for inexperienced punters. Typically, futures are placed on upcoming sports events which are to take place in the following weeks, or even months. The most common type of future bet for tennis is, for example, to try and predict which player will win a tournament. Bets are placed before the start of the respective season. Bookmakers will then update the odds for the finals as the season progresses. The updates are based on the outcomes of all matches played throughout the season. As you've probably noticed, predicting the final outcome of an entire season can prove to be a mean feat. A lot can happen after you've placed your wager – some players may suffer injuries which, naturally, would affect their form and performance. You need to follow closely each game as the season progresses. But even if you do so, it still wouldn't matter as you've already placed your bet.
To acquire the necessary skills and knowledge, you might start by placing In-Play bets. As was previously mentioned, such bets are placed while the game is still in progress. This, alone, can greatly help you to predict who the winner will be as the game literally unfolds in front of your eyes. What's so great about Live betting is that it is available for most tennis markets. This means you're allowed to place an Over/Under, Match Winner bets and so on. The choice is yours to make.
Now, let's proceed with two markets, which are more suitable for seasoned punters. Accumulators, also known as parlays are especially popular among experienced and professional punters. This doesn't come off as a surprise – these consist of multiple selections and can prove to be rather profitable, provided you have predicted the outcomes of all selections correctly. However, if a single selection of yours turns out to be a losing one, you will lose the entire accumulator.
Again, it would be best to demonstrate this with an example. Imagine you place $100 on a double accumulator. You place a bet on Andy Murray (at 1.45 odds) to win against Roger Federer, while with the second bet you back David Ferrer to beat Kevin Anderson (at odds of 1.30). The odds for accumulators are multiplied if all results come in as predicted – 1.45×1.30=1.89. If both predictions are correct, you will collect a net profit of $89. With a single bet your winnings will be much smaller.
Placing Set bets is also a common practice among experienced punters. The objective here is to try and predict the exact outcome of the match on the basis of the number of sets each player has won. Typically, the odds for Set markets are much higher, but placing this type of bet may turn out to be rather risky. How many sets a tennis match consist of is also important. Usually, matches consist of three sets. If that is the case, you may bet on one of the players winning with 2:0 or 2:1. However, some matches like those in the Davis Cup tournament, consist of 5 sets. Then your favorite should win at least three sets. You can bet on the player to win the game with 3:0, 3:2 or 3:1.
Factors to Consider Before You Place a Tennis Bet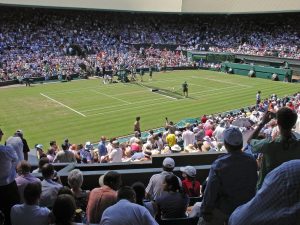 If you wish to place a winning bet, keep in mind certain things need to be factored in as they might affect the outcome of the match. Such factors include the weather and court conditions, whether a player is left or right-handed, as well as participants' form and performance in previous clashes.
Players' Form
More often than not, tennis players tend to perform better at the start of their season. There are numerous reasons why this is so. First of all, at the beginning of a season, players are much more eager to return to the court and prove themselves. Their level of motivation is much higher and this definitely shows in their performance.
As the season progresses, players tend to get tired, many of them might sustain injuries which will have a negative impact on their performance in upcoming matches. Distance is another thing which needs to be factored in. Sometimes players are forced to travel a long distance for their next event – this will further contribute to their overall exhaustion.
Then again, it all depends on which player you are betting on. Some players like David Ferrer can participate in numerous consecutive events and demonstrate good form and outstanding performance for weeks to come. Others like, Kei Nishikori get tired quickly and are unable to handle the exertion that's required at the end of the season or at the tournament's finals.
Court Conditions
A tennis match can be played on a variety of court surfaces. Each surface has its own characteristics and these can greatly affect the playing style of the game and most importantly – the performance of the participants.
Tennis courts are distinguished in accordance with the materials that are used for their surface. The most common types of court surfaces are clay, hard, grass and carpet. Again, depending on the material, courts are generally classified into five categories – slow, medium-slow, medium, medium fast and fast. Each tennis player tends to perform better on one of the four types of court.
So why is surface so important? Clay courts tend to slow down the ball; as clay is a relatively soft material, the ball bounces off higher, which is not the case with grass or hard courts. Players who rely on serves predominantly are at a disadvantage when they play on clay. Swiss player Stanislas Wawrinka is well known for his outstanding performances on clay courts.
Fast-paced games are usually played better on grass courts. Numerous factors can affect the game on grass courts. How high the ball will bounce off depends on whether or not the grass has been mowed recently, on how healthy the grass is and on whether there are tears in the surface. Such types of court are more suitable for players who favor the "serve and volley" style. These include the likes of Roger Federer, Samuel Groth and Feliciano Lopez.
Hard courts, on the other hand, are typically covered with an acrylic layer and are largely considered to be fast courts, especially in comparison to those with a clay surface. The ball usually bounces off easily and much higher on such courts. What's more, a greater number of spin techniques can be applied on hard courts. Players who perform well on those include Andy Murray and Rafa Nadal. Nadal, however, is very good on clay as well.
Sometimes a removable covering is laid on the surface of the court. Such courts are frequently referred to as "carpet" courts. In most cases, such coverings are used in indoor venues. Carpeting, however, is rarely used for professional tennis events. The ball's bounce on such courts is rather low, but they're generally considered to be the most suitable for faster, dynamic games.
You should carefully consider which player to bet on, in accordance with their own preferences and style of play on different court surfaces.
Weather Conditions
Weather also needs to be factored in before you proceed to place a bet on a tennis match. Factors you need to take into consideration in regard to weather include temperature, humidity and of course, wind speed. Altitude also plays a certain role. High altitude affects players' performance because it takes a great toll on the human body. Why? The higher the altitude is, the lower the density of the air. If you don't breathe in enough oxygen, you tend to tire out easily and even experience spells of dizziness. It takes a longer period of time to adapt to such conditions. Altitude also affects the speed of the ball. Higher altitude means smaller air resistance, which in turn will cause the ball to fly at a higher speed.
Temperature can greatly influence the outcome of the game, too. The higher the temperature, the lower the density of the air, which again will lead to faster ball speed. As was said in the beginning of the article, tennis balls are hollow. However, the inside of the ball is filled with gas. One doesn't have to be a physicist to deduce high temperatures would cause gas molecules in the ball to expand. The result will be a higher ball bounce. Some players, like Nadal, perform better in high-temperature conditions – such players typically rely on spin and higher ball speed.
Humidity also influences the style of play of a tennis game. The higher the humidity, the more water in the air. As players tend to sweat more under such conditions, the temperature of their bodies will increase and this can affect their performance. However, humidity affects tennis balls as well. The balls absorb more water in humid conditions. The result will be higher drag force, which is equal to higher air resistance and therefore will greatly slow down the ball's speed.
Last but definitely not least – wind needs to be taken into account, too. Usually, the performance of players with a higher ball toss (like Tomas Berdych) tends to suffer greatly when wind is at hand. The same applies to attacking players like Roger Federer.
Right-Handed versus Left-Handed Players
If a player is a lefty also influences his style of play. Not necessarily for the worst, though. Sometimes being left-handed can prove to be an advantage when you're playing against a right-handed opponent. Some right-handed players get slightly confused in such situations, because when they're playing against left-handers, the angle at which the ball is struck changes. It would be best to check whether your favorite fares well against left-handed opponents. There are numerous websites which offer comprehensive statistics on players' performance against left or right-handed opponents.
Tennis Betting Tips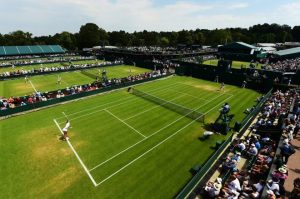 Even though the previous section touches upon factors that influence the final outcome of a tennis game, the following tips will further increase your chances of placing a winning bet on this sport. The value of the bets you place is of great importance. It's always easy to play it safe and back the sure winner. However, typically the odds for such players are quite unprofitable – even if you do win the bet, your profits would be far from impressive. That's why, occasionally, it is a good idea to take your chances and place your bet in favor of the underdog. The player would be less likely to win, naturally, but you will generate greater profits if the underdog wins.
Punters are advised to focus on their long-term profits. Set a certain amount of money aside and use it for sports betting only. This sum will represent your bankroll. The next step is to decide on the size of your betting units, which is the size of the bets you place. Experts suggest inexperienced punters should place smaller bets – 1% or 2% of their overall bankroll. Stick to the same betting unit and don't increase the size of your bets if you experience a longer losing streak. If you place a substantial bet in an attempt to offset your previous losses and you lose again, you're likely to be left without any money to bet with.
Then again, you should always do your homework, so to speak. Keep track of the latest news in the tennis world. There are many specialized websites where you can find advice, statistics and most importantly, picks for upcoming tennis events. Before you back a tennis player, consider his current form. If the player in question had recently experienced a serious injury, it will affect his performance throughout the rest of the season. Recently-injured players are more likely to lose the tennis match.
If you're new to sports betting, the In-Play markets are just the right thing for you. Take some time to analyze the players' performance and see what direction the game will take. Favorites tend to experience a slow start during the first set. Consider the odds, too – bookmakers tend to offer poor odds for players like Nadal or Djokovic as these two are more likely to emerge as winners. If the odds for the favorite are set at 1.5 or less, don't bother to place your bet on the player in question. Wait a while and if you see the underdog has some chances of winning after all, place your bet on him or her.
Then again, the odds for In-Play markets are constantly updated as the game progresses. If your mind is set on backing the favorite after all, don't rush to place your bet at the very start of the game. Players need some time to adjust to their opponent's style of play. Wait for the underdog to break their serve. After that the odds for your favorite will increase dramatically. If the sure winner is falling behind, the odds will increase to 1.80 or even more. Now is the right time to place your bet if you're going for a nice, risk-free wager.
And finally, here comes our last tip. If you want to place a bet on an upcoming tennis match, but the game is threatened by poor weather, consider betting on the total Under market. This would be the best choice you could make as chances are the match will be a rather short one. Accomplished players are often encouraged by poor weather conditions, because they want to get off the court as soon as they can. Such players deal with their opponents very quickly and will win the game in no time.
(Visited 734 times, 1 visits today)