Nowadays sports bettors have a great number of sports betting options to choose from and if you are looking for wagering on basketball events but you are eager to minimize the risk of losing your stake, you should carefully examine all options and choose the one that best suits your bankroll and wagering preferences.
Basketball betting has been gaining more and more popularity over the years and as a result, bettors have developed more or less effective strategies for beating the odds. In case you take advantage of a good system, you can rely on a huge payout without wasting your time on examining the current trends.
If you are passionate about basketball but you are new to basketball betting, you might be interested in finding out more about the different types of wagers such as over/ under, moneyline, spread, etc. In case you have some experience in placing wagers on basketball, you must be aware that some types of bets offer more generous payouts.
These include teasers and parlays, props betting, etc. Once you get used to the right betting technique, you will be enabled to boost the profits and minimize the risk of placing a losing bet.
Find the best bookmakers here
Basketball Betting Types
There are several betting types you can take advantage of when placing a wager on a basketball match. In point of fact, there are some pretty good reasons why betting on basketball is better than betting on any other sport. First of all, it is because of the simplicity. Even if you are not quite familiar with the successful betting strategy, you can still handle point spread or totals and gain a substantial profit by betting a small amount of money.
Point Spread
Point spread is one of the most popular betting types. What makes it so widely preferred over the others is the fact that the punter does not have to give a prediction as to which team will be declared the winner. Bettors who choose the point spread betting type are supposed to bet on how many points their selected team will lose or win by.
The point spread strategy has been developed with the aim of providing both teams with equal chances of winning by backing the underdog and giving it an advance of several points.
Let's presume that you are interested in betting on the match between Los Angeles and Orlando where the latter is considered the underdog and therefore given an advance of 7 points. If you bet on Los Angeles to win, the team must win by at least eight points. If they win by six points or less, or lose over Orlando, you lose your stake as well.
Sad as it may seem, most punters underestimate the benefits that go along with betting on the underdog. If we once again draw the above game as an example, you will see that if Orlando loses the game by six points or less, the underdog wins the bet. In case Orlando wins the game, the winning tickets are cashed out. If the match ends a tie, your stake is refunded.
Over/ Under
Another variety for betting on basketball is the so-called over/under, also known as total. In this case, the bookie sets a certain number of points both teams are supposed to score and the bettor has to decide whether the teams will score over or under the predetermined number of points.
Moneyline
As for the moneyline bet, it is considered the simplest bet where the punter is supposed to pick a winner. However, it is important to know that betting on underdogs offers better payouts than betting on favourites.
According to the standard practice for basketball wagers, you get a $10 profit for every $100 bet you make. In case you do not want to worry about points, you are advised to check out the moneyline betting system. You have to be informed that the odds for the underdog and the favourite are adjusted accordingly.
For example, Los Angeles is the five-point favourite and you have decided to back them. In this case, you need them to win straight-up. You will get a $100 profit if you have wagered $250. However, if you bet on the underdog Orlando and you place a $100 wager, you will get $180.
You have to be informed that money-line is a wager on the winner without the point spread. However, some teams are given more than 50% chance of winning and the odds are adjusted accordingly. In other words, if you bet on the favourite, you will be asked to place a higher bet.
If the betting board shows Celtics -300 and the Knicks +240, it means that those who would like to bet on the Celtics will turn a $10 profit if they wager $30. On the other hand, punters who bet on the Knicks win $24 for every $10 they risk.
Prop Bets
Prop bets are that type of wager that is not related to the outcome of a certain game. A typical prop bet is when you wager that a player is to win a prestigious sports award.
Parlays and Teasers
Parlays and teasers are the other types of wagers that can be used for basketball games. They are also considered exotic bets. If you pick up parlays and teasers, you should give a correct prediction which will be the winners of at least two games. If you opt for parlays, you will either have to bet against the point spread or use the money line. As for the teasers, they allow players to adjust the point spread in accordance with their preferences.
On the downside, parlays and teasers require you to give a correct prediction about all your selections. In case one of them fails you, you lose your bet.
You can boost the payout of your parlay by combining totals, spread and moneyline bets. Teasers are pretty much the same but the bookmaker gives you points in order to enhance your chances of winning at the expense of a decreased payout.
Handicap Bets
Handicap bets are successfully used not only in football but also in basketball games. The idea is the same as in all other sports where handicap betting and its variations can be applied. A certain number of points is added to the underdog's final score. The same amount of points is deducted from the balance of the favourite, so both teams have equal chances of winning.
Quarter / 1st Half Lines
A regular 48-minute game is split into 12-minute quarters and punters are enabled to place bets on the first quarter and the 1st half lines before the contests start. In order to get a better idea, you can regard these bets as a game within the game.
The 1st quarter line usually forms ¼ of the spread and it enables you to determine who will be covering the spread by the end of the first quarter. It is a well-known fact that some teams apply the tactics of building an early lead, while some others are known as "4th quarter teams".
Halftime lines
When the first half of the game is over, many people switch the TV to another channel as they consider the halftimes boring. However, they can turn into a source of a good profit for every avid basketball bettor who takes advantage of them. Halftime lines are available only during the halftimes and they create a new spread for the second half of the game. In other words, the second half can be regarded as an entirely new game.
Basketball Betting Strategy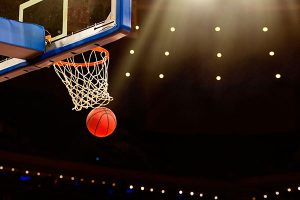 In order to ensure winnings, you have to adopt a proper betting strategy and take into account the importance of identifying false favourites and markets. Although it can be a bit challenging, you have to pay attention to the factors below:
If your selection is at home, it is important to check the history of the opponent and pay particular attention to their away winning records. If your team is to set off on a trip, this may have a negative impact on their performance as well.
Keep yourself informed about injuries and before you place your bet, make sure the best players are to take part in the match.
Even if your selected team is famous for being a high scoring one, you should not underestimate the defence of the opponent, too. You are advised to check for near misses before you place your wager.
As for the false favourite markets, the best approach you can adopt is to back the underdog. In case the false favourites and their opponents have almost equal chances of winning, feel free to use the handicap betting but beware that the odds will be less lucrative.
If you are confident in the outcome of more than one game, you can opt for a match winner accumulator. Total points market is suitable if you are looking for good profits but you are not keen on outright markets. In case the false favourite is believed to score a lot of points, you'd better bet "under".
Control the Tempo
In basketball games, tempo has a huge impact on the entire game and the sooner you realize that, the better wagers you will place. Some teams opt for quick shots, big dunks and fast breaks, while some other teams prefer to slow down on each possession and gradually set up their opportunities.
If both teams are comfortable with the fast tempo, then it is clear that the game action will unfold fast but what if one of the teams let the other control the tempo? In order to increase your chances of winning, you should not concentrate solely on the upcoming match. On the contrary – you have to investigate the opponent of your team and check how they have been dealing with teams that have similar approach and how they acted when they had to face an team with an opposing style. This might be helpful if you are eager to determine which of the teams is going to dominate during the game.
Mind the Rebounds
Some bettors prefer to make a bet based on their personal observations instead of focusing on statistics. However, you should not neglect the importance of rebounding. Let's presume that an NBA team takes 80 shots per game, while a college team takes 60 shots or fewer. Therefore, this makes approximately 160 shots per NBA game and 120 per game in college. If every team shoots under 50% during the season, you are enabled to take advantage of a lot of rebounds.
It is not surprising that the teams that sit on top positions in the standings win the games more often than the teams that occupy lower positions. Given that, it would be beneficial if you study how each team rebounds and consider injuries and previous games won.
Focus on Soft Lines
Don't hesitate to attack a soft line or a line that looks "off". What makes basketball betting different from football betting is that football fans should avoid "off" lines and bookies, on the other hand have plenty of time to adjust the lines. However, basketball games take place every night and as a result, soft lines are commonly found. Look out for them and grab the opportunity without unnecessary delays.
Don't Bet on Champions Only
Many bettors admit that they would risk their entire bankroll if a superstar takes part in the match. Bookmakers are well-aware that bettors' admiration for a certain player is important for the line-making process. However, you should not overlook the teams that do not provide you with a beautiful game but they still produce wins. These teams usually apply a systematic, defensive approach that helps them win.
Punters tend to bet on superstars, which makes the basketball betting market even more interesting. Underdogs can bring you huge profits as they are usually given great handicaps.
The majority of bettors believe that their team will be the outright winner in case they face a weaker team. However, stats prove that more than 50% of all matches are won by underdogs, which is yet another proof of the theory that outsiders are frequently underestimated.
(Visited 1,609 times, 1 visits today)