Overview
Regardless of the country of residence, avid sports betting fans have always been looking for a convenient and secure payment processor in order to place their wagers online. Nowadays, they are really spoilt for choice as they have the chance to choose between various payment methods for deposits and withdrawals. Although these vary from country to country, there is always a payment method that meets their requirements as far as safety, efficiency and fees are concerned.
Even if you are not among those who place online bets on a regular basis, you must have heard of PayPal – one of the most popular payment processors on a global scale. It is praised mainly because of the security and the convenience it provides when it comes to making online purchases.
If you are thinking about creating a PayPal account in order to fund your sports betting account and withdraw your winnings, you are strongly advised to continue reading and get familiar with the registration details as well as the fees, advantages and disadvantages that go along with using PayPal. Despite its popularity, this payment processor is currently available in a limited number of countries, discussed in the last section.
Find the best PayPal bookmakers here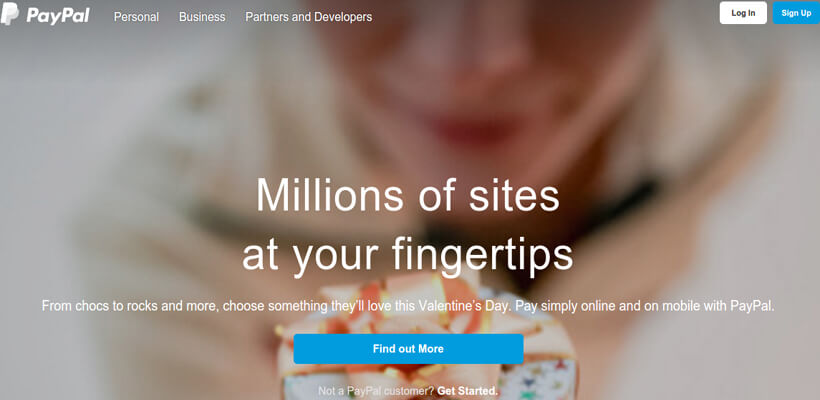 How Does PayPal Work
Registration
Creating an account with PayPal is really easy and it is not time-consuming at all. It is important to know that PayPal accepts all major credit or debit cards including but not restricted to Mastercard, Visa, American Express, Discover. As soon as you load the website, you will be able to see the registration button displayed at the top right corner. The first thing you have to choose is whether to create a business account or you intend to use PayPal for personal transactions such as purchasing various goods from online stores or funding your sports betting account. During the registration process, you will be asked to provide some basic details such as your email, name, and address.
Once your account is created, you will be supposed to link your credit or debit card to your PayPal account. When you enter your banking information correctly, you will have to go through a verification procedure. A small amount of money will be deducted from your balance and a 4-digit number will be generated for you. However, you have to allow a couple of days for the code to be sent to you. You will be able to see the code by logging into your online banking page. The other option is to go to the nearest physical branch of your bank and ask the clerk if the code has arrived.
Once you enter the confirmation code in the required field, the deducted amount will be returned to you and you will be able to freely make payments via PayPal.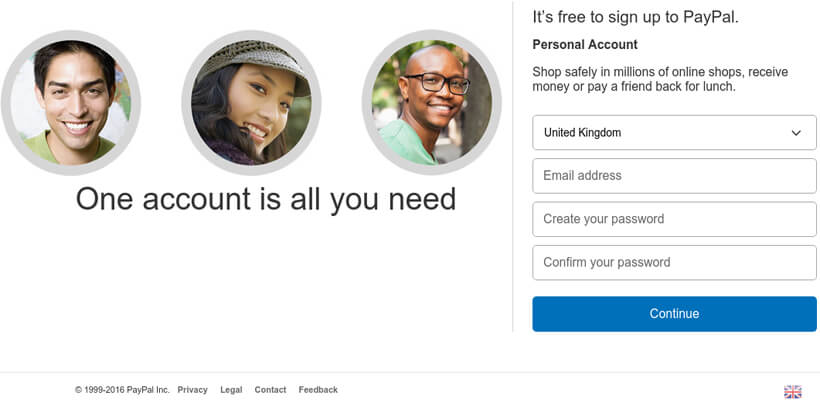 Deposits
As far as deposits are concerned, PayPal users are given a great deal of flexibility. To fund your PayPal account, you can easily transfer funds from the bank account you have linked to the account and make online payments in a safe and time-efficient manner. Once you have loaded sufficient funds to your PayPal account, you can fund your sports betting account as well. In order to do that, you have to log into it and select PayPal from the list of available options. Then, you will be asked to determine the amount you would like to transfer and confirm the transaction.
As a matter of fact, it is not mandatory to fund your PayPal account to make online purchases and payments. All you need is a verified bank account and a linked debit/credit card. The service provider will charge the amount you have specified directly from your personal bank account. If there is no card linked to it, the payment will be executed via an eCheck and will take between 3 and 5 days.
It is important to know that if you have a Mastercard-branded credit or debit card, you should not have any issues related to deposits but the situation concerning withdrawals is a bit complicated.
Withdrawals
You can easily transfer your winnings to your PayPal account. For the purpose, you have to follow the instructions of the bookmaker. As far as withdrawals to credit/ debit cards are concerned, you have to be prepared to wait between 24 hours and 3 days for a withdrawal request to complete. If you want to cash out your sports betting winnings, you have to go to the cashier page, request a withdrawal and follow the instructions. As mentioned above, you have to wait a few days until your money become available and you can withdraw it from an ATM. If you own a MasterCard, you might not be able to withdraw your winnings. In order to avoid unnecessary delays, you have to get in touch with bookmaker's customer care agents as well as PayPal representatives and make sure the withdrawal prohibitions are not valid for your jurisdiction.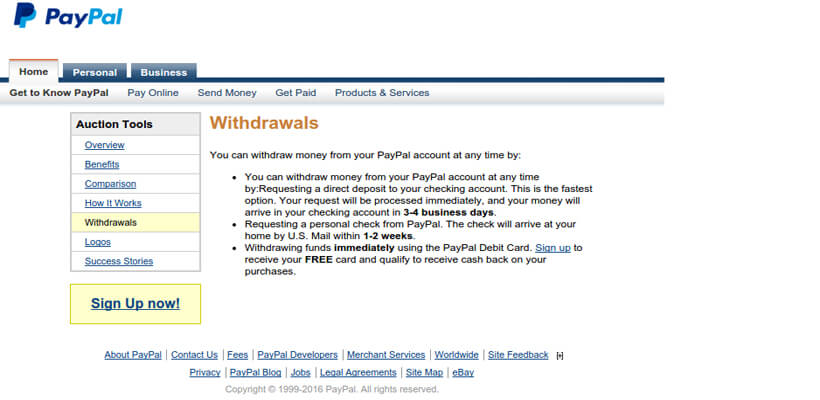 Fees
In point of fact, customers say that the fees are one of the main setbacks of using PayPal. You have to be informed that there is no monthly, setup or gateway fees, but there are some services you are supposed to pay for. According to PayPal's policy, receiving payments when no currency conversion is involved is fee-ree. Otherwise, the standard rate is 2.9% plus €0.35 fixed fee for personal transactions. However, if you receive more than €2,500 per month, you will be charged in accordance with the merchant fees that can be as low as 1.9%.
Fee Summary
Operation
Time
Cost
Deposit to bookie
Instant
Free
Withdrawal from bookie
Up to 48 hours
Free if no currency conversion is involved
Deposit with card
N/A
N/A
Withdrawal to card
Up to 30 minutes
1. Domestic transactions: 2.9% + fixed fee
2. International transactions: 5% + domestic fee
Deposit with bank account
3-5 business days
Free if no currency conversion is involved
Withdrawal to bank account
Instant
1. Domestic transactions: free
2. International transactions: 5%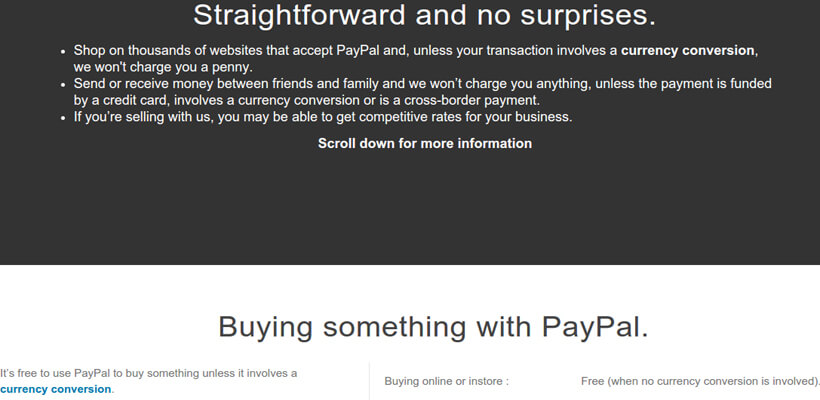 Security
As mentioned above, security is one of the main reasons why sports betting enthusiasts and customers who prefer to shop online choose PayPal. All their details are heavily encrypted and never shared with third parties. All transactions are processed in strict confidentiality and each transaction is thoroughly reviewed by the PayPal team before being approved. The company regularly performs server checks to ensure customers are using an approved browser to conduct their web-based transactions.
Prevention of identity thefts and frauds is of paramount priority for PayPal and they dedicate a lot of efforts to protect their customers. PayPal implements a strong protection program for all purchases, and follows the Payment Card Industry Data Security Standard (PCI DSS). If someone makes a payment via your PayPal account without your knowledge you have 60 days to report this. PayPal will conduct an investigation and give you a refund in accordance with their Liability for Eligible Unauthorized Transactions program.
Of course, no payment solution can be 100% secure. Don't make it easy for hackers by creating an easy-to-recognize username and password. If there are any vulnerabilities in the PayPal system, most often they come from users unintentionally exposing their personal data to unscrupulous persons and entities.
PayPal users can add an extra layer of safety to their transactions by employing a second authentication factor. If you enable the security-key feature, you will receive a temporary security code by text message.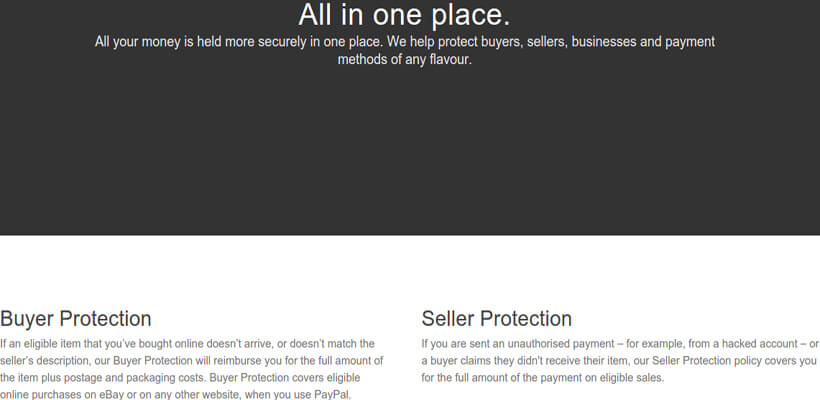 Mobile App
PayPal is undoubtedly one of the most popular payment processors worldwide and as such, it strives to provide its users with as many convenient features as possible. Now, they are enabled to make payments on the go thanks to the mobile apps developed for iOS and Android users, respectively. You have to choose your country from the list available on the PayPal website and you will be prompted to click either on the Android or the iOS icon in order to be redirected to Google Play or the Apple store to download the app.
PayPal is now an accepted form of payment in many stores, restaurants, and retail shops. The mobile app allows you to make payments in a fast and secure manner as if you are in front of your computer. You can pay your bills, send and request money, manage your account, etc.
The motto "pay your way, every day" quite accurately reflects the opportunities provided by the mobile application. If you are among the modern users that operate with cryptocurrencies more and more these days, keep in mind that you can use Bitcoin, Bitcoin Cash, Ethereum, and Litecoin. The app gives you access to the latest articles in the field and thus to stay up to date with all the essential information.
You can also use the PayPal app to make in-person payments in a touch-free manner. Just tap the QR icon within the app and select Scan if the merchants provide you with their code. If you are asked for your QR code, tap Show to Pay. That's it, confirm the payment and you are good to go.
The mobile application already includes PayPal Savings, which is stated as a new high yield savings account. This new proposal by PayPal comes with no minimum balance requirement and with no service fee. An easy transfer between PayPal Savings and the user's PayPal account balance is enabled, which contributes to even greater flexibility of your purchases.
Please keep in mind that depending on your location, some of the aforementioned features might not be available.
Mobile App Features
Send Money
yes
Receive Money
yes
Top-up from bank account
yes
Withdraw to bank account
yes
Deposit to bookie
yes
Withdrawal to bookie
yes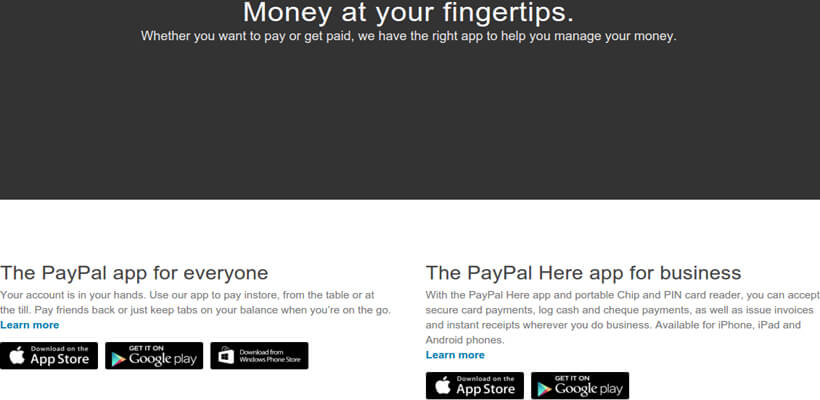 Advantages
PayPal is undoubtedly a widespread method for making online payments mainly because of the following advantages:
PayPal is considered one of the most secure payment options. Once you go through the verification procedure, you will never have to disclose your banking information over the Internet.
All sensitive details are stored in PayPal servers and merchants only get your email address.
You can make online money transfers in less than a minute. No matter if you want to send money to your child to pay for college or you want to help a friend located on the other side of the globe, you can do that in a few mouse clicks.
PayPal allows you a great flexibility. You can keep an eye on your transactions, send and receive money even if you are on the go. You can manage your PayPal account easily provided that you have a smartphone or tablet and download the apps for Android or iOS.
Another benefit PayPal users get is that a lot of services are free of charge. For instance, opening an account is free of charge. No money is to be deducted from your balance for monthly or annual maintenance of your account.
You can always rely on courteous customer support agents to resolve any issue on your behalf. For the time being, there is not a live chat option, but you can use the texting feature available to logged-in customers only. You can also get in touch with the support team via phone or email at any time. There is also the PayPal Community where members share their experience and advise each other on everyday PayPal issues.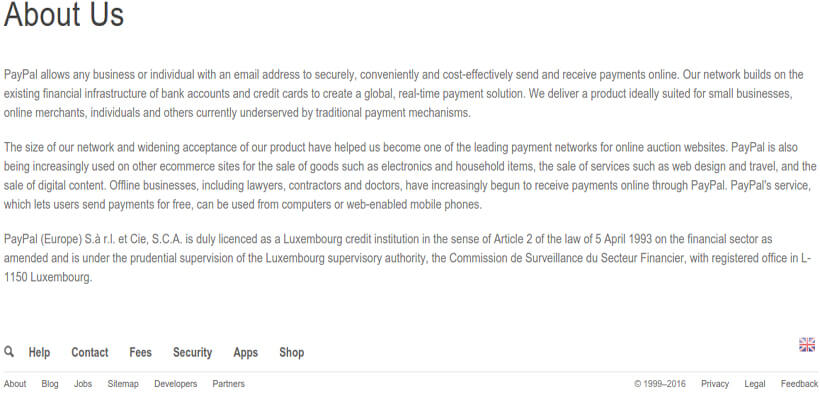 Disadvantages
Being a PayPal user means you will be provided with a number of convenient functionalities but you also have to be prepared for some setbacks. Although PayPal has relatively fewer disadvantages as compared to some other payment processors, you have to be informed about the following.
Since security is among the top priorities of PayPal authorities, they thoroughly review every transaction. As a result, your funds can be frozen for an indefinite period of time in case they notice something suspicious about your transaction.
The complexity of PayPal's fee policy can be very frustrating, especially if you are a novice in using this digital wallet. In an effort to give the most detailed explanation of the fees due, the company website redirects you from one page to another and in the end, it is not certain whether you have reached the correct information. That is why it is extremely important to track your transactions both via the cashier section of your betting account and your bank statements.
With the goal to cater to as many punters as possible, top sports betting sites support multiple payment options. For some reason, however, participation in promotional offers is sometimes limited to deposits via certain payment solutions, and often these do not include PayPal.
The other setback is that for the time being sports betting deposits via PayPal are allowed in a limited number of countries.
Countries Where PayPal is Used as a Deposit Method for Sports Betting
Established in 1998, PayPal was the first-ever payments processing system that made online transactions easy and fast. It gained huge popularity over the years and now has millions of users in different parts of the world.
Currently, PayPal is available in more than 200 countries but when it comes to online betting, only a few countries have adopted it as a payment processor. The main reason for this is that after all, online gambling is a heavily regulated sector and some authorities impose severe control measures. What is more, online sports betting is still illegal in many territories.
Online sportsbooks have enjoyed increasing popularity in recent years. A significant part of this growth is related to the expansion of PayPal as a payment system that makes online deposits and withdrawals more convenient. Punters no longer need to enter long bank card numbers, upload personal documents, and wait for days to complete a transaction.
Some online casinos and sportsbooks in Nevada and New Jersey are the only operators on the territory of the US that accept PayPal. Statistics show that PayPal is mostly used in Europe, which is a logical consequence of its convenience in terms of currencies accepted and ease of use. The European countries with PayPal-friendly online bookies include the United Kingdom, Finland, Germany, Austria, Denmark, Ireland, Spain, Australia, Sweden, Italy. What is more, PayPal itself allows deposits only to sites that are fully licensed in the relevant country of residence.
However, further restrictions apply. Depending on the bookmaker you have settled for, you might not be allowed to withdraw your winnings via PayPal, while in some others both deposits and withdrawals are processed in an efficient and secure manner. It is also important to check as to whether PayPal supports your currency, otherwise you may have to pay a currency conversion fee.
FAQ
Currently, PayPal supports 25 flat currencies - USD, EUR, GBP, JPY, CNY, CHF, AUD, BRL, CAD, CZK, DKK, HKD, HUF, ILS, MYR, MXN, TWD, NZD, NOK, PHP, PLN, RUB, SGD, SEK, and THB. We advise you to always consult the PayPal company website for updated information and special clauses.

Yes, PayPal enables international transfers, so you can easily send and receive money across the borders. Check in advance if the relevant country has officially adopted PayPal as a payment solution and what special conditions there are (if any).

No, it is not mandatory to have any amount in your account balance. You can link PayPal to your bank account or debit/credit card and use it as an intermediary for fast purchases and payments.

PayPal has implemented a Purchase Protection service. If the product you have ordered is significantly different from its description, if it is damaged, or if it does not arrive at all, PayPal will give you back the full purchase price plus the original shipping costs. You must contact the company for further terms and limitations.

If you notice a transaction that you didn't make, you must notify PayPal within 60 days and the company will investigate the matter.

All you need is a verified PayPal account with your personal bank account attached to it. As soon as the money arrives, you can use it for online transactions.
(Visited 503 times, 1 visits today)