Overview
Entropay is a simple, time-efficient and secure online payment solution, which enables millions of customers across the globe to pay for their Internet purchases using prepaid Virtual Visa cards or plastic Mastercards. Entropay first entered the global payment market in 2003 as the company's owners recognized the need for introducing an online payment service which will enable all customers to make purchases regardless of their credit status and country of residence. As the first prepaid online payment solution, Entropay attracted a great number of customers, who up to that point had been unwilling to spend on online purchases.
The main goal of Entropay's creators was to eliminate the nuisance that accompanies money transfers over the Internet. The company operates as a part of the Ixaris Systems Ltd and is certified by the UK Financial Services Authority or FSA.
This payment solution comes with a number of advantages as it grants customers a quick and easy access to their funds and allows for money to be sent and received with a few simple clicks of the mouse button. Registering with an Entropay account is very simple and convenient and the payment process itself is far less restrictive as there is no credit check – each customer can use the service, regardless of their previous credit history.
As Entropay offers an exceptionally secure, quick and flexible service, it is not surprising the method is used by millions of enthusiastic sports fans to fund their online betting accounts or withdraw the winnings they have accumulated. Entropay provides punters with 24/7 access to their money and enables them to transfer funds in the quickest manner possible.
Find the best Entropay bookmakers here
What makes it so suitable for sports betting purposes is that the payment method is widely accepted by web-based sportsbooks as a deposit and withdrawal option. Additionally, Entropay accepts several currencies and its services are available in a great number of countries. Those of you, who are interested in funding their betting accounts via Entropay will find more detailed information on how it works below.
Entropay Registration
In order to use this convenient and flexible service for sports betting purposes, punters are required to first open an account with Entropay. This process is easy to complete and far less time-consuming compared to other payment solutions. In most cases, it takes only a few minutes to sign up. The best part is that everyone over the age of 18 is allowed to register with Entropay as long as they are in possession of a credit or a debit card by Visa or Mastercard.
To sign up, punters should visit Entropay's official website and then fill in the registration form. They are expected to provide some of their personal and financial details, such as their name, date of birth, email address and credit/debit card number as well as its CVV (or Credit Verification Value). The card's expiration and start dates also need to be filled in. In the process, punters will be asked to select their currency and one of the predetermined denominations to load the card with. You can choose between the following denominations – $30, $50, $100 and $150. If you wish, you can enter your own denomination, but the amount for Starter accounts must be between $5 and $250. Once funds have been added to your virtual card, it is ready to use for online sports betting. You will see that your virtual card looks exactly like a regular plastic one and even has its own card number.
Naturally, some high-rollers will be disgruntled by the perspective of having only $250 in their virtual card to bet with. Don't worry – if you wish, you can upgrade your card and increase its spending limit. There are two types of accounts you can upgrade to – Basic and Premier. If you choose the Basic account, you will be allowed to have up to 5 active virtual cards and your spending limit will be increased to $2,500 per day, while your withdrawal limit will be set at $800.
The Premier Entropay account, on the other hand, enables punters to create up to 10 active virtual cards and deposit $15,000 per day! Please, bear in mind that if you wish to upgrade your Starter account, you are expected to provide additional personal information and some documents for identification, such as a scanned copy of your ID, copy of your credit/debit card as well some proof of your permanent residence. You can scan your mobile phone bill or send a copy of one of your utility bills.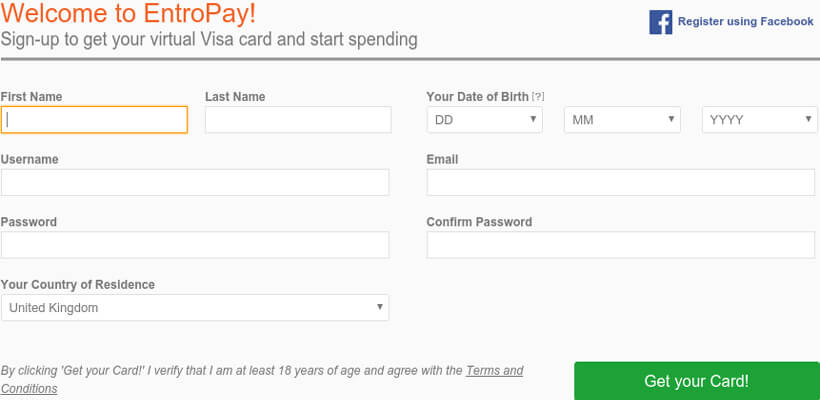 Deposits and Withdrawals with Entropay
As you can see funding your Entropay virtual card is quick and straightforward. You simply need to log into your Entropay account and select the amount of money you wish to transfer from your plastic credit/debit card to your virtual card. The transfer is instant. Then, you can use the money to back your favorite team or athlete by placing a bet in their favor.
Fortunately, there is a vast range of web-based bookmakers that list Entropay as a deposit and withdrawal option. You are able to use your virtual Entropay card at all sportsbooks which accept Visa credit/debit cards. To fund your sports betting account, you simply need to visit the online bookmaker's Banking section and select Entropay as your preferred method of deposit. Then, specify the amount you wish to transfer and confirm the transaction. The money will be sent to your sports betting account immediately. This time-efficiency is especially important when one wishes to place a bet on the In-Play markets, where the odds are constantly updated and time is sometimes of crucial importance.
Withdrawals with EntroPay are processed just as easily and conveniently. Again, you are expected to enter the sum you wish to cash out from your betting account's balance and confirm the transaction. While deposits are processed right away, this is not the case with withdrawals. The latter take up to 24 hours to complete. Please note the time it takes to process a withdrawal sometimes depends on the amount you wish to cash out. In some cases, you might be forced to wait for several business days. This also depends on the T&C of the sportsbook you have registered at. If you wish, you can use the money to place more bets or transfer them from your Entropay account to your bank account or credit/debit card.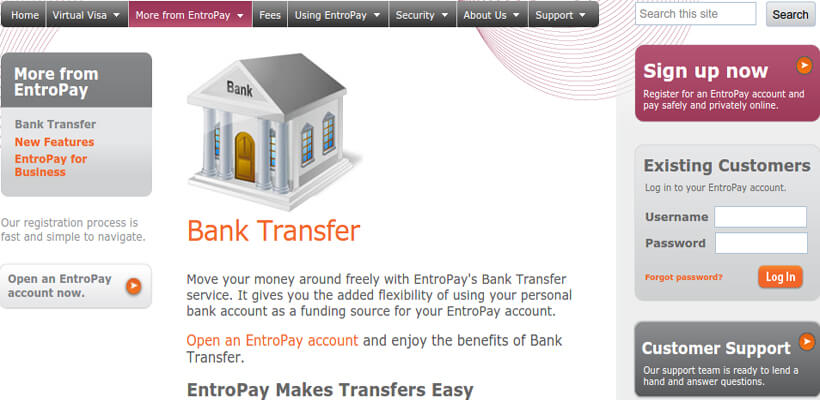 Mobile Application
Being able to place bets while the go is without any doubt extremely convenient. That being said, it's worth mentioning at the present moment Entropay does not offer an official downloadable application to install on your portable devices. Nevertheless, this does not mean you will not be able to access your Entropay account and fund it via your smartphone or tablet. On the contrary – this is feasible as Entropay's website is mobile-responsive. This means it is possible for you to load the payment solution's website directly from your portable device's browser.
The mobile counterpart of the website looks the same way as the desktop version. You will not experience any difficulties in funding your prepaid virtual card using your mobile phone. The mobile version is compatible with all widespread portable devices – Blackberries, iOS, Android and Windows-based.
Entropay Fees
Punters might be interested to know what are the fees imposed on their Entropay transfers. As is usually the case, registration with Entropay is completely free of charge. Despite that, the fees imposed on transfers are slightly higher than those charged by other payment processors.
For instance, if you wish to transfer funds from your debit/credit card to your prepaid virtual card, you will have to pay a fee of 4,95% of the amount you are transferring. The said percentage exceeds the reasonable limit. Then again, punters will be charged with a 1.95% fee each time they process a withdrawal of their winnings to the Entropay card. Transfers between your virtual cards will cost you $0,20 or the equivalent in the currency you use. If any currency conversion is necessary, the service will cost you 2% of the sum you exchange. And finally, a fee of $6 (or your currency's equivalent) will be imposed each time you transfer funds from your Entropay account to your credit/debit card.
As you can see, the fees are rather imposing, but at least, depositing money into your betting account and paying for online purchases is free of charge.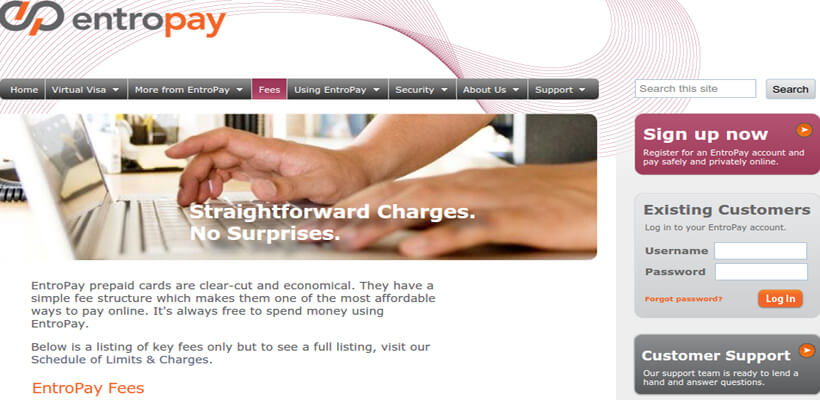 Is Entropay Secure?
We have already mentioned Entropay is certified and regulated by the UK Financial Services Authority, which goes to show this is a reliable and legitimate payment solution. Apart from that, the company is certified and works in close partnership with TRUSTe, which is an independent, trust-mark sales company. This partnership allows Entropay to safely collect and use all personal and banking data its customers provide. You can rest assured money transfers with Entropay are completely safe, so there are no causes for concern in this regard. First of all, Entropay does not reveal customers' personal and financial information to any third parties when processing payments to online sportsbooks and merchants. This enables you to fund your sports betting account in a very confidential manner.
In addition, customers' accounts and transaction data are protected by efficient 128-bit encryptions, virus-detection systems and special firewalls. This prevents ill-intended persons from monitoring and obtaining any personal and financial information you share.
The protection of your virtual card lives up to the strictest military standards as each card is generated by secure cryptographic devices. What is more, you are the only person who knows what your username and password are – even Entropay employees are not granted access to such information.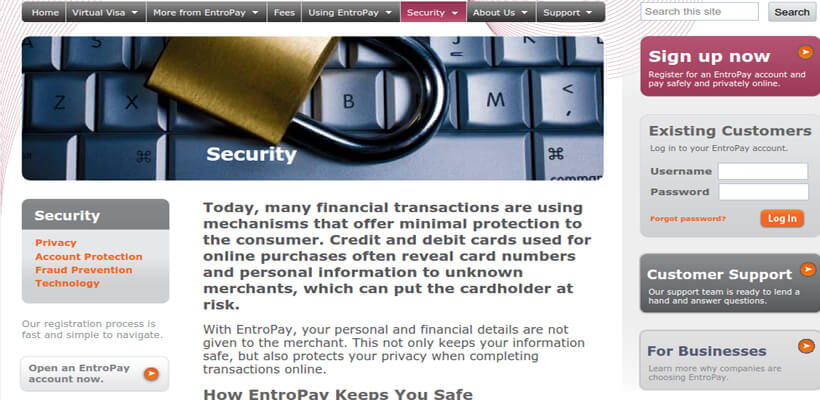 Advantages of Using Entropay
Entropay is frequently regarded as one of the best methods to fund your sports betting or casino account, which is not surprising considering the fact how many advantages it has to offer. The greatest benefit of using this payment method is the exceptional level of confidentiality, convenience and flexibility it offers. Everything about Entropay is user-friendly, from the registration to the way payments are being processed. The built-in currency converter is a rather helpful feature as well, especially for punters who don't use EUR, GBP and USD currencies.
Time-efficiency is another advantage. Deposits with the payment processor are immediate, whereas withdrawals take only a day to complete in most cases. Besides, you can transfer your winnings to your Visa or Mastercard debit/credit card and cash out at the nearest ATM. But that is not all – one of the biggest benefits of using this service is that it allows for much greater control of your expenses as you can spend only the amount you have transferred into your virtual prepaid card.
Punters have absolutely no reason to worry about the safety of their finances and personal details, as Entropay's main priority is to protect them from frauds and identity thefts. What is more, Entropay enjoys such great popularity on a global scale that it is listed as an accepted method of payment by most established web-based bookmakers. You will experience no troubles in finding a sportsbook where you can deposit with your prepaid virtual card.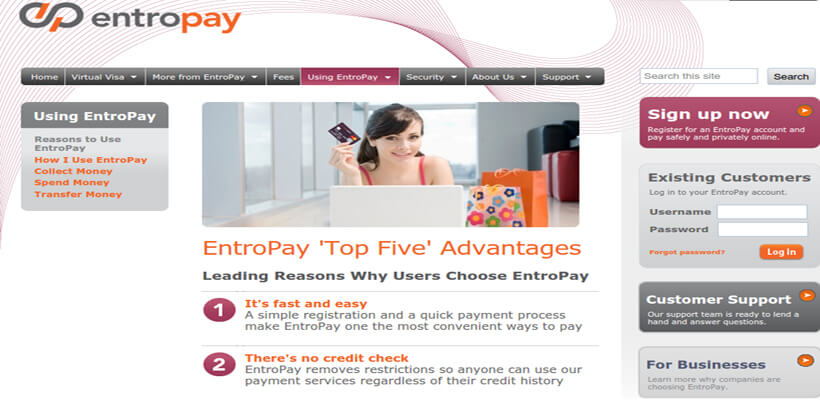 Disadvantages of Using Entropay
Entropay is one of the payment methods where only a few disadvantages can be pointed out. Some punters complain of the relatively high fees attached to the payment processor's services. What further adds to this inconvenience is that punters are charged with fees when withdrawing funds from their betting accounts. Keep in mind your account's balance must be sufficient so that it can cover the $6 you are charged with when initiating a withdrawal. This means if you want to cash out $50 from your betting account, your balance should be at least $56. As we've mentioned, a 4,95% fee is charged each time you fund your prepaid virtual card. That is why, some punters prefer to use other payment methods like e-wallets for example, as they don't charge with extra fees.
But let us be fair – even though the fees charged by Entropay are slightly above the average, at least they are stated clearly and comprehensively at the payment processor's official website. That being said, you can expect no hidden fees from Entropay.
Countries Where Entropay is Used for Sports Betting
As it became evident, Entropay is a payment method that is especially suitable for processing sports betting payments, first of all, because it is accepted by a staggering number of web-based sportsbooks. You will see it is listed as a payment solution at established and trustworthy web-based betting providers such as William Hill, bet365 and Ladbrokes, to mention a few.
What's so great about Entropay is that it accepts applications from most countries across the world with very few exceptions. As Entropay's list of countries is very extensive to say the least, it is advisable to visit the website and check whether or not your country is present. Most likely it will be as there are literally hundreds of territories where Entropay can be used. The United States are among the few countries where Entropay does not offer its services, that is why US punters should opt for another method of payment to fund their sports betting accounts.
Furthermore, the website is available in a total of seven languages, including Spanish, French, Italian and Portuguese. The number of accepted currencies is slightly limited compared to the greater variety offered by Skrill and Neteller, for instance. Punters can choose from about 14 different currencies. If your local currency is not accepted, you can use the conversion tool, but as we have mentioned you will be charged with a 2% fee for the exchange. It is important to point out that your Entropay and sportsbook accounts should use the same currencies. Otherwise, you will be charged with the extra exchange fee, too.
It is recommended to first check whether online gambling and sports betting is legal in the country you permanently reside in. Entropay presents itself as an excellent solution for punters who live in countries where online sports betting is illegal and their Visa credit/debit cards are not accepted by web-based sportsbooks. The following is valid especially for sports betting fans who reside in the United States, China, India and Turkey, where online wagering is banned by law.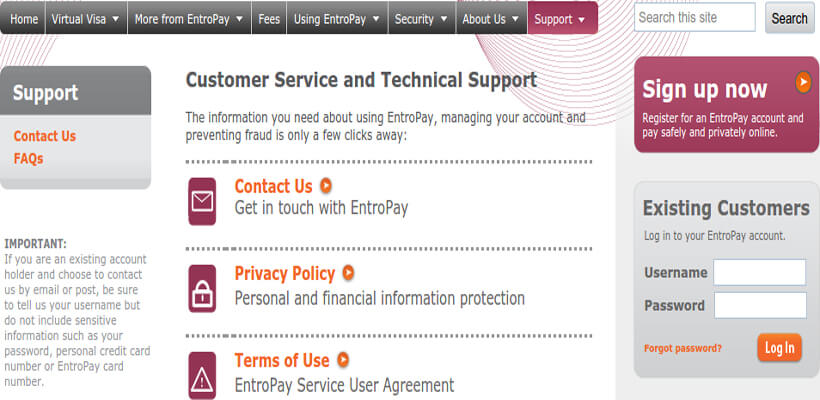 (Visited 580 times, 1 visits today)