Overview
Neteller is a popular online payment method which allows customers to send and receive money quickly and safely around the world. It is one of the biggest money transfer businesses as it is responsible for millions of transactions on a daily basis. The service functions as a standard e-wallet and is easy and convenient to use.
The company was established in 1999 and was originally based in Canada. Several years later, Neteller moved its headquarters to the Isle of Man and since then, its services have been authorized and regulated by the UK Financial Conduct Authority. This by itself serves as a sufficient guarantee Neteller's customers are well protected against identity theft and other fraudulent activities.
Today, Neteller ranks high as one of the most widely-used methods to pay for online purchases and has millions of customers from hundreds of countries around the world. The e-wallet, provided by the company, is available in several different currencies and is accepted by thousands of online merchants. Due to the convenience and flexibility it offers, Neteller enjoys tremendous popularity among sports bettors as it presents itself as one of the fastest and safest methods to load money into one's sports betting account. Besides, this payment method is accepted by many established online sportsbooks. The e-wallet has plenty of other advantages to offer to punters. You can find more detailed information on how it works below.
Find the best Neteller bookmakers here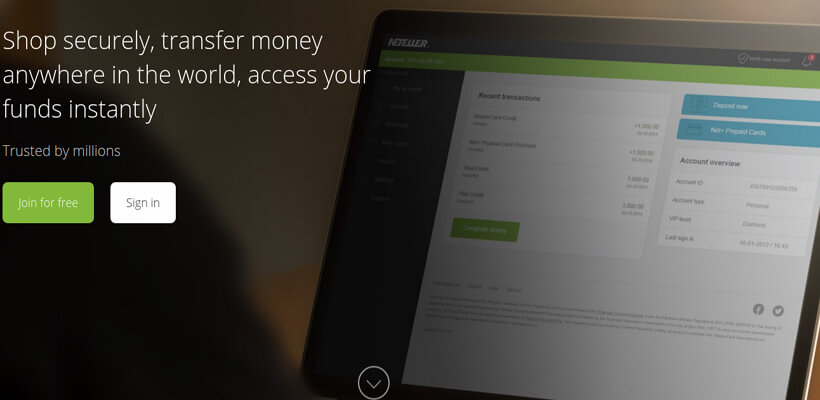 How Does Neteller Work
One of the biggest advantages of using Neteller as a payment method in web-based sportsbooks is that the e-wallet is accepted by almost all online gambling sites and bookmakers. Also, this method allows for time-efficient and reliable money transactions to and from your web-based sportsbook of choice.
Registration
Naturally, registration is required but it does not take much time and is easy to complete. Moreover, signing up is free of charge.
During registration, punters will be asked to provide a valid email address as well as their names, address, date of birth, and phone number. Note that in many cases the email you have registered with at Neteller must coincide with the one you have used to sign up for your sports betting account.
In the process of registration, you are expected to select your currency as well. Please select carefully and choose the currency you use the most, as it cannot be changed later on. Expect to receive an SMS to confirm your registration. The final registration step involves creating a unique Secure ID, which is an extra security measure meant to keep your account safe.
Once done, your Neteller account is ready to use for sports betting, but make sure you fund it with some money first.
It is also important to undergo verification as it will increase your limits. The process is very straightforward. You will need to provide Neteller with a photo of one of your identification documents (passport, ID card, or drivers license) and take a selfie via Neteller's software, either on the mobile application or on your computer with the use of a webcam. If you have at some point shared your browser's location with the website, and did so in your home address, Neteller will automatically verify your address.
Account Levels
Neteller has several account levels, the first of which is Standard. This is the level your account will be at after you register, although leveling up to the second level, True, is not difficult. All you need to do is fund your wallet, verify your account, and log into Neteller's mobile application. This level will lower your transfer fee to 1.45%, as opposed to the 2.99% fee of Standard.
There are also a number of VIP levels. You will automatically gain these levels by reaching certain thresholds when it comes to transferring money to merchants. The Silver VIP level, for instance, is activated once you have transferred a total of $15,000 to merchants in a quarter. VIP levels come with various perks, such as exclusive deposit/withdrawal discounts, a dedicated manager, and more.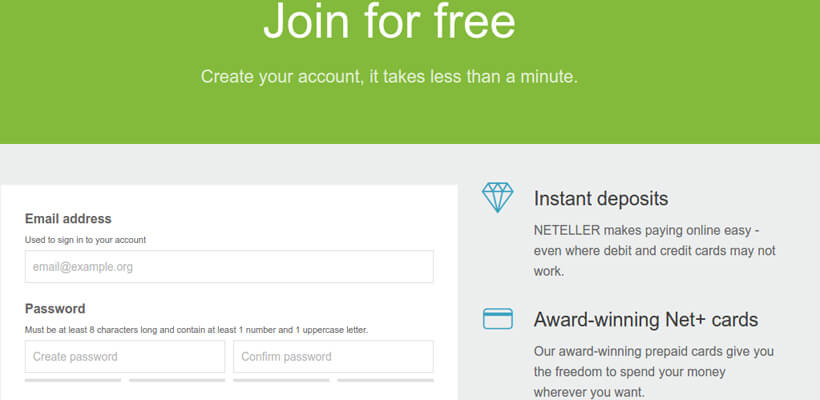 Deposits with Neteller
It goes without saying that before you attempt to use the Neteller account for placing bets on your favorite soccer team or tennis player, you must fund it first. There is absolutely no need to worry – the procedure is extremely simplified, not to mention completely secure.
There are many different ways to fund your Neteller account – you can link it to your credit/debit card, use prepaid vouchers by PaySafeCard, or opt for local bank deposits and bank wire transfers. One important thing to remember is that processing fees vary depending on the method you fund the Neteller account with. For example, if you fund it via a credit/debit card, your processing fee will amount to 2.5% of the sum you transact; if you opt for PaySafeCard, the fee might be 5%! So make sure you take this factor into consideration and choose wisely.
Naturally, the next step is to load some money into your sportsbook's account using the e-wallet. Fortunately, this process is beyond simple. You only need to log into your betting account and click on the Banking menu. Then select Neteller from the list of deposit options, fill in your information, specify the sum you want to transfer, and confirm the transaction. The money will be transferred instantly and you can start placing bets on your favorite teams or athletes.
Withdrawals with Neteller
What's so great about using Neteller's e-wallet is the fact it allows you to withdraw funds from your sports betting account as well. However, punters should first verify their Neteller accounts in order to process withdrawals. The cash-out process bears a close resemblance to depositing via Neteller.
In a similar fashion, punters are required to visit the sportsbook's Banking section and request a withdrawal by selecting Neteller from the menu. The sum you wish to withdraw from your betting account needs to be specified. The last step is to confirm the withdrawal.
The main difference between depositing and withdrawing with Neteller is that cash-outs take longer periods of time to process, i.e. they are not instantaneous. Again, the time it takes to complete the transaction from your e-wallet to your bank account or card differs. Bank transfers, for instance, take 1 to 5 business days to complete.
If you demand greater dispatch and reside in a country that belongs to the European Economic Area, our suggestion is to apply for a Net+ card since the money transfer from your e-wallet to the Net+ card is instant. Keep in mind, however, that you cannot use online or offline Net+ cards for betting and gambling in general.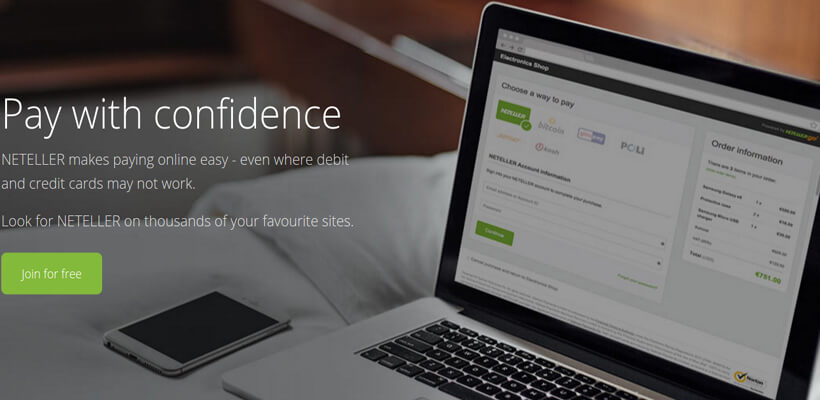 Fees
Neteller is generally considered a low-cost and convenient payment solution by most punters as it enables them to process transactions in a secure and relatively time-efficient manner to and from their sports betting accounts.
It is very important to mention that while the fees are for the most part affordable, they might differ greatly, depending on the method you use to fund your Neteller account as well as on your country of residence.
Those of you who deposit into their Neteller accounts via Visa, Mastercard, Maestro, Giropay, Klarna, Trustly, and most other methods will pay a 2.5% fee of the deposited amount. Punters, who fund their e-wallet with PaySafeCards will have to pay up to 5% of their deposit amount. Paying with Neteller at online merchants or depositing funds into your sportsbook account is free of charge.
Fees of 3,99% are imposed whenever a currency conversion is necessary. Punters must make sure they use their Neteller accounts at least once every 6 months and retain some balance into their e-wallet. If not, they will be charged with a $5 inactivity fee on a monthly basis until their account balance reaches 0%.
Fees Summary
Operation
Time
Cost
Deposit to bookie
Instant
free
Withdrawal from bookie
up to 2 days
free
Deposit with card
Instant
2.5%
Withdrawal to card
up to 3 days
0 – 3.99%
Deposit with bank account
Instant
0 – 2.5%
Withdrawal to bank account
1-5 days
$10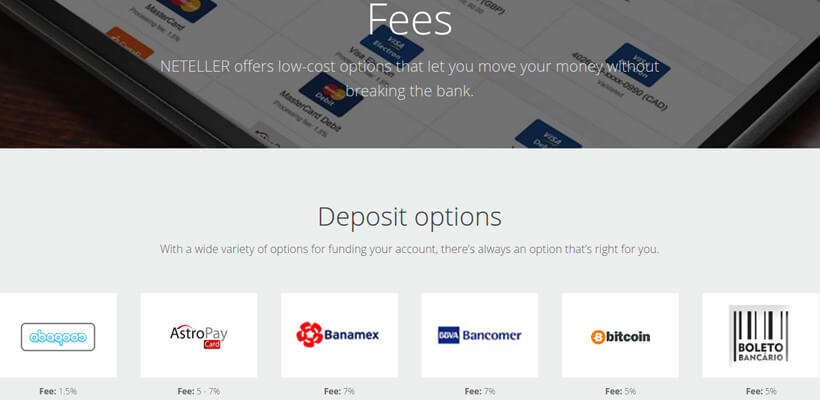 Security
Yet another reason why Neteller ranks so high in the list of payment methods is that it offers an extremely high level of security. As no personal and financial information is disclosed to third parties (i.e. to merchants and web-based bookmakers), there is no need to worry someone will obtain your bank account number.
Furthermore, the payment platform keeps customers safe by employing up-to-date anti-fraud tools and security features. Each account and the information it contains is heavily encoded by the latest 256-bit encryptions and is protected by reliable firewalls. Regular backups are performed to ensure customers' transaction history is safe at all times. Sports fans can rest assured their money is in good hands – the company holds their accounts' balance in bank trust accounts to make sure the money is always secure.
In addition, confirming your phone during registration automatically enables Two-factor Authentication via SMS. This is a service that protects your account by requiring you to confirm you are its owner whenever you log in.
There are several 2FA types, and Neteller allows for two methods, the first of which is the aforementioned phone 2FA. This means that when you attempt to log in, you will receive a confirmation code via SMS which you will then need to enter in the corresponding field.
You can also enable 2FA through email, and you will be able to receive the login code in your email instead. After you have completed FA, you will then be asked to enter the aforementioned Secure ID, and you will be good to go.
Although it is worth noting that you can disable 2FA, doing so is ill-advised since this will make your account more vulnerable.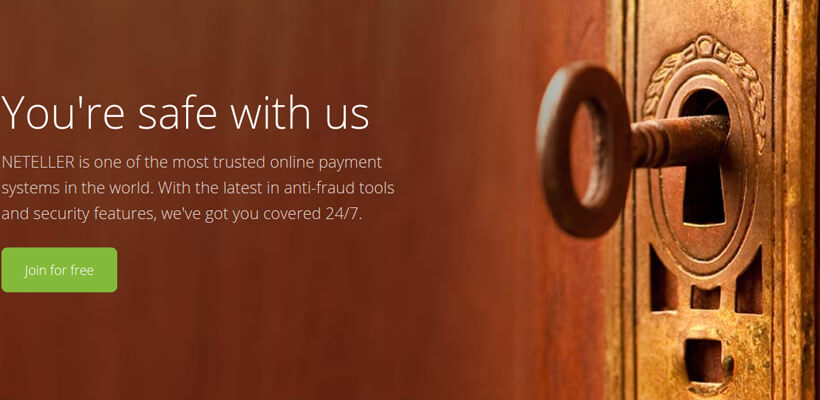 Mobile Application
The convenience factor is one of the main selling points of digital wallets, and it is thus crucial for them to make their services portable and easy to use. As Neteller is a company committed to providing the best customer service out there, accounts can, indeed, be easily accessed via portable devices such as smartphones or tablets.
The company provides a dedicated application both for Android users and for customers who utilize iOS devices. Additionally, Neteller's official website is mobile-responsive which basically means bettors can access their accounts directly from the browsers of their mobile devices. What is more, the website is very well adapted to mobile access and works seamlessly on such devices.
However, we would strongly advise you to download the application instead. This is one of the requirements for upgrading your Standard level account to the Neteller True level, and leveling up comes with various benefits. Furthermore, this requirement is nothing to worry about since the installation process is easy, regardless of whether you need to download the app from Google Play or the App Store.
As for the application's functionality, we are happy to report that there are no drawbacks to utilizing Neteller on your smartphone. The interface is great and has been carefully adapted to not only look pleasant on a smaller screen, but it is also well organized. Navigating the menus is a breeze all in all. Moreover, you have the same features which are available to PC users. Withdrawals and deposits are just as easy, and you have the same level of control over your account as well.
One important functionality offered by Neteller is the so-called "Two-factor Authentication". Basically, it enables you to coordinate your Neteller account with your mobile device, be it an Android smartphone or an iPhone. As previously established, in the registration process, you will automatically enable two-factor authentication by verifying your phone number.
Mobile App Features
Send Money
yes
Receive Money
yes
Top-up from bank account
yes
Withdraw to bank account
yes
Deposit to bookie
yes
Withdraw to bookie
yes
Advantages of Using Neteller
It is not difficult to see using Neteller to fund your sports betting account is beyond beneficial. First off, registration is very simplified and easy to complete, not to mention free. The e-wallet provides punters with exceptional convenience and flexibility when managing their betting funds.
One of the biggest advantages of Neteller stems from the fact this payment solution is accepted by a staggering number of web-based sportsbooks, including some of the biggest names in the industry like bet365, William Hill, Ladbrokes, Betway, and Betfair, to mention just a few. Deposits to your betting account are processed within seconds so you can back your favorite team right away – very important, especially when you are placing bets on the In-Play markets.
Furthermore, Neteller is fully compatible with mobile and has a dedicated smartphone application. This means punters can easily transfer money into their betting accounts any time they choose, regardless of their location. You can fund your sports betting account and place your wager while riding on the bus or waiting for the train.
Of course, the greatest merit of managing your funds via Neteller is the outstanding level of security this payment method offers. There is no need to worry you will become a victim of any fraudulent activities. Your personal and financial details are safe and sound and will never be revealed to third parties when transactions are processed.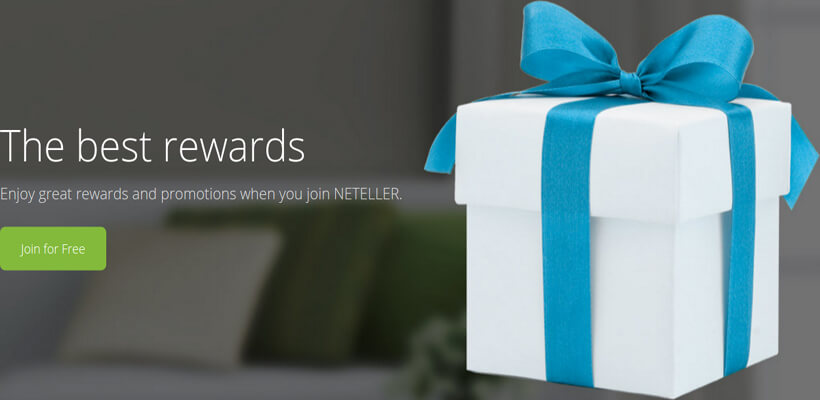 Disadvantages of Using Neteller
When it comes to Neteller very few disadvantages can be listed. Overall, this is one of the best online payment solutions we could think of. Nevertheless, punters from some countries report they are displeased by the fees imposed on their transactions. This is especially valid for those, who choose to fund their Neteller accounts via PaySafeCards as the fee for such transactions amounts up to 5% of the sum you process. Indeed, one cannot help but admit such a fee exceeds the reasonable limit for some bettors.
Things are not much different with withdrawals via Neteller. If you decide to withdraw money from your Neteller account via a bank transfer, you should prepare yourself for a fee of $10. Even if you apply for a Net+ Mastercard, you would have to pay a 1.75% fee each time you withdraw funds from an ATM. The time required to complete a withdrawal may also be viewed as a disadvantage.
Certain individuals will also be put off by the verification process, as it is a bit unique compared to what they might be used to.
Last but not least, Neteller is not available absolutely everywhere. Bettors who reside in such locations will thus have no option but to opt for a different e-wallet service.
Countries Where Neteller is Used for Sports Betting
Despite its weak aspects, Neteller remains one of the most commonly-used methods to fund your sportsbook account or withdraw the profits you've accumulated through betting. Even more so, if you consider the great number of web-based sportsbooks that accept it as a method of payment. What makes Neteller so convenient is the fact you can keep some of the money you've allocated for betting in your e-wallet and transfer it to your sportsbook account quickly, whenever an appealing promotional offer is available.
What further adds to the convenience of using Neteller for this purpose is that the e-wallet is available in an impressive number of countries. Punters from 200+ countries can use it to fund their betting accounts. In addition, the e-wallet works with over 30 currencies, so make sure you choose yours if available. Besides, there are 11 languages to choose from on the website.
Please note Neteller provides full service in some regions only, whereas in others, the service is limited. Customers who reside in countries with limited service are allowed to register with a Neteller account, but their deposit and withdrawal options will be limited. What is worse, limited accounts cannot be used to process transactions to web-based bookmakers or other gambling websites.
The list of countries and regions with limited Neteller services includes Macao, Hong Kong, Canada, Singapore, Turkey, and Israel. Punters from these countries and those who reside there temporarily will be able to access their Neteller accounts, but will fail to process a transaction to any gambling-related websites, sportsbooks included.
Then again, there are over 100 countries where Neteller is unavailable altogether, which means residents cannot even register with an account. Some of these include China, Japan, Cuba, Yemen, Puerto Rico, Afghanistan, and Libya. Please visit Neteller's official website for a full list of the restricted countries. Sports fans who happen to travel to any of these locations should feel free to contact Neteller's support team and their accounts will remain open during their stay.
And finally, there is a list of about 14 countries such as North Korea, Sudan, Syria, and Myanmar, where Neteller's services cannot be accessed at all. Such countries ban their residents from using the e-wallet mainly due to their governments' legislation. Punters who end up in one of these countries for one reason or another will be able to use their Net+ prepaid Mastercards but will fail to access their Neteller accounts.
Last but not least, before you open an account at any bookmaker, please make sure you are signing up with an established and trustworthy sportsbook. A reliable betting provider stands out with greater transparency and does not shy away from openly displaying its license numbers as well as the name of the regulatory body that issued the license. If you are bent on depositing via Neteller, visit the bookmaker's website first and check whether this payment solution is listed in the banking options.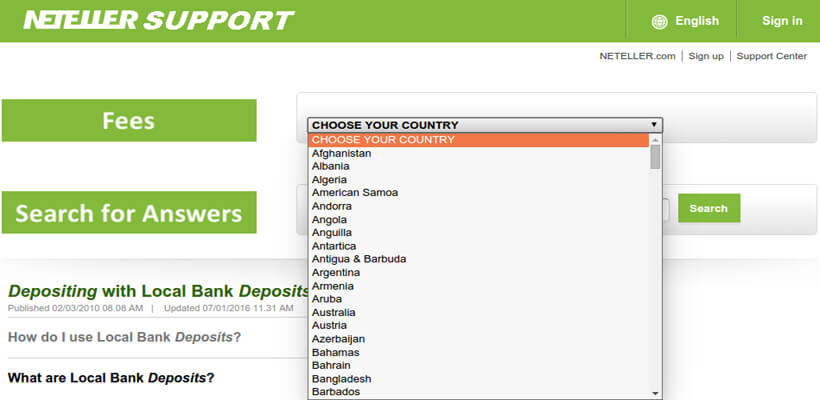 FAQ
No. Although Neteller does charge fees for certain transactions, it does not charge any fees for creating a new account.

Yes. Customers who utilize an Android device can download the dedicated app from the Google Play store, while iOS users can install it via the App Store.

No. Once you start the verification process from your settings, the instructions will explain what you need to do clearly. Keep in mind you will need to verify either on a smartphone or on a computer that has a webcam. The process involves uploading scans or photos of an identification document (passport, ID card, or drivers license) and taking a selfie through Neteller. Address verification is automatic if you share your browser location with the website.

Most reputable bookies will feature a "payment methods" or similarly named page which lists all of the banking solutions you can utilize for deposits and withdrawals. If you made an account at the bookmaker in question, you will be able to see the available methods under the deposit/withdrawal sections if this information is not available elsewhere.

Yes. You can enable 2FA via mobile phone, and a code will be sent to your number whenever you wish to log in. Two-factor authentication is also available for email.
(Visited 594 times, 1 visits today)