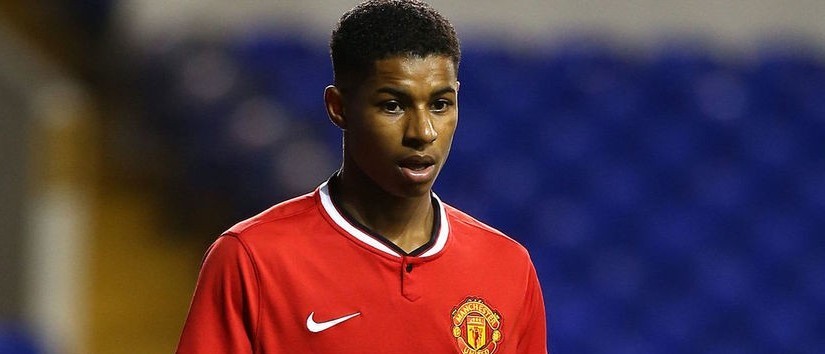 The head coach of Manchester United – Louis van Gaal – has praised Marcus Rashford for his senior debut at his side's UEFA Europa League Round 32's second leg against FC Midtjylland on February 25th. The Red Devil's manager had ranked the performance of the 18-year-old player saying he had ranked among the first performances of some of the biggest stars of high-class European clubs such as Bayern Munich, Ajax and Barcelona.
Marcus Rashford became the youngest ever scorer of Manchester United in European competitions after he managed to score a total of two goals in his side's second match against Midtjulland. This was the game when the Danish team got eliminated from the Europa League competition by the Red Devils.
Apart from scoring a brace last Thursday, Rashford also scored another two goals in the club's 3-2 victory over Arsenal on February 28th. This is exactly why the club's manager, who had a reputation for developing young players at the previous clubs he coached, praised the striker saying that he had managed to prove himself as a player of genuine quality.
Still, Van Gaal shared that in his experience, young players always perform well at their first match, but things usually get different at the second match. However, in the manager's opinion, the 18-year-old Rashford had done a great job in both matches, which came as a proof of his special talent.
The head coach of the Red Devils ranked Rashford among some of the biggest stars he have worked in Ajax, Barcelona and Bayern Munich, referring yo Patrick Kluivert, Xavi and Thomas Muller, respectively. He has also posed a challenge to the youngster to demonstrate his talent in the upcoming games of the club, too.
The young England international also commented on his performance for Manchester United, and described it as an amazing first game. He shared that he hopes to keep up with the good work for his side's next game. According to Rashford, it was a great benefit for him to be given a chance against FC Midtjylland after forward Anthony Martial was benched in the warm-up.
In 2015, Rashford got on top of the scoring charts for Manchester United's Under-18s after scoring 13 goals in a total of 25 matches. Before making his debut for the Premier League club's first team, he was an unused substitute in his side's 2-1 victory at Watford on November 21st as well as in their draw against Leicester on November 28th.
(Visited 146 times, 1 visits today)