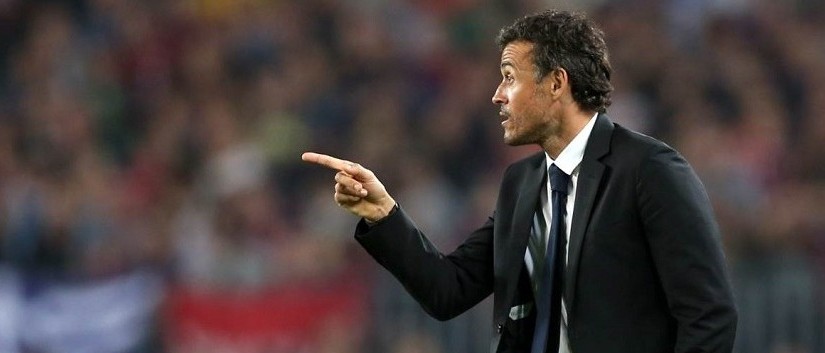 The manager of Barcelona – Luis Enrique – said that his side were the most likely to win La Liga title after their 2-1 win over Sevilla on February 28th. This was the 34 consecutive match that saw Barcelona unbeaten, but the club's head coach commented that it would mean nothing if his side ends the campaign without winning La Liga title.
Barcelona's side seemed a bit shocked with the visitors' push, but Lionel Messi and Gerard Pique made sure the Catalan club got the three points. The Nou Camp visitors scored the opening goal after Vitolo's volley, but Messi made the score even on the half-hour mark. Then Pique cemented the win to 2-1 early in the second half of the game, but it was not an easy match for The Blaugranas.
At his post-game press conference, Luis Enrique admitted that Barcelona is set to win La Liga title this season. He said that the gap between them and Atletico Madrid is relatively small and his side should remain focus on their major goal. Still, Barcelona's manager said that his side are in an "unimprovable position" right now, at a time when the competition is headed towards its most decisive part.
At the game on Sunday, Barcelona were looking to keep their unbeaten streak the way it is. Sevilla, on the other hand, were in search of their first away win of the current campaign, so they pushed hard on their opponent. As a matter of fact, Sevilla were the last team that managed to beat Barcelona with a 2-1 victory when the two sides met in October at the Sancez Pizjuan Stadium. Sevilla were also the last opponent faced by Messi and company in the Copa del Rey on May 22nd, 2015.
The Blaugranas made a slow start on Saturday, as with against the team of Arsenal and in the majority of their matches over the season. They were seriously constrained by the high-pressing game of Sevilla. Still, the initiative of the game's opening ball came from Barcelona, with Aleix Vidal passing the ball to Suarez, who unfortunately did not manage to score. Then, the Catalan club missed two chances with Sevilla remaining a threat on the corner.
Currently, the club leads the way to La Liga title with a total of 66 points on their record. This leaves an 8-point gap between Barcelona and runner-ups Atletico Madrid, while Real Madrid is third with a total of 54 points. There are still 12 games to go until the end of the 2015/2016 campaign.
(Visited 118 times, 1 visits today)