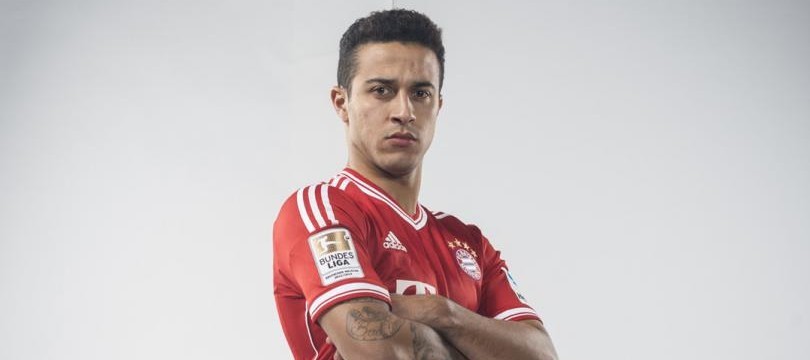 FC Bayern Munich officially confirmed that its midfielder Thiago Alcantara will be sidelined for a period of up to four weeks as a result of a knee injury he suffered while on his international duty.
Alcantara, who is 24 years old and is also part of the Spain national football team, was withdrawn over the first 45 minutes of Spanish team's friendly with England in Alicante last Friday. The match ended 2-0, but the Bayern Munich midfielder re-injured his right knee, which has previously caused him some problems.
The MRI scan revealed a swelling on the medial collateral ligament on the midfielder's right knee, which unfortunately has already suffered three previous traumas before. As a result of these injuries, Thiago Alcantara was previously out for more than twelve months – from February 2014 until April 2015.
The medical officer of Bayern Dr. Volker Braun has conducted further tests, which revealed that the midfielder needs some time to rest in order for the trauma to heal. The official diagnosis of the Bayern Munich's medical team was "an edema in the proximal insertion of the medial collateral ligament" on the player's right knee. Unfortunately, this diagnosis basically means that the player could end up missing up to seven matches for the Bundesliga No.1, including Bayern's league fixtures versus FC Schalke 04 and Borussia Mönchengladbach.
Still, the German club made an official statement, saying that the Bayern Munich team doctors "detected capsule damage" in the player's right knee. However, the statement read that the injury is not related to "Thiago's prolonged problems in the past".
The withdrawal of Alcantara from the Spanish squad for the country's friendly against Belgium, which was to take place on Tuesday bu was later cancelled due to security concerns, was confirmed right away by the Spain national football team.
Bayern Munich, which is the leader in the Bundesliga ranking up to date, has eight games left before the beginning of the winter break in December. The club is to face Schalke on Saturday in a match within the Bundesliga. Then it is scheduled to host Olympiakos in the Champions League next Tuesday. It seems that the midfielder is to also miss the UEFA Champions League group stage matches with Olympiakos and NK Dinamo Zagreb, as well as the club's DFB Cup encounter that is scheduled for December 15th.
Currently, 24-year-old Ancantara has appeared in a total of 19 matches for both his German club and country so far over the season.
(Visited 113 times, 1 visits today)