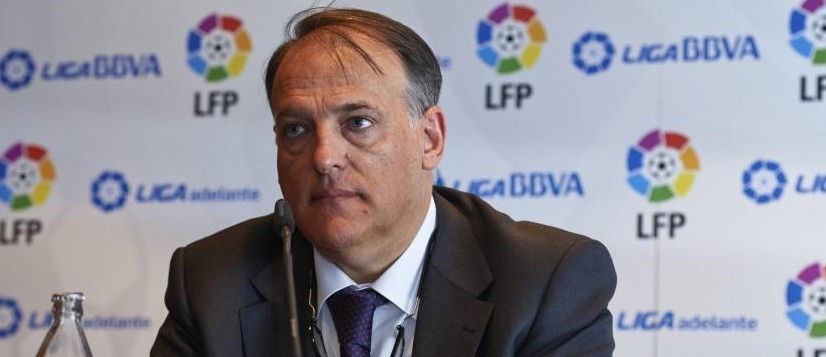 Javier Tebas, president of La Liga, has described the transfer bans imposed by FIFA to Spanish clubs Barcelona, Real Madrid and Atletico Madric as "medieval and anachronistic."
The comment of La Liga official were made during his visit to Brussels, where he visited a debate organised by the Sports Intergroup of the European Parliament. Tebas also shared that the third-party ownership financing method is needed in La Liga clubs that would otherwise the pending chance of losing their best players such as Lionel Messi, Cristiano Ronaldo and Neymar.
Earlier this month, Real Madrid and Atletico Madrid were both suspended from making player transfers over the next two consecutive transfer windows due to violating youth transfer rules. FIFA imposed a similar ban on Barcelona in 2014. All three Spanish grands were found guilty on breaking the laws regarding the international transfers of football players under the age of 16.
Of course, both Real and Atletico denied doing anything wrong and announced their intentions to appeal as far as the Court of Arbitration for Sport in case it is necessary. Atletico Madrid lodged an appeal to the Appeal Committee of FIFA on Tuesday. Similar steps were taken by Barcelona, who took the case to the Court of Arbitration for Sport when being alleged in the same offences in 2014. Unfortunately for the Spanish grand, it still ended up being imposed transfer bans for the two transfer windows in 2015.
In spite of the fact that the same story seems to be repeated, the president of La Liga Javier Tebas shared that under-aged players in the academies of the three Spanish grands are looked after in the best possible ways. According to him, the rules should be changed instead of bans being imposed to teams that have model academies and provide children not only with great training, but also with education. He also said that the measures recently taken by FIFA simply make no sense.
When it comes to the third-party ownership issue, the latter has been considered a major one in Spanish football. Tabas talked about the prospective of Spanish grands losing some of their best players to Premier League competitors. He said that local clubs would become unable to attract young and talented players in case that they do not boost their revenue, and such a thing would have done them not competitive enough.
Referring to the latest scandals that have recently shaken FIFA, La Liga president commented that the world football's governing body was not entitled with the "moral authority" to impose such suspensions on clubs and tell them how to manage their own financial affairs.
(Visited 79 times, 1 visits today)