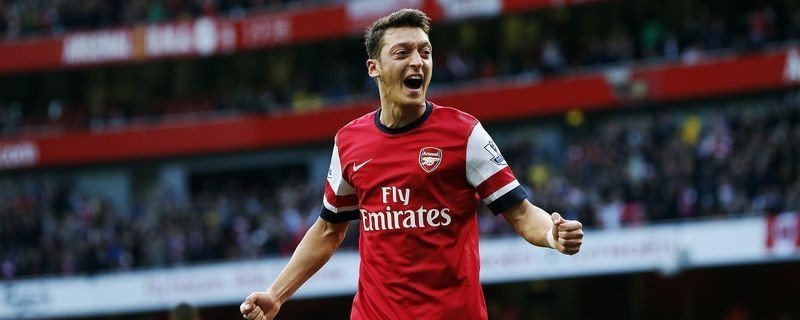 Mesut Ozil has recently made an evaluation of his performance and the performance of the team in general during the current season. Arsenal's playmaker shared that according to him, the approach The Gunners had towards defeating the biggest teams in the Premier League can be considered the biggest milestone they managed to achieve. The majority of Arsenal fans believe that the greatest achievement of the Gunners is the victory against Manchester United.
Arsenal's superstar commented on the performance of his team for a reputable media. He said that looking back to their performance during the previous seasons, he believes the team has undergone great improvement. He added that despite being technically strong, Arsenal used to drop points against the other big teams in the Premier League. A mistake, which was figured out during the current season.
Speaking of Ozil's individual performance, in particular, he did quite good this season and helped his team level on points with Manchester City. During this season, Ozil has registered a total of ten assists, which is more than what any other player has done.
However, he attributed his individual impressive performance to his teammates and said that their support has had a great impact on his ability to play his natural game. Now, the playmaker feels that his teammates' confidence is boosted and they trust him in attacking areas more than they previously did.
The German international went on to say that he has flourished due to the collective performances of The Gunners. According to the playmaker, Arsenal players have learnt from their mistakes and now, they are more mature as a team. They managed to succeed despite the setbacks they experienced and namely these were the factors that set The Gunners apart from the other clubs.
Mesut Ozil has been a part of Arsenal since 2013 when he left Real Madrid to join The Gunners. His presence at the Emirates Stadium created a lot of excitement although his performance during the previous seasons was regarded as inconsistent.
Wenger is well aware of the fact that he needs to keep the good players within the team and the latest reports claim that Arsenal's manager has already taken actions in that direction. Wenger has entered into talks with Ozil and Sanchez, whose contracts are due to expire in 2018, with the aim of extending them beyond the expiry date and ensure their long-term commitment to the club.
(Visited 126 times, 1 visits today)