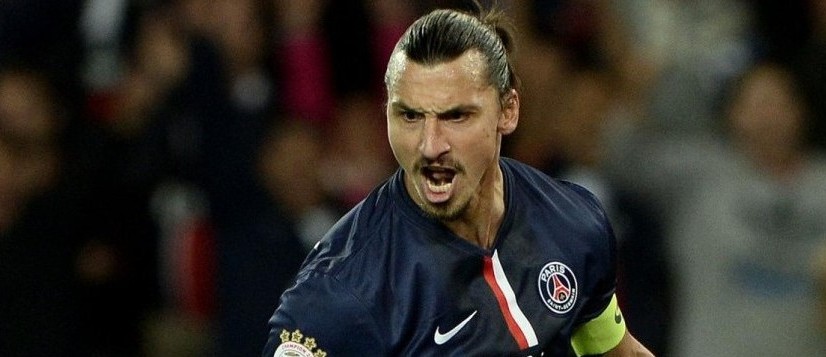 Paris Saint-Germain's star Zlatan Ibrahimovic has been rated 9/10 for his performance in his side's 4-1 Ligue 1 victory over Stade Reims on February 20th in a publication of a reputable sports media. This is not the first time when the player gets such a rate, as he also got a nine in the 2013/2014 campaign when he managed to score a total of four goals in his team's match against Anderlecht in the group stages of the Champions League competition.
Ibrahimovic's game at the weekend could be summed up to scoring goals and making assists, walking over the defence of Stade Reims. The striker has been simply unstoppable lately and not many teams have managed to face him in a way that matched his qualities. Ibrahimovic's statistics over the current season so far have been simply amazing, especially considering his age of 34 as well as the fact that the player missed the season's start due to an injury that allowed him to enter the field only twice over the first five weeks.
The longest period he has gone without scoring in the ongoing campaign is three games – the ones against Malmo, Monaco and Stade Reims. In addition, he has did not score a goal in seven of the 30 matches he has been entered in. Paris Saint-Germain's star has 23 goals in a total of 21 Ligue 1 matches, plus 10 assists in the same amount of matches. He has managed to find the back of the net seven times in his last five appearances.
Still, despite the amazing performances of the player, Zlatan Ibrahimovic's future is yet unknown, as the forward's contract in Paris Saint-Germain is to expire in the summer. Until now, the player has not yet revealed his plans after the expiration date of the current deal in June. The French champions, on the other hand, have not revealed if they intend to offer a new contract to the player who have proved himself as one of the brightest stars of The Parisians.
There have been rumours that Paris Saint-Germain would be looking for a replacement for Ibrahimovic with a younger player, and more specifically, with one of the now-stars of La Liga such as Cristiano Ronaldo or Neymar. Ronaldo, however, is more likely to sign a new deal with his current side Real Madrid, while Neymar has been reported to be close to another deal with Barcelona.
Various speculations over the Swede's future have been roaming around, including an eventual retirement for the player who is to be 35 in October. Still, it seems that Ibrahimovic would like to stay in Paris Saint-Germain. He has shared on different occasions that he is happy in Paris, and prefers to be close to his family. The fact that he is winning trophies with his side is also not to be underestimated, especially when it comes to a team that has every chance of winning the Champions League trophy.
(Visited 137 times, 1 visits today)