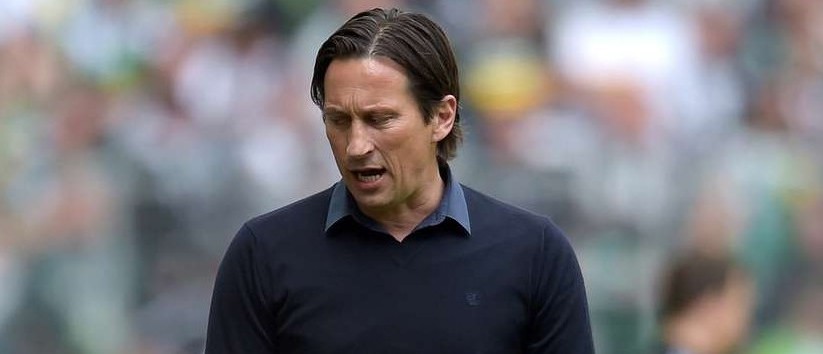 An investigation has been opened by the German Football Association against the current manager of Bayer 04 Leverkusen Roger Schmidt as well as against the club's sporting director Rudi Voller. The measures have been taken following the discussions related to Bayer 04 Leverkusen's, 1-0 defeat in their Bundesliga game against the team of Borussia Dortmund.
The match that took place on February 21st was halted when the Bundesliga No.4 manager Schmidt refused to leave the field after referee Felix Zwayer sent him off.
In fact, the referee had already warned Bayer Leverkusen's boss when the latter protested against the goal that Borussia Dortmund netted in the 64th minute of the match. The goal was scored by 26-year-old striker Pierre-Emerick Aubameyang after a free kick of Borussia Dortmund's side almost 6 metres away from the spot where Sven Bender had been fouled by Bayern Leverkusen's striker Stefan Kiessling.
Manager Schmidt was informed twice by his side's captain Kiessling to leave the pitch, but he refused. This resulted into the referee Zwayer choosing to halt the game, following the rulebook. The match was stopped for nine minutes, after which players returned to the field, and Schmidt stayed in the dressing room.
The things did not go well for Bayern Leverkusen over the remaining 25 minutes of the game, since they were denied a penalty after the ball appeared to be played by their opponents' defender Sokratis Papastathopoulos appeared with his arm inside the box. The penalty denial resulted in the club's sporting director Rudi Voller protests. Voller also suggested that the referee decision was a consequence of his side's previous misconduct and claimed that Zwayer was not neutral.
The German refereeing chief Herbert Fandel revealed in an official statement published on the DFB website that he was still unable to think of something to say over the incident. Fandel also expressed his discontent that match officials have been progressively treated with increasing disrespect over the current campaign.
The case is now to be put under scrutiny by the DFB, with the latter announcing that it has already opened investigations against both manager Schmidt and sporting director Voller. Additionally, the DFB explained that the sanctions that are to be imposed on Bayern 04 Leverkusen boss could include a dugout ban or, even more seriously, a suspension for working with his team.
The punishments are expected to be officially announced later this week.
(Visited 91 times, 1 visits today)