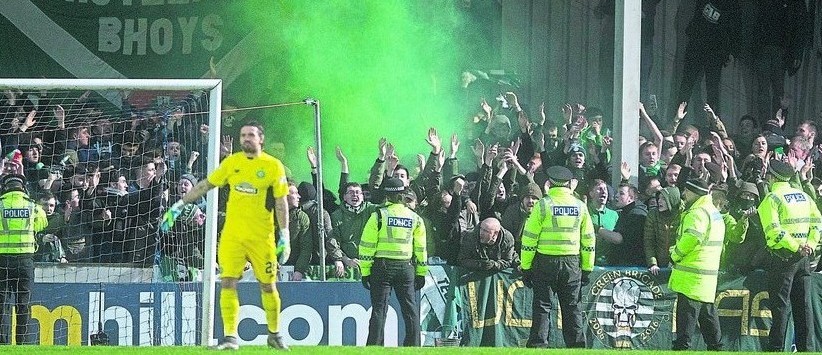 The current leader in the Scottish Premiership – Celtic F.C. – have been imposed a penalty by UEFA due to the fact their fans let off fireworks over the club's Europa League match against Fenerbahce. The game took place in Turkey on December 10th.
UEFA hit the Scottish team with a fine of more than £10,000 as a result of the actions of Celtic's supporters, and also for the "improper conduct" of the team.
The fine is to be triggered automatically as soon as the squad receives five yellow cards in a game from the Europa League. The five bookings were accumulated over the December 10th game and worsen the club's punishment. As a result, the Scottish club sank to the bottom of their Europa League group and ranked last, behind Molde, Fenerbahce and Ajax.
The punishment, which amounts to a total of £13,000, was officially announced by the Union of European Football Association on February 23rd after a meeting of the Association's control, ethics and disciplinary body.
On the other hand, the Scottish team themselves issued suspensions for an indefinite time to two of their supporters who took part in the incidents in Turkey at the beginning in December 2015. It was back in December when the football club revealed for the first time that they were considering to take some legal actions against individual fans who have taken part in the incidents.
This is not the first time when Celtic faced similar measures. The Scottish club were imposed a fine of €10,000 after being charged for similar actions over their match against Internazionale in Italy earlier in 2015. The latest case when the team got fined for such incidents was actually the eight time in five seasons and the third match in a calendar year over which they got punished by UEFA governing body for misconducting their supporters' actions.
Last season, Celtic were imposed a punishment due to crowd disturbances over their game against Dinamo Zagreb, as well as player indiscipline in the match against Inter Milan.
Up to date, Celtic occupy the first position in the Scottish Premiership table. The club is six points clear at the top compared to the runner-up, but still their head coach Ronny Deila is put under a lot of pressure. The manager has been recently focused on keeping his position beyond the summer of 2016, especially considering the fact they were hooted at at the half-time after a nervy first-half performance of Ronny Deila's side against Inverness on February 20th.
(Visited 129 times, 1 visits today)