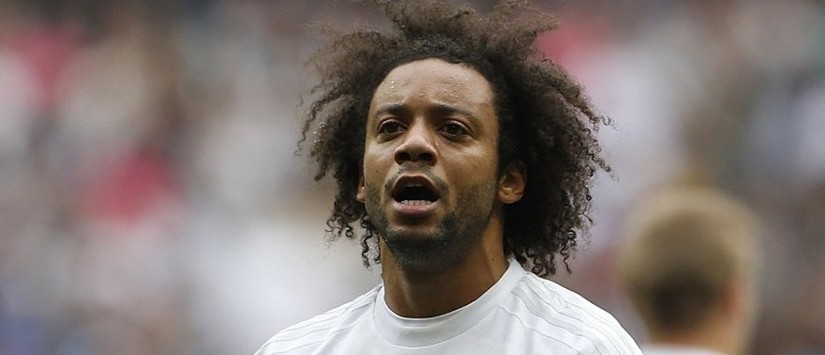 The great performance of Real Madrid against Granada on February 7th caused an euphoric sense in the Spanish grand. With Luka Modric rightfully taken the applauds for the 2-1 victory on Sunday, the team, however, suffered an unexpected blow as Marcelo left the stadium with an injured shoulder.
The 27-year-old Brazilian international is to undergo some tests in order for doctors to determine the extent of the trauma. Despite the fact that there has been no official information of the player's state yet, there are worries that Marcelo could have suffered a dislocated shoulder.
This is a serious blow for the entire team and manager Zinedine Zidane, as the latter does lack defensive options up to date. The only possible reinforcements available to Zidane were Alvaro Arbeloa and Nacho, but still the entire squad hopes that the 27-year-old defender's injury would turn out not as serious as the one that sidelined the Brazilian's team-mate Sergio Ramos for most of the current campaign.
Earlier this year, the Spanish grand's board have decided to postpone any new additions to the club until the summer transfer window due to their belief that the imposed transfer ban would be suspended on the club's appeal to FIFA.
However, this confidence has now left the team with a lack of options for manager Zidane to count on in Real Madrid's upcoming games in La Liga and the Champions League competitions. The deficiency at the left-back has endangered the overall tactics of the squad, which would undoubtedly be a challenge for the head coach in the upcoming games.
Fabio Coentrao could be a reliable option in case that he was available, but Real Madrid let him leave in the summer of 2015 after being sidelined for a long time due to injuries. Unfortunately, up to date Zidane does not have any alternatives to Marcelo at his disposal, which would put him and his men in a dangerous position, as the most fierce battles for La Liga title are yet to happen.
Danilo Luiz da Silva has demonstrated several encouraging performances under the former manager of the Spanish grand Rafael Benitez at a time when Marcelo was not available. However, the now-coach Zidane preferred not to offer Danilo another chance after his display at the Real Betis game, so the player stayed benched at Real Madrid's next game against Espanyol. Then, he was not even called with the squad for their trip to Granada.
The absence of Marcelo leaves either Nacho, or Arbeloa as possible options, but the truth is that neither of them is considered capable enough to fill in the place of the 27-year-old defender. Zidane has provided both Nacho and Arbeola with only a few minutes of gaming time, which could not be seen as a pretty encouraging when it comes to eventually entering them as substitutes of Marcelo.
(Visited 70 times, 1 visits today)