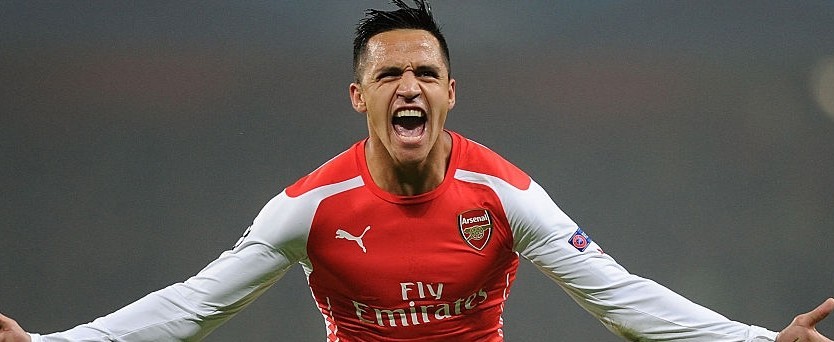 The midfielder of Arsenal Alexis Sanchez has been appointed as Player of the Year by the Football Supporters' Federation (FSF). The player, who is also part of the national football team of Chile, has found the net 20 times when playing with Arsenal's outfit so far this year.
The presentation of the Football Supporters' Federation Awards took place in London on Monday night, in association with William Hill. More than 180,000 votes were cast in this year's awards. Some of the best players have been awarded with the prize in previous years, including Luis Suarez in 2013 and Aguero in 2014.
The head coach of Arsenal Arsene Wenger said that Sanchez had truly had a great 2015, especially considering the fact his country's team managed to win the Copa America with his help, and Arsenal won the FA Cup.
Wenger shared that the midfielder "has made a huge impact on English football since his arrival at the Emirates." He also added that Sanchez' qualities, including great dedication, skills and abilities have been widely recognized by fans all over the country.
The player has great contribution to the English team, as he helped the club reach a long-awaited victory in the FA Cup against the team of Aston Villa. He has also been one of the most-appraised players of the Chile national team after helping it win Copa America.
The 26-year-old player is currently recovering from a thigh injury. He was ranked first for the prize by football fans, while Jamie Vardy of Leicester, who was his main opponent for the title, remained second. David De Gea, Sergio Aguero, John Stones and Harry Kane were also on the shortlist for winning FSF Player of the Year award.
Alexis Sanchez said he was delighted to receive the award and shared that the year 2015 had been great for him, both with his country and domestic team. He also commented on Arsenal's performance over the current campaign, saying that the team "have enjoyed a good start to the season."
The midfielder shared that he feels disappointed with the fact he picked up an injury, but he hopes to be back on track soon. Sanchez also said he hopes for another good year for Arsenal.
The presence of Sanchez in the Premier League has been greatly appreciated. The Chief Executive of the Football Supporters' Federation – Kevin Miles – shared he is a "fantastic player", which has made him a "worthy winner."
(Visited 86 times, 1 visits today)