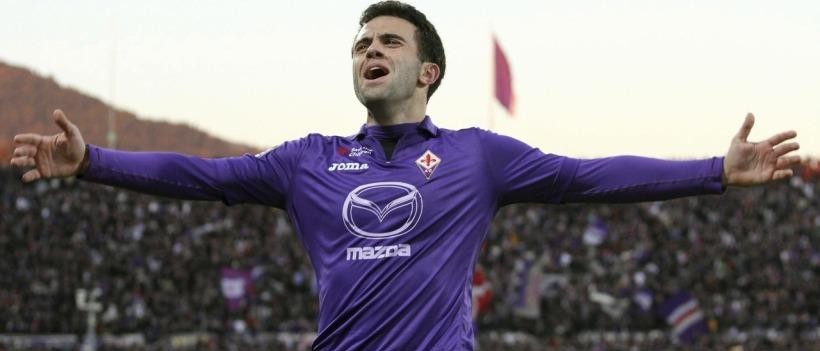 Guiseppe Rossi has clearly revealed that his intentions of leaving his current side Fiorentina in order to look for more playing time. The striker entered the field in only four Serie A matches over the current season because he has been having a long recovery from a fourth knee operation. The player has been suffering some health problems over the last few years.
In October 2011, the forward suffered a tear in his right anterior cruciate ligament while playing for Villarreal against Real Madrid. He needed three operations before becoming fit in order to get back to Fiorentina in May 2013. In addition, he also suffered a sprained ligament, which resulted in him missing four months over the 2013/2014 campaign.
There have been some speculations in the Italian media that the 28-year-old midfielder is approaching a deal with the Spanish club Levante. The Viola fans have also been talking about the possible options for Rossi when leaving Fiorentina, which made the player wrote a series of massages in Twitter in order to respond the rumours.
First, he revealed he feels quite disappointed that he needs to leave Fiorentina, mainly because of the fans who had greatly praised him. The forward also shared that he had always given the best he can, no matter if it came to therapy or training, and he really wanted to continue offering the fans first-class emotions on the pitch. He, however, confessed that it is hard to do so, considering the fact that he had been getting fewer chances to prove himself.
Rossi admitted that football "is life" for him, so fewer play time could never make him happy. He also expressed his hope that Fiorentina fans would be able to understand his motives for leaving the Italian club, because he needed new challenges. The forward said Fiorentina would always be in his heart, as his stay there had been pretty important for him.
According to the rumours, Rossi is now close to signing with the club of Levante. The latter would probably take him on loan, before the forward finally moves to another Spanish club – Villarreal, who occupy the fourth position in La Liga table up to date. The transfer to Villarreal is expected to happen at the end of the current campaign. Rossi had been said he would join the Spanish club at the price of around €6 million, but the truth is that the player seems to prefer coming back to Italy.
Signing with Villarreal would be a return to Spain for the forward, who became part of Fiorentina in 2013 after spending six years at Villarreal. The player has also played for Premier League's Manchester United and Newcastle and Italian Parma.
The forward himself said that his departure is "not a goodbye" when leaving the club's training centre. He once again shared his disappointment with the course of events and said he expects to see what would happen.
(Visited 89 times, 1 visits today)