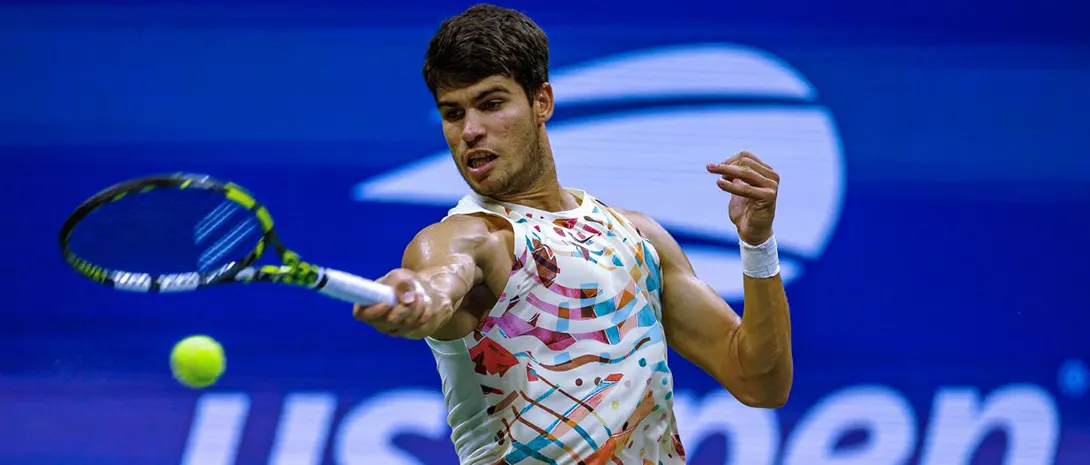 Key Takeaways:
Carlos Alcaraz, the world No. 1, impressively defeated Alexander Zverev at the US Open quarterfinals.
Alcaraz is on a path to claim his second consecutive title in New York.
Fans and experts are hailing him as the sport's next superstar for his remarkable talent and achievements at a young age.
Alcaraz's Dominance at the US Open
In the world of tennis, young talents often emerge, and Carlos Alcaraz is the latest sensation captivating both fans and experts alike. At the US Open, he showcased his extraordinary skills by securing a remarkable victory against Alexander Zverev in straight sets during the quarterfinals.
This triumph signifies Alcaraz's quest for a second consecutive title in New York. His performance was nothing short of exceptional, with a final score of 6-3, 6-2, 6-4. It followed another straight-sets victory in the Round of 16 against Matteo Arnaldi (6-3, 6-3, 6-4).
Hey Jude! 🙌🏻 @BellinghamJude pic.twitter.com/dJMrqBOTVi

— Carlos Alcaraz (@carlosalcaraz) September 7, 2023
Alcaraz's Impressive Record
What makes Alcaraz's journey even more impressive is his dominant run in Flushing Meadows. He has lost only one set in five matches, a testament to his remarkable form. Additionally, he boasts an impressive 24-1 record in his last four major tournaments.
Alcaraz's journey to the US Open had a brief interruption when he missed the Australian Open due to a leg injury. He returned to the Grand Slam scene with a notable performance at the French Open, where he reached the semifinals before being defeated by Novak Djokovic. However, he bounced back strongly, securing the Wimbledon crown by defeating Djokovic.
Fans and Experts Laud Alcaraz
Following his victory over Zverev, Carlos Alcaraz received widespread praise from fans and tennis experts. Many are now considering him the next big superstar in tennis. Here are some reactions from social media:
"Carlos Alcaraz is such a gift for the future of tennis." – Lisa
"Alcaraz is a superstar in the making!" – Yash Shah
"Carlos Alcaraz is a rising star in tennis." – Fact File News
His remarkable achievements at such a young age have positioned him as a promising force in the world of tennis.
What's Next for Alcaraz?
Carlos Alcaraz's journey at the US Open continues as he faces Daniil Medvedev in the semifinals. This matchup marks the third encounter between the two this season. Notably, Alcaraz defeated Medvedev in straight sets during both the Indian Wells final and the Wimbledon semifinals.
OH MY CARLOS ALCARAZ. 😱

His court coverage is insane. pic.twitter.com/LNhLYyYiqh

— US Open Tennis (@usopen) September 2, 2023
A victory over Medvedev could set the stage for a highly anticipated clash with Novak Djokovic in the final, a rematch of their Wimbledon encounter. As Alcaraz's star continues to rise, the tennis world eagerly watches his every move on the court, anticipating the emergence of a new superstar in the sport.
(Visited 8 times, 1 visits today)