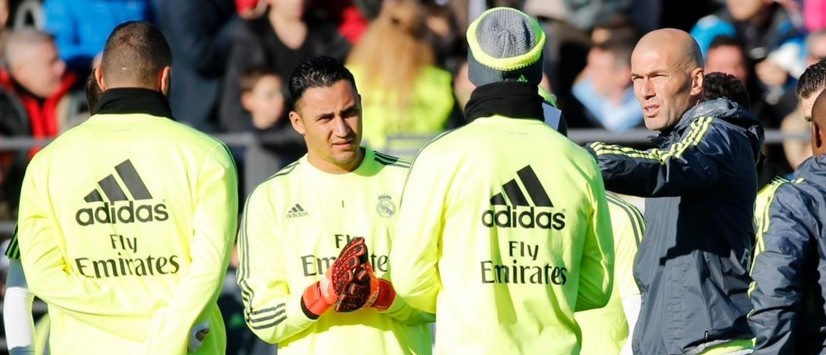 The goalkeeper of Real Madrid – Keylor Navas – has shared that things in the club had not been done the way they had been supposed to at the time when the team has been under the lead of Rafael Benitez. The latter spent less than a year in the Spanish grand before being sacked earlier this month. Navas, however, revealed that the squad is now more united under Real's new coach Zinedine Zidane.
The predecessor of Zizou at the manager's position was sacked in early January after the club's executives described his short tenure on top of the team as disappointing. Zidane, who was coaching the B-team of the club at this time, was promoted at the Santiago Bernabeu to take over the senior team.
Since then, the now-coach has been constantly praised by both players and experts. The first two games of Real Madrid under the lead of Zinedine Zidane both ended with victories and a total of 10 goals.
Then, some of the club's stars, including the forward Cristiano Ronaldo and the midfielder Luka Modric have praised the now-coach, saying there has been a great change in the team with Zizou on top, which helped everyone's game get better. The players also claim that the new manager's presence has also improved the atmosphere around the players.
Now their words have been supported by the statement of Real Madrid's goalkeeper Navas, who was one of the highly-praised players of the Spanish grand earlier in the current campaign. He finally confessed that he had not been happy with the overall state of the team under Rafael Benitez.
According to Navas, a change was truly needed. He said that the squad had not been doing things as they should have been, which had been reflected in the games. The goalkeeper shared that unlike the situation under Benitez, now things are doing a lot better for Real Madrid. He admitted that the players finally feel as a team and are more united – something that Zinedine Zidane is responsible for.
Apart from making the players feel look more like a team, Navas also hinted that Zizou has also made training sessions more fun, while the mood is also "more relaxed." The goalkeeper has revealed that the club had finally got the change they had needed in order to get better. He praised Zidane, calling him "a respectful person", who definitely knows what he wants, not to mention the fact that he knows how to prioritize tasks.
(Visited 187 times, 1 visits today)