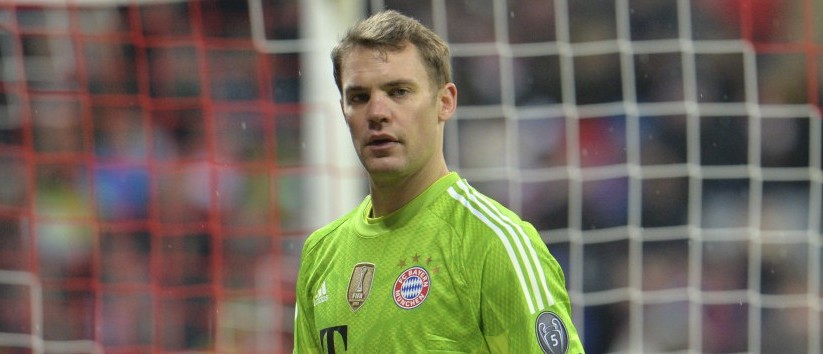 Bayern Munich's goalkeeper Manuel Neuer has not eliminated the chance of leaving his side any time in the future, considering the fact that wages on offer in the Premier League have been increasing lately.
The Germany international arrived Bayern Munich after leaving Schalke 04 in the summer of 2011. He has also been part of the youth academy of Schalke, not to mention the fact that the club's fans have adored him.
At the beginning, Bayern Munich's fans have been categorically against getting the goalkeeper. However, Neuer proved himself as a worthy replacement for Oliver Kahn, who retired from professional football career in 2008. The 29-year-old player has said that Bayern are only the second team in his career since he is someone who carefully considers every decision he makes.
At the time he was part of Bayern Munich, the goalkeeper has won three Bundesliga titles, two DFB Pokals and one champions League title. While being in Schalke 04, Neuer won his first DFB Pokal. Being a Germany international, he is also a World Cup winner, and was put third in the Ballon d'Or vote in 2014.
Neuer did not eliminate a future move to another team when asked whether the trophies won as part of the current Bundesliga No.1 team could stimulate him to start seeking new challenges, especially considering the higher wages at the Premier League. Still, the goalkeeper confessed that he tries to be always motivated regardless of the club he plays at. Neuer also added that he likes competition, which is one of the main reasons why he feels great at Bayern Munich.
The 29-year-old player confessed that doing something different could not be ruled out. His contract with the Bundesliga champions is to expire in 2019. He is currently on the way of winning another Bundesliga title with Bayern Munich. If the club lifts the title once again, this would be a fourth consecutive time winning the competition, which would make it the only Bundeliga team to have achieved that in the entire history of the competition.
The higher wages at the Premier League have made several players of various German teams turn their eyes to England. The midfielder of Borussia Dortmund Nuri Sahin has shared his opinion that the increasing wages in the Premier League would make a large number of Bundesliga players to turn their backs to their current teams and move to England.
The Chief Executive Officer of current Bundesliga No.1 club Karl-Heinz Rummenigge also admitted that the TV deal that has been recently signed in the Premier League could be "a great threat" to the rest of the European leagues.
(Visited 199 times, 1 visits today)