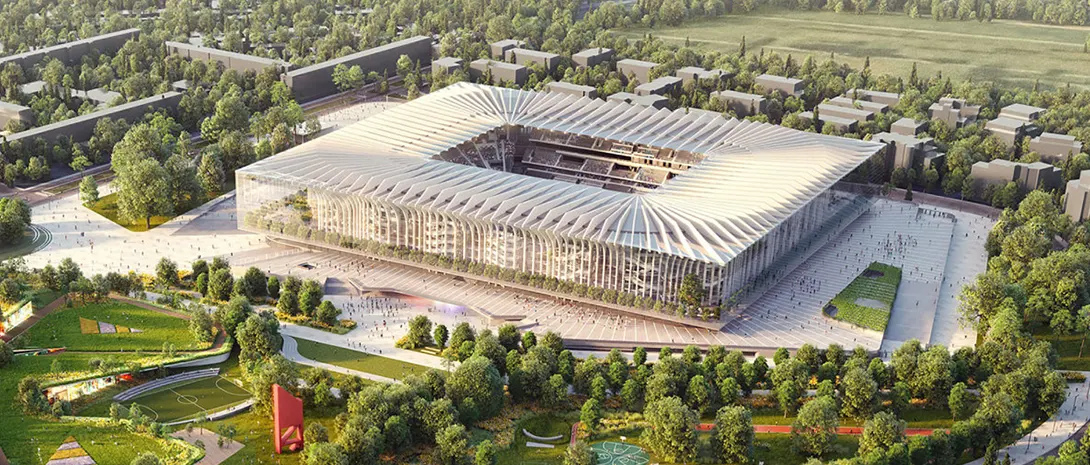 Key Takeaways:
AC Milan is progressing with plans to build a new advanced stadium in San Donato Milanese.
The project's objective is to enhance the urban value, ensure sustainability, and promote public transport.
The proposed stadium is designed to hold approximately 70,000 spectators.
An Energy Centre, a Club Museum, and other facilities will be part of the expansive project.
The stadium's inauguration is projected for 2028 or 2029.
A Visionary Urban Development Project
AC Milan has officially commenced their ambitious venture to establish a new stadium in the San Donato Milanese area. They unveiled this through an official statement that highlights their Urban Development proposal for the "San Francesco" locality.
The proposal is geared towards value enhancement for the region, focusing on sustainable and cohesive progress. Key plans feature the inception of a "Gate to Milan" in the south and an improved link from San Donato to Chiaravalle Abbey and its surrounding parks.
New #ACMilan stadium: first formal step taken with San Donato Milanese council ➡ https://t.co/6eZ7cAaKWB

(The attached rendering doesn't represent the design of the stadium)

Nuovo stadio: primo passo formale con il Comune di San Donato Milanese ➡ https://t.co/U1dx8Eb3nb

(Il… pic.twitter.com/LWKY6pxcjh

— AC Milan (@acmilan) September 27, 2023
Infrastructure and Transportation Upgrades
The plan uniquely emphasizes forming an integrated transport hub in Milan, consisting of railways, metros, and motorways. This hub seeks to revitalize an existing underutilized urban site. Moreover, there's a keen focus on bolstering sustainable mobility. Proposed improvements encompass upgrades to railway stations, metros, roads, and the development of pedestrian zones and bike lanes.
Stadium Details and Architectural Excellence
From an architectural viewpoint, the entire space spans over 108,000 m2, with a prominent focus on sporting activities and multifaceted amenities. The green space encompasses approximately 235,000 m2.
The expertise of CAA ICON, a distinguished international project management firm, has been secured for the project's execution. Meanwhile, MANICA, a globally-renowned architecture studio, has been assigned the architectural design responsibilities.
Stadium Sustainability and Accessibility
The vision for the new stadium is a modern, sustainable, and multi-functional facility accommodating around 70,000 spectators. AC Milan aspires to set a benchmark in Italy and Europe in terms of sustainability, targeting the LEED Gold certification. Notable features include energy conservation measures, renewable energy utilization, and a water recycling system. The design will prioritize fan comfort, with spacious seating, stands close to the pitch, and diverse food & beverage options.
Milan presented their project for a 70,000 capacity stadium in San Donato today!

The project sees the facility hosting the new club museum, store, headquarters, hotel, and entertainment district, and centre for production of sustainable power. pic.twitter.com/IIse7EmCfp

— Milan Club Dublin (@MilanClubDublin) September 27, 2023
Additional Facility Plans
Beyond the stadium, AC Milan envisions an entertainment district that encapsulates the new Club Museum, an AC Milan store, the Rossoneri's new main office, a hotel, and an Energy Centre dedicated to sustainable power production. The combined attributes of these elements aim to create an architectural masterpiece catering to both local and broader communities.
In the words of Milan President Paolo Scaroni:
"For over four years, we have embarked with conviction on a journey aimed at giving our Club one of the best stadiums of the world… This represents a preliminary step in the evolution of this process but, at the same time, it is further proof of our ownership's commitment to guaranteeing continuous growth for AC Milan both on and off the pitch."
(Visited 11 times, 1 visits today)