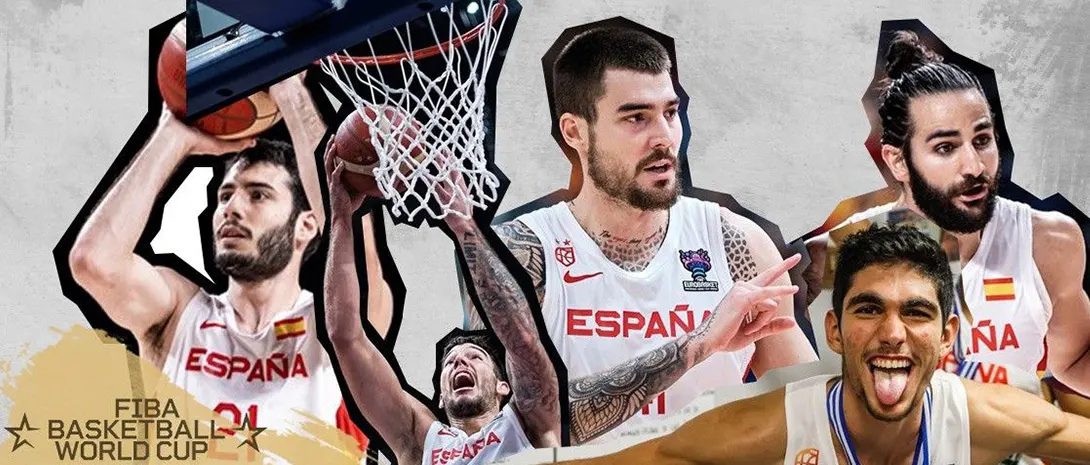 Key Takeaways:
Overview: Explore Spain's national basketball team roster for the FIBA 2023 World Cup.
Player Roles: Gain insights into the strengths and roles of key players within the squad.
Mix of Experience and Youth: The team features a blend of seasoned veterans and promising young talents.
Shooting Prowess: Players like Álex Abrines bring exceptional shooting skills to the team.
Defensive Presence: The roster includes defenders like Rudy Fernández, known for their defensive prowess.
Versatile Offense: Several players, such as Santi Aldama, contribute with versatile offensive skills.
Transitioning Players: Some players, like Juancho Hernangómez and Usman Garuba, transitioned from the NBA to international and European basketball.
Alberto Díaz: A Reliable Presence
Position: PG
Height: 6'3″
Born: 23rd April 1994
Team: Unicaja Malaga, Spain
Alberto Díaz may not always be in the spotlight, but his consistency and versatility make him a valuable addition. Adept at passing, shooting, and defending, Díaz's presence often elevates the team's performance.
If you like defense….

You'll love Alberto Díaz from 🇪🇸 Spain.

He's the definition of a defensive playmaker.

•Energy
•Effort
•Understands defensive concepts. @Marc__Castillo pic.twitter.com/dknUR5TiiL

— PGC Basketball (@PGCbasketball) September 1, 2023
Sergio Llull: A Seasoned Competitor
Position: PG/SG
Height: 6'3″
Born: 15th November 1987
Team: Real Madrid, Spain
Sergio Llull, despite his advancing age and injury history, still possesses the skills and courage to make impactful plays. His recent EuroLeague championship-winning shot exemplified his enduring abilities.
How about some Sergio Llull magic? ✨pic.twitter.com/dgQWX75ogC

— ClutchPoints (@ClutchPoints) September 1, 2023
Juan Nunez: The Rising Star
Position: PG
Height: 6'4″
Born: 4th June 2004
Team: Ratiopharm Ulm, Germany
Juan Nunez represents Spain's emerging point guard talent. His performance in the Eurocup and leadership on the court make him a promising prospect.
Álex Abrines: The Sharpshooter
Position: SG
Height: 6'6″
Born: 1st August 1993
Team: Barcelona, Spain
Álex Abrines, back in Spain after an NBA stint, is known for his exceptional shooting abilities. His efficiency and commitment on defense add depth to the team.
Alex Abrines' 35-footer for the tie rims out at the buzzer 😳

Team Canada SURVIVES 👀
pic.twitter.com/tOhrAvBm2e

— ClutchPoints (@ClutchPoints) September 3, 2023
Darío Brizuela: The Aggressive Scorer
Position: SG
Height: 6'4″
Born: 8th November 1994
Team: Barcelona, Spain
Darío Brizuela's journey through Spanish basketball has molded him into an aggressive offensive player. His ability to create scoring opportunities is a valuable asset.
Dario Brizuela 🔨pic.twitter.com/yAlnx9NN3G

— Do Deka (@dodekabasket) August 28, 2023
Rudy Fernández: The Veteran Defender
Position: SG/SF
Height: 6'5″
Born: 4th April 1985
Team: Real Madrid, Spain
Rudy Fernández, in what may be his final international tournament, remains a dependable defensive presence. While his shooting has declined, his experience and athleticism remain assets.
Joel Parra: A Team Player
Position: SF
Height: 6'8″
Born: 4th April 2000
Team: Barcelona, Spain
Joel Parra's role revolves around being a team player and finisher. He brings versatility and the ability to contribute when needed.
🏀 #JoelParra, from Barça and the red, is not at 💯 for the duel with Latvia. #Scariolo takes care of him and is not going to rush him. pic.twitter.com/8QTTjkELD9

— InfDatSports. (@infdatsports) August 31, 2023
Juancho Hernangómez: Seeking a Fresh Start
Position: SF/PF
Height: 6'9″
Born: 28th September 1995
Team: Panathinaikos, Greece
Juancho Hernangómez transitions to European basketball after an NBA stint. His stretch four capabilities and playmaking skills make him a valuable addition.
"I don't care about the celebration… I just want to get my Kobe signing."

Juancho Hernangomez tells the story of getting his shoes signed by Kobe after the 2019 World Cup Championship game.

🆚: #USABMNT vs. Spain
⏰: 3:30pm/et
📺: FOX pic.twitter.com/Da6bmC4VZS

— NBA (@NBA) August 13, 2023
Víctor Claver: The Defensive Specialist
Position: PF
Height: 6'9″
Born: 30th August 1988
Team: Valencia, Spain
Víctor Claver continues to excel defensively but faces challenges as he ages. His defensive prowess remains a valuable asset.
Víctor Claver cumple 35 años:

➡️ 1 Oro Mundial
➡️ 3 Oros, y 1 Bronce Eurobasket
➡️ 1 Plata y 1 Bronce JJOO
➡️ 1 Liga ACB
➡️ 3 Copas del Rey
➡️ 1 EuroCup

Uno de los nuestros 🫡🇪🇸 pic.twitter.com/qV7LBAhgXc

— Pasion Basket (@PasionBasketNBA) August 30, 2023
Usman Garuba: A Promising Prospect
Position: SF/PF/C
Height: 6'8″
Born: 9th March 2002
Status: Free Agent
Usman Garuba, once hailed as a defensive wizard, faces a transitional period. Despite setbacks, he offers potential for teams seeking defensive contributions.
Hubba Bubba, get away from 🇪🇸 Usman Garuba 😤#FIBAWC #WinForAll

— BasketNews (@BasketNews_com) August 28, 2023
Santi Aldama: Versatile Offensive Skills
Position: PF/C
Height: 7'0″
Born: 10th January 2001
Team: Memphis Grizzlies, NBA
Santi Aldama showcases versatility on offense, with shooting and playmaking abilities. Defensive improvements are essential for his growth.
Willy Hernangómez: Returning to Europe
Position: C
Height: 6'11"
Born: 27th May 1994
Team: Barcelona, Spain
Willy Hernangómez returns to Europe, where his size and post scoring skills are expected to shine.
Top scorer ✅
Top rebounder ✅
Top efficiency ✅

🇪🇸 Willy Hernangomez was Spain's stand-out man as the champs got their #FIBAWC title defence underway in Jakarta. pic.twitter.com/D1xJrXyvV5

— FIBA (@FIBA) September 1, 2023
FIBA 2023 World Cup Groups
Group A: Italy, Angola, Philippines, Dominican Republic
Group B: China, Serbia, Puerto Rico, South Sudan
Group C: USA, Greece, Jordan, New Zealand
Group D: Egypt, Mexico, Lithuania, Montenegro
Group E: Germany, Finland, Australia, Japan
Group F: Slovenia, Cape Verde, Georgia, Venezuela
Group G: Iran, Spain, Brazil, Côte d'Ivoire
Group H: Canada, Latvia, France, Lebanon
(Visited 6 times, 1 visits today)