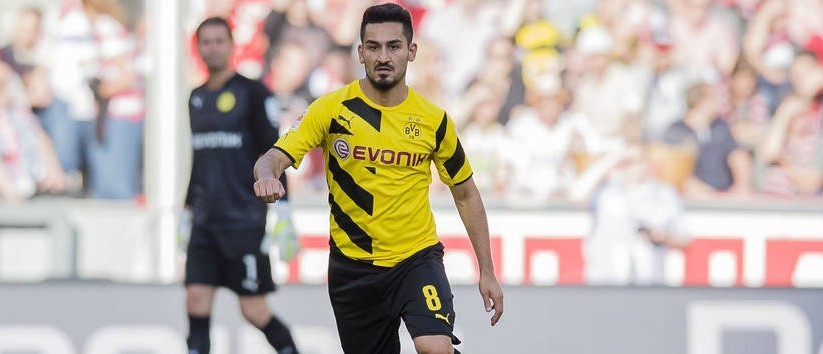 The future of Ilkay Gundogan at Borussia Dortmund after his current contract's expiration date has not been decided yet. The information has come to the public at a time when the 25-year-old midfielder has been strongly linked with an eventual move to Premier League's Manchester City and Serie A's Juventus.
The Germany-born midfielder was one of the key players in Borussia Dortmund's 3-1 Bundesliga win over Hoffenheim on February 28th. The player, who is also part of Germany national football team, has a contract with the Bundesliga No.2 team until 2017. Previously, he has agreed a new deal last summer, after the club announced they had believed that Gundogan would prefer to not ink new terms but leave the squad instead.
Still, Ilkay Gundogan is set to make a final decision about his future in long term. It has not been officially announced yet if he would choose to stay at the German team in spite of Borussia Dortmund's eventual return to Champions League in the 2016/2017 campaign after a year in the Europa League.
When asked about his contract situation in an interview for a reputable local media, Gundogan himself denied that a decision has been made. The sporting director of the football club – Michael Zorc – on the other hand, revealed that his side is determined to continue to negotiate with the midfielder.
Zorc said that Ilkay Gundogan is clearly one of the club's key players. That is exactly the reason why the club intend to do everything they can in order to prolong the player's stay at the Westfalenstadion. Borussia Dortmund's sporting director shared that his side would be more patient in case they need to in order to make sure the situation is solved in the best possible way.
Still, Borussia Dortmund's side hope that Gundogan would not postpone his decision until the end of the current campaign. According to media reports, the Bundesliga No.2 prefer to solve the matter in March.
In the middle of February, Borussia Dortmund turned down speculations that the 25-year-old midfielder had already reached an agreement with Premier League's Manchester City. There have been various rumours roaming around the Spanish media that the player had refused a transfer bid from Barcelona in order to join Manchester City's ranks, but the German team utterly denied such an agreement had been made.
Gundogan has been also pointed as a transfer target of Liverpool, but the midfielder himself commented that he felt relaxed about his future and explained he is in no rush to determine his long-term future.
(Visited 144 times, 1 visits today)