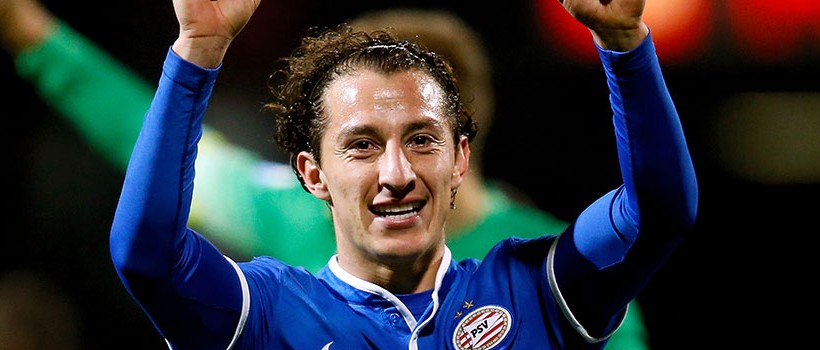 According to the latest reports Andres Guardado, the PSV Eindhoven midfielder, is likely to miss the clash between PSV and Manchester United due to an injury.
Guardado's injury occurred during a training and as a result, he might not take part in the game against The Red Devils, scheduled for tomorrow. The injury is due to a collision with Adam Maher, PSV's midfielder. Guardado has partially completed the session, but the collision made it necessary to pull out.
The last clash between PSV and Man United was in the middle of September and now, PSV need to do their best to achieve victory over the Red Devils. Failing to do so significantly decreases the chances for qualifying for the knockout stages. Yet, the club has not revealed as to whether the 29-year-old midfielder is to take part in the derby.
Guardado, who is also playing for the national football team of Mexico, is a key player in Phillip Cocu's squad. He became known for his excellent pass accuracy in all 11 Eredivisie matches he took part in.
In point of fact, the absence of Guardado increases Man United's chances of winning the match. In case the Red Devils achieve a victory against PSV, they secure their spot in the knockout Champions League stage. Currently, Manchester United tops Group B with a total of 7 points.
United's plans for progressing from Group B were scrapped as they suffered a loss against PSV Eindhoven in September. However, they managed to achieve home wins against Wolfsburg and CSKA Moscow, which sent them to the top place in B Group.
For the time being, the Peasants occupy the second position in B Group and the difference between them and the leader Man United is just one point. As for PSV, the last Champions League victory they achieved away from home dates back to 2007.
Last Saturday, Phillip Cocu's men made yet another attempt to win, but the match against Willem II made them experience a disappointing draw at Koning Willem II Stadion. PSV's manager was quoted as saying that if they wanted to win any trophies during the season, they needed to play equally well against all teams instead of rising above their potential only when they play against top teams.
Apart from the game against Man United, the Peasants will have to face AZ Alkmaar, Vitesse, CSKA Moscow and Roda on Nov. 29th, Dec 5th, Dec 8th and Dec 12th, respectively.
(Visited 140 times, 1 visits today)