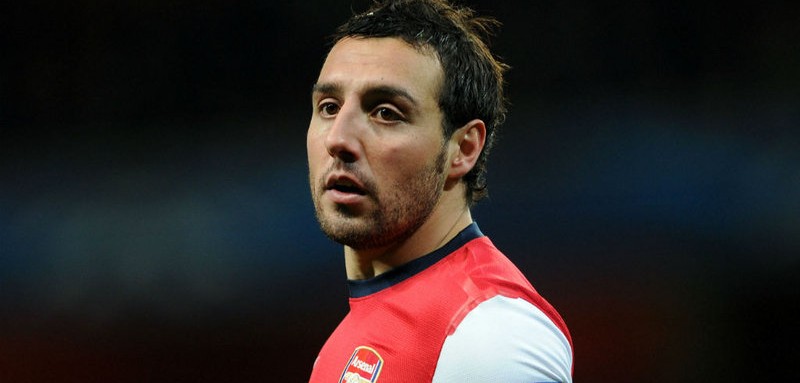 The midfielder of Arsenal Santi Cazorla is to be sidelined for no less than three months due to a severe knee ligament injury which he got in the club's match against Norwich. He played the last minutes of his team's 1-1 draw from the Premier League literally "on one leg" after a collision with Norwich's Gary O'Neil.
The injury extension is still to be assessed by Arsenal, but the club is most likely to lose the Spanish at least until the end of March. This would mean another great blow for both the team and its manager Arsène Wenger considering the fact that several key players have been suffering fitness problems lately.
The injury of Cazorla is expected to be officially confirmed by the club some time on Thursday.
As a matter of fact, Cazorla was only one of the three players who suffered injuries over the game against Norwich. The midfielder challenged Gary O'Neil for the ball in the first minute of the second half, but got hurt. He managed to stay on the pitch despite suffering the injury because head coach Wenger had already used his three substitutes. Unlike Cazorla, Alexis Sánchez and Laurent Koscielny were not able to finish the match because of hamstring and hip problems, respectively.
Sánchez suffered a hamstring injury, which basically means that he would be sidelined for about a month. What can be considered a good news is the fact that Kascielny's hip injury is not as serious as initially feared, so he may be able to take part in Arsenal's match against Sunderland.
According to some rumours, the team's manager is to consider bringing in a new midfielder in January, especially now, when he lost both Cazorla and Francis Coquelin for a considerable period of time. The team of Arsenal is also forced to deal without Mikel Arteta, Jack Wilshere, Theo Walcott, Tomas Rosicky and Coquelin from their midfielder options, not to mention the forward Danny Welbeck who is also ruled out for a large period of time.
The injury crisis in Arsenal this season would probably force manager Wenger to enter the transfer market in January 2016 in order to search a midfielder of comparable quality to fill in the ranks of the club. The loss of Conquelin and Cazorla, however, leaves a giant hole in the team. In addition, further questions are placed when it comes to the decision of not buying Morgan Schneiderlin from Southampton in 2016 summer transfer window.
(Visited 130 times, 1 visits today)