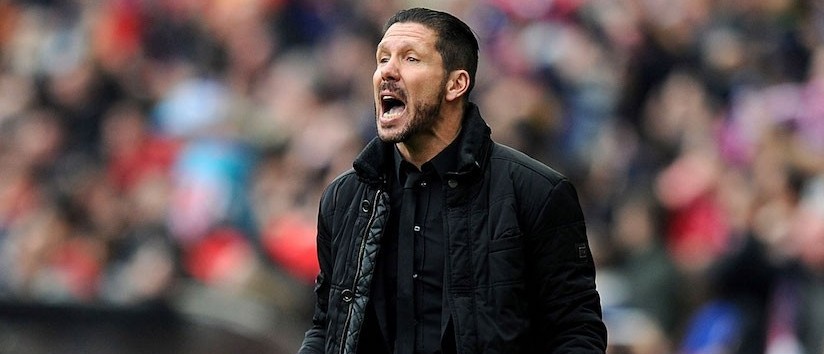 The manager of Atletico Madrid – Diego Simeone – shared that he is pleased with Sunday evening's 0-0 La Liga draw of his side against Villarreal. The match was a tactical one and despite the fact that either side were provided with a few chances at the Estadio Vicente Calderon, neither one of the two clubs managed to score a goal over the game.
Atletico Mandrid had a lot of possession time against the well-organised ranks of Villarreal, but did not manage to find a way through. On the other hand, this is fifth straight clean sheet in all competitions for the men of Marcelino Garcia Toral. Villareal are still fourth at La Liga competition, eight points ahead of their nearest rivals Sevilla.
The goalless draw leaves Atletico Madrid second in La Liga table, only one point ahead of Zinedine Zidane's Real Madrid, who ended their game against Malaga with a 1-1 draw. Atletico Madrid are also eight points behind the current leaders Barcelona, who occupy the first position in La Liga with a total of 63 points on their record and seem to be the favourites for winning the title.
Still, regardless of the draw, Diego Simeone commented on his men's performance in a post-match press conference, saying that he had preferred to look the result on the bright side. According to the head coach, the fact that Atletico Madrid are six points ahead of four-placed Villarreal, is positive. Simeone added that his side seems set to achieve the objectives from the season's start.
The manager also said that Barcelona are difficult opponents for all teams in La Liga. He explained the objectives that are primarily set are now becoming more and more difficult to be brought to successful ending.
Speaking of the Sunday night's game, Simeone shared that he would have liked to win the game, and his men did whatever possible to get the three points, but the great defence and counter-attack of Villarreal stopped them. According to him, their opponents had some really excellent counter-attacks in an attempt to win the match, but Atletico Madrid have managed to keep the gap with them, which is actually great.
The hopes of Atletico Madrid to catch up with the current leaders in La Liga – Barcelona – have faced a setback, but Simeone's side already look at the upcoming games.
The Spanish club that are now second at La Liga table, are to face PSV Eindhoven in a match from the Champions League on February 24th. Then, they are to visit Santiago Bernabeu on February 27th for their La Liga clash with Real Madrid.
(Visited 110 times, 1 visits today)