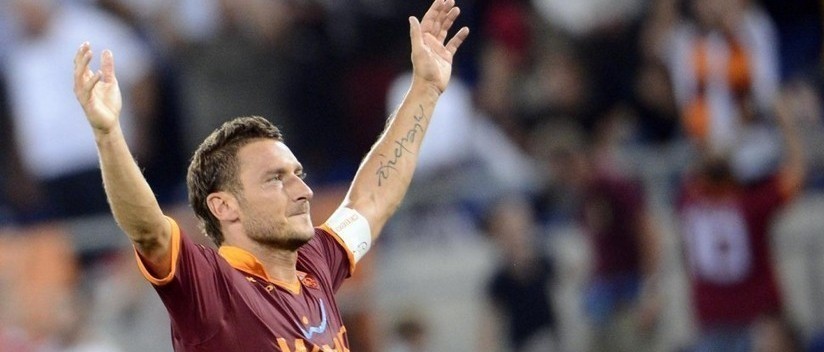 The captain of A.S. Roma Francesco Totti was sidelined and watches his side's clash with Palermo from the stands, but the Italian club managed to come out victorious of the Serie A match with a 5-0 win. The truth is that the 39-year-old captain has not been entered a lot over the current season and has actually found himself totally cut from the squad after publicly crossing swords with the club's manager Luciano Spalletti.
As a matter of fact, Roma was brilliant at the field and made a first-class performance even without their captain. Edin Dzeko, Seydou Keita and Mohamed Salah demonstrated great skills and pushed their side to the 5-0 victory.
Even if the players of the Serie A team were affected in any way by the misunderstandings between Roma's legend Francesco Totti and the club's manager Luciano Spalletti, they did not show it. On the contrary, Spalletti's men did everything they could in order to prove the squad could do without their talisman and hammered Palermo in the clash that ended 5-0.
The 39-year-old player was left out of the squad after he publicly criticised manager Spalletti for not entering him on the ground on one hand, and for a lack of contract extension, on the other hand. Still, the absence of the club's captain did not have any impact on his side's performance, with Edin Dzeko and Mohamed Salah both finding the net twice and Seydou Keita scoring his first goal over the current season.
Edin Dzeko got an easy chance to open the result in the middle of the first half, but unfortunately, he missed standing four yards in front of an empty net. However, the striker who is a former player of Manchester City managed to redeem himself from guilt by scoring the first goal in the match only two minutes later. The goal came after a cross of Miralem Pjanic that should have been cleared by the midfielder of Palermo Aljaz Struna reached Dzeko, who netted the the ball in the gate of his side's opponents.
Roma's lead over Palermo was doubled by Seydou Keita who took advantage of an Alessandro Florenzi's corner only seven minutes after the break. The result was made 3-0 by Mohamed Salah after a Dzeko's assist. A bit later, in the 62nd minute, Salah scored his second goal in the game. The 5-0 result was cemented by Dzeko, who netted the ball for the second time and brought the team of Roma to fourth place in Serie A, two points ahead of Inter.
(Visited 128 times, 1 visits today)