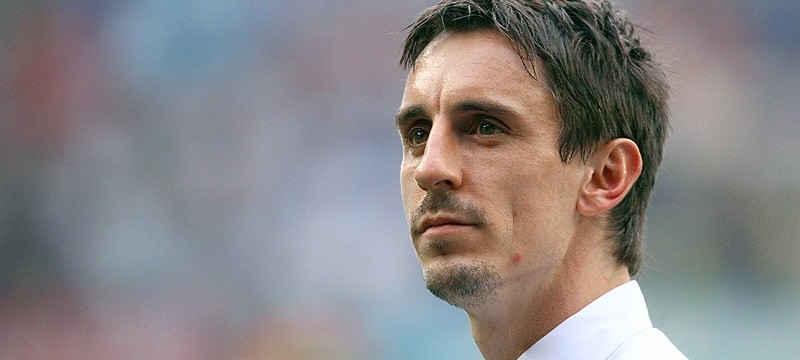 Gary Neville has been appointed as head coach of Valencia until the end of the season. The 40-year-old ex-captain of Manchester United who retired from active football career in 2011 is to take over the position until the end of 2015/2016 season.
The news was confirmed by Gary Neville himself, who shared: "I am absolutely thrilled to be given this opportunity with Valencia." He knows the Singapore-based owner of Valencia Peter Lim, and he was looking forward to working with the players. The coach called his new undertaking "a challenge" and revealed he is well aware of the "passion and dedication" of the Valencia fans.
The Valencia squad were informed by the club director Kim Koh, while preparing for their Copa del Rey game.
Earlier this week, the president of the club Layhoon Chan shared that the owner himself is expected to appoint the next head coach of Valencia. Then, he also shared that the agent Jorge Mends would not be involved in the decision.
Chan explained that Neville was pretty reasonable choice for taking over the position, since he combines "top level coaching experience" and "a world-class playing career." He also commented that throughout his overall career, new head coach of Valencia had always shown great leadership skills regardless on or off the pitch.
Neville and Chan are expected to officially announce the news to the press on Thursday.
After retiring from football four years ago, Neville has been operating as part of the coaching staff of the manager Roy Hodgon as well as a pundit for Sky Sports. Still, he is to continue his work with the England national football team considering the approaching Euro 2016.
The team of Valencia, on the other hand, has been looking for a proper substitute for head coach Nuno who resigned after the club's 1-0 loss from Sevilla on Sunday. Regardless that the club is to enter the pitch on Saturday, Gary Neville is not expected to take over the position until Sunday. The latter's brother Phil Neville was named interim coach after the resignation of Nuno, will be put in charge for the match along with his co-coach Voro.
The first match of Neville as the new head coach of the club will be the club's game against Lyon in the Champions League. The match is scheduled for December 9th. Currently, Valencia occupies the 9th position in its its domestic championship La Liga. The club is third in Champions League Group H, having Gent 1 point ahead.
(Visited 96 times, 1 visits today)