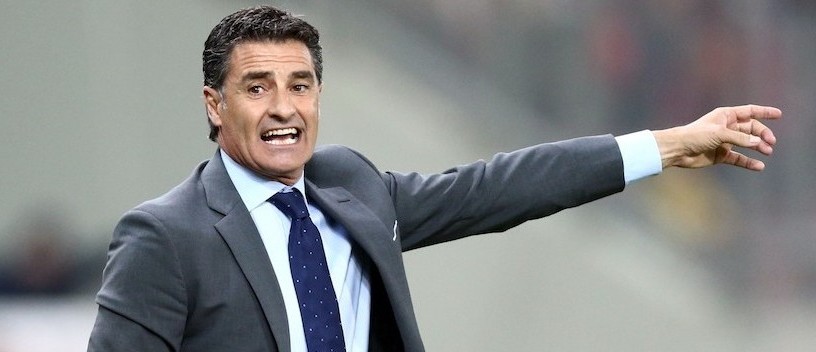 The current head coach of Marseille Michel, who is also a former midfielder of Real Madrid, has revealed that he founds himself fully capable of being a worthy manager of his former team. This happens at a time of strong speculations if the club's current boss Zinedine Zidane would be replaced next summer.
Zidane took over the lead on January 4th as a successor of Rafael Benitez and everything was going just fine until the painful 0-1 home defeat Real Madrid suffered from Atletico Madrid on February 27th. The defeat has opened some questions over the long-term future of Zidane at the managerial position at The Whites.
To make things worse, there have been some controversial comments made by Cristiano Ronaldo at the Stantiago Bernabeu Stadium after the game against Atletico Madrid. The 31-year-old striker reproached his team-mates for not being good enough for playing in his company, alongside club's supporters chanting against the club's president Florentino Perez over the second half of the game.
All these issues combined have fuelled the rumours that Zinedine Zidane could be dismissed as a manager in the summer.
Marseille's manager Michel said in an interview that in his opinion he could do the job in case he was asked to. He also reminded that several former players of his generation have become coaches, including Hugo Sanchez, Buyo and Schuster, with the latter already been a manager of the Spanish grand.
Up to date, Marseille occupy the 13th position in Ligue 1 table under Michel. Before getting the job at Marseille, Michel had some inconsistent managerial spells at Olympiakos, Sevilla, Getafe, the Castilla B team of Real Madrid as well as at Rayo Vallecano.
The former player and now-coach said that there is hardly anyone who could predict if Zinedine Zidane could last long at the coaching position of Real Madrid.
The coach of Atletic Bilbao Ernesto Valverde is also rumoured in the media as a possible candidate as Real Madrid coach in 2016/2017 campaign. Valverde played as a winger at Barcelona. After ending his active career as a player, he has been known as a coach of the teams of Valencia, Espanyol, Villareal and Olympiakos. He also got the "Honourary Antonin" prize by the Spanish magazine Panenka.
Valverde said in an interview that he did not intend to comment on the speculations that linked him with an eventual move from his current job to Real Madrid.
(Visited 152 times, 1 visits today)