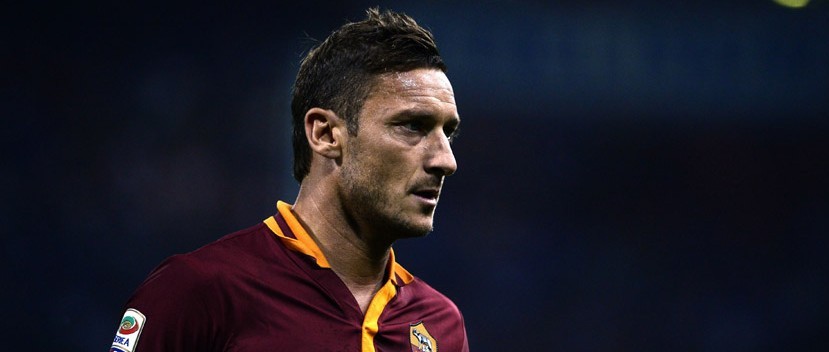 The president of A.S. Roma James Pallotta has arrived in Rome in order to take part in a series of important meetings with the Italian club's officials. When asked about the future of the squad's 39-year-old captain, Pallotta hinted that this matter would be one of the issues to be reviewed on the agenda and admitted he is really fond of the player.
Recently, Totti was eliminated from the squad under manager Luciano Spalletti after giving an interview in which the player criticised his side's coach for not giving him game time and a chance to prove he could be on equal standing with his younger team-mates.
The current contract of the forward is to expire in the summer, so there have been multiple rumours what would his fate be. There have been speculations of a possible renewal, but the no-captain of Roma may also prefer to leave the club.
The club's president Pallotta, however, seemed pretty enthusiastic when it came to Totti's future at the squad. He said that the matter of the captain's contract are being made a bigger issue than it actually is. He shared how fond he was of Totti and said he could see the forward stay a long time at A.S. Roma.
Still, Pallotta refused to take sides when regarding to the misunderstandings between manager Spalletti and Francesco Totti. He gave his support to Spalletti, calling him a fantastic manager, but also said that the coach would have to win the team's supporters back in case he would like to have bigger chances with the team. In addition, Pallotta said that the club need their fans, so it would be of great help for the squad if the manager comes to term with Roma's fans.
The club's president also commented on his side's 3-1 victory against Empoli on February 27th, saying that it was not an easy win. He also added that apart from Empoli's aggressive style, they do not have the mental strength that would make the difference between a winner and a potential winner.
Manager Spalletti also commented on the club's performance and said that he did not return to the Italian club to see them on the second place of Serie A title. Spalletti also said that if he stayed at Roma, he would do whatever needed to give them the best chances. The manager also shared that his side deserve to be among the teams who aim at the championship title.
Of course, A.S. Roma's coach also commented on his misunderstandings with the club's captain and revealed that they had been both sorry about the problems and everything got back to normal.
(Visited 170 times, 1 visits today)