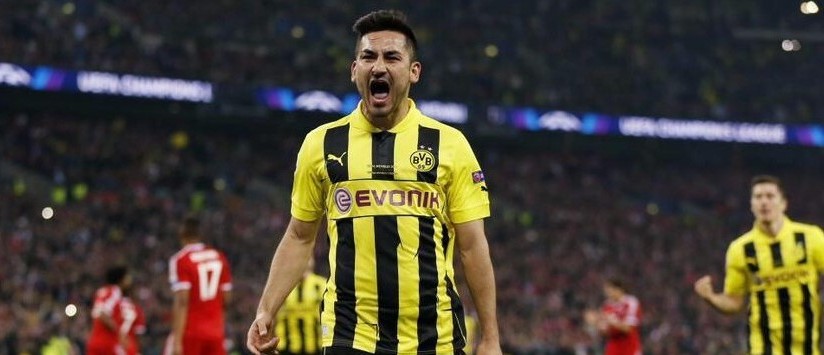 Ilkay Gundogan has hinted of an eventual stay in Borussia Dortmund by saying he has set no deadline to make a decision of his future but there is a great possibility of staying at his current club. The player has shared that he feels even better at his side over the 2015/2016 season, because the team had been brought back into title contention under their new manager Thomas Tuchel.
According to Gundogan, his decision is yet to be made, but what he said spoke a lot in favour of Borussia Dortmund.
The 25-year-old midfielder, who joined the German grand from Nurnberg in 2011, has managed to finally recover his form that has played a major role in the Bundesliga team to the final of the Champions League competition in 2012/2013 season after suffering back problems over the last several campaigns.
In April 2015, Borussia Dortmund announced that the player, who is also part of the Germany national football team, would not extend his contract further, but Gundogan has later agreed to renew his contract for one more year until 2017. At that time, his name was linked with an eventual transfer to world-class clubs such as Bayern Munich, Manchester United, Juventus and Barcelona.
When asked if he rejected a transfer offer to Juventus over the January window, the player explained he would not answer the question, but shared that Borussia Dortmund meant a lot to him, especially considering the fact he is still part of the German club. Gundogan has recently been linked to a move to Manchester City, too.
Now, one of the greatest priorities for the midfielder is to decide if he would like to sign a new contract with Borussia Dortmund and stay at Westfalenstadion, or move to another club before the expiration date of his current deal. According to media reports, the 25-year-old Gundogan has revealed that he actually felt pretty relaxed about his situation because he had been considering various options.
The player himself explained that his decision depends on various factors, but he would try to make a decision that would be fair for all parties involved. He also promised to make an official announcement about his future plans once the decision was made and explained that contract talks with the club were held by his representatives up to date.
Gundogan shared he would like to avoid the situation both he and the club got into last year, which is exactly why he would like to make everyone happy with his decision.
(Visited 112 times, 1 visits today)