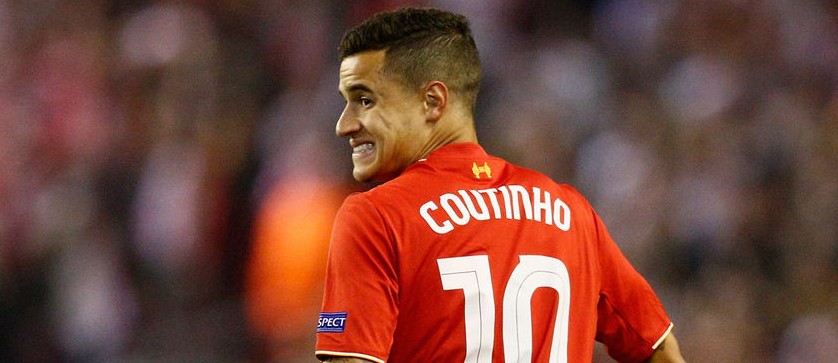 Liverpool's midfielder Philippe Coutinho and the defender Dejan Lovren are to miss their side's Premier League matches against Manchester United and Arsenal. Both player have suffered hamstring injuries over the club's League Cup against Stoke City on Tuesday, which ended with a 1-0 win for Liverpool.
The team's manager Jurgen Klopp has confirmed that neither of the two players will be able to make it on time for the home Premier League games of the club. Liverpool is to face the team of Arsenal on January 13th. The next game that will be hosted by Klopp's side is scheduled for January 17th, when the team is to face Manchester United.
Before the two games of the Premier League competition, there is another game of Liverpool which Coutinho and Lovren will miss, too – the FA Cup Third round's match against Exeter City. And to make things even worse, centre-back Kolo Toure who finished the Tuesday game with cramp, will also be sidelined due to an injury. With Lovren and Toure unable to enter the field, Liverpool is left practically with no fit central defenders in the club's first-team squad.
It was Jurgen Klopp himself who officially announced at a Thursday news conference that Coutinho, Lovren and Kolo would not be able to appear in the next game. The manager explained that Dejan Lovren would probably be available after Liverpool's game against Manchester United, but the situation with Coutinho is more serious and he would need more time to recover from the injury. Kolo, on the other hand, is expected to be available next week.
The team is facing a real injury crisis, since a total of 11 player are currently suffering from health problems. Defenders Martin Skrtel and Mamadou Sakho have been dealing with a hamstring and knee injury, respectively, so they are also unavailable to enter the field at the club's Premier League matches.
Manager Klopp confessed that the lack of fit defenders to enter the upcoming matches as well as the reduced attacking options had left no other way but to seek for signing contracts with some new players as soon as possible. Previously, he has announced that Liverpool would probably not enter the transfer market in January but the recent injury crisis have left no other choice for the head coach who has admitted that he was satisfied with his current squad.
The manager's more aggressive style has even been blamed for the injury issues within the team, which have been considered as a result of Klopp's more intense and high-pressing style of play.
(Visited 165 times, 1 visits today)