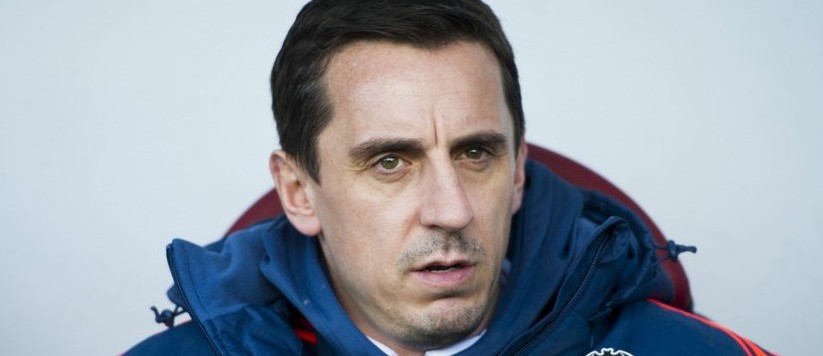 Right ahead of Valencia's Thursday game, the manager of the club Gary Neville has shared that in his opinion his side have "no excuses" to win the Copa del Rey quarter-final second leg against the team of Las Palmas.
Valencia have not managed to win any of the first seven games in La Liga since Neville took charge of the club in December 2015. The contract with the Spanish club is the first senior managerial job of the coach.
The last three matches of the club – the ones against Rayo Vallecano on January 17th, Las Palmas on January 21st and Deportivo La Coruna on January 24th – ended with draws. Now Valencia is to face Las Palmas once again, trying to bolster its positions regardless of recent setbacks. Although Las Palmas currently occupies the 19th position in La Liga table, they have lost only two of the past nine matches they hosted at the Estadio de Gran Canaria.
At the press conference that took place before the Thursday game of the club, Valencia's manager said that he intends to send his team at the field with positive thinking. Neville, who was one of the most successful defenders of Manchester United, also explained that the entire squad is focused on winning the match and qualifying among the last four of the competition.
Neville also said he is well aware of the fact this is a game the team needs to win. He shared that his men know exactly what they need to do in order to came out victorious from the game, and this time they have no excuses for doing that although that the team misses two players up to date.
Valencia's manager explained that the squad simply need to find a way to win the match, because in a cup game it is the result that matters. According to him, his side's match against Las Palmas on Thursday night is all about winning, not about performance. The game is also an important one for the Spanish club, because it needs to prove that it is capable of delivering a result away from home in the Copa del Rey competition.
Head coach Neville also explained that he would very much count on the 30-year-old striker Alvaro Negredo, who played an important part in the club's 1-1 draw against Deportivo La Coruna last Sunday. The manager shared belief that Negredo could be a turning point that would bring Valencia the victory on Thursday and set the club on a more positive and match-winning trajectory.
(Visited 47 times, 1 visits today)