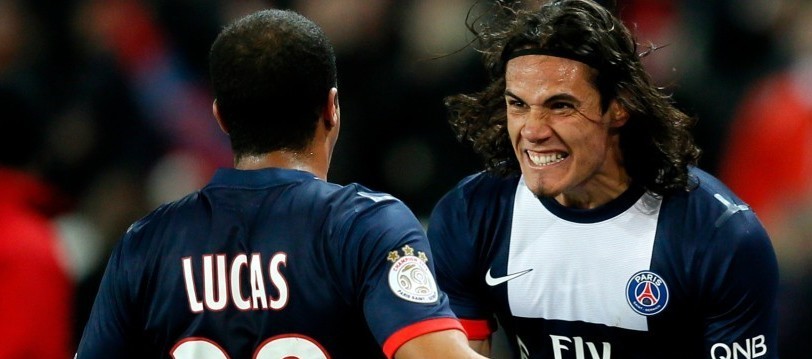 The Uruguayan Edinson Cavani, who currently plays as a striker for Paris Saint-Germain, is facing some difficulties to improve his form after he performed badly in two consecutive matches – the 1-0 UEFA Champions League match against Real Madrid, and the Ligue 1 match in which PSG hammered Toulouse with 5-0.
The truth is that regardless of the goal scored by Cavani for the Uruguay national team in the latter's 2-1 match against Ecuador in 2018 FIFA World Cup qualifications last week, the form of the striker in Paris Saint-Germain is not considered good enough.
This is exactly why Cavani will have to get a grip and prove his qualities once again, especially when taking into consideration the fact that his team is to travel to FC Lorient in order to defend an eventual fourth consecutive title in Ligue 1. So, it seems that the Paris Saint-Germain's coach Laurent Blanc is to make some crucial decisions ahead of the trip to Lorient's Stade du Moustoir.
The other problem is Cavani's team-mate, the Brazilian Lucas Moura, is coming back to PSG in an outstanding form after a poor performance for himself. This is why some experts believe it would be wise from coach Blanc to consider starting Moura instead of Cavani.
The 23-year-old Moura made a good impression in his two substitute appearances against Real, thanks to his two goals and an assist. On the other hand, Cavani has lost form just before the international break, regardless of the fact that he struck one goal and has two assists over the last three times he played in matches from Le Championnat.
The decisions that are to be made by the coach will undoubtedly be tough ones. With a star such as Zlatan Ibrahimovic playing with Les Parisiens, it would be hard for Cavani to make his way back to the starting eleven, even if the overall form and physical condition of Ibrahimovic is a bit questionable.
Another player of Paris Saint-Germain – Angel Di Maria – is also rapidly improving his form and has recently been showing outstanding results. He scored two goals in his last two outings in Ligue 1 against Stade Rennais and Toulouse, respectively. Di Maria was also qualified as one of the brightest players of PSG over the season, along with his team-mate Adrien Rabiot.
Considering this great selection, Cavani logically seems the only player in the PSG starting eleven that can be replaced by Blanc at present times. His major competitor for the position, Moura is starting to prove himself in a superb form after the difficulties faced recently, so introducing him into the starting eleven of the team would possibly solve the current problems that Paris Saint-Germain is facing.
(Visited 155 times, 1 visits today)