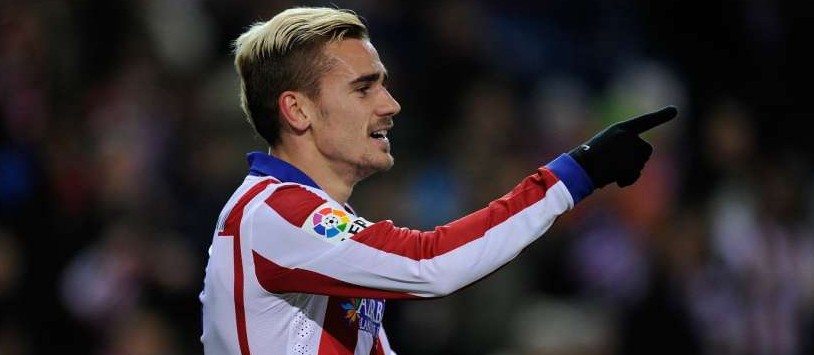 The attacker of Atletico Madrid Antoine Griezmann has denied rumours that he would consider moving to Chelsea or Paris Saint-Germain, saying that at the moment he is happy exactly where he is.
The 24-year-old player has been truly impressive since joining Atletico Madrid from Real Sociedad after a €30-million transfer in 2014. He has managed to score 25 goals in all competitions he took part in over his first season. He also netted the ball 11 times over his first 19 appearances on the field over the current season.
The forward, who is also part of the France national football team, has signed a contract with Atletico Madrid until 2020. However, he has been subjected to speculations about eventual transfer to two of the most-reputable football teams in Europe – Chelsea and Paris Saint-Germain.
It is true that the team of Atletico Madrid has taken advantage of some excellent forwards such as Sergio Aguero, Diego Costa, Fernando Torres and Radamel Falcao. Now, Griezmann, who originates from France, has turned down speculations that he would leave the Spanish capital in order to go to another club.
As a matter of fact, some inquiries about the player were made by Chelsea over the summer of 2015. According to reports, Mourinho may make an attempt to sign a contract with the 24-year-old midfielder over the January transfer window. Another English team from the Premier League – Manchester United – has also been linked with a move for Griezmann.
Griezmann joined Real Sociedad in 2005 and spent there 9 years before moving to Atletico Madrid. He sealed his contract in the summer of 2015 with a £43-million buyout clause. He rejected any rumours for an eventual transfer, saying that he did not need to play in Ligue 1 neither in the Premier League or Italian Serie A.
The midfielder's Spanish team, however, has been often associated with a future transfer of Nicolas Gaitan of Benfica. Gaitan, who is also a midfielder, has been rumoured to eventually move to Atletico Madrid in recent transfer windows. There were many rumours and speculations considering the fact that the two teams are to be facing each other in Tuesday's final group game of the Champions League.
Antoine Griezmann commented on Gaitan at the pre-match news conference, admitting he is a good player who has caused Atletico Madrid a lot of hard time over the previous match of the clubs in October which ended 2-1 in favour of Benfica.
(Visited 119 times, 1 visits today)