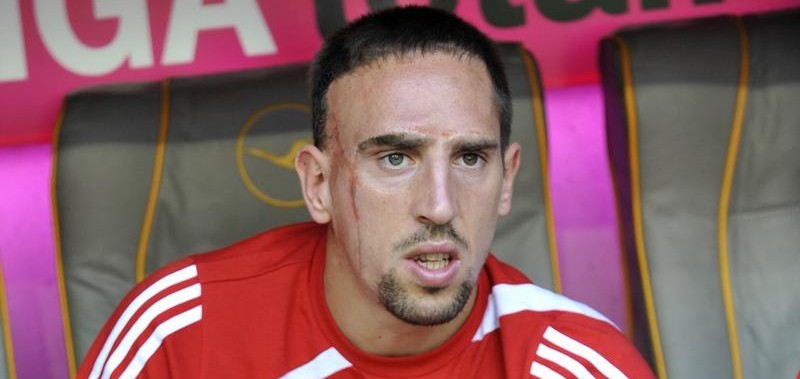 The long-awaited return of Frank Ribery to Bayern Munich finally happened. The midfielder suffered an injury that sidelined him for some time, but after his return he managed to give a little comfort to the German grand after the club's first defeat in current Bundesliga season from the team of Borussia Mönchenladbach.
Ribery's appearance on the field had a great impact. The 32-year-old midfielder entered the pitch as a substitute and scored a goal in the first six minutes of his play. Unfortunately, at the time of his goal, Bayern Munich were trailing by three goals.
Ribery was sidelined for more than 250 days after suffering an ankle crunch in the last season's Champions League match of the team against Shakhtar Donetsk. He shared that he is very glad to be finally back. The goal he netted in the game against Borussia Mönchenladbach was the 105th in his Bayern career, but it was not possible for it to prevent the defeat.
Robert Lewandowski, Javier Martinez and Thomass Muller were all to blame for missing excellent chances against the goalkeeper Jan Sommer. Kingsley Coman also missed a chance by hitting the post when given an opportunity to score from close range.
As a whole, Bayern Munich was recklessly wasteful of the chances offered, so it finally got punished by Borussia Mönchenladbach that managed to score three superb goals within 14 minutes of the second half and come out victorious from the match.
The reasons for Bayern Munich's defeat are complex ones. The club was missing some of its creative and fast members, including David Alaba, Thiago, Douglas Costa, Arjen Robben and Mario Gotze. All of them are suffering various injuries, which prevented them from playing. After all, it is a well-known fact that all of the players listed above, except for Gotze, are normally among the first names on every team sheet of manager Guardiola.
Head coach of the Bundesliga No.1 team Pep Guardiola commented on the club's performance for the media, saying that the team had had "severe problems." He also shared that Bayern Munich had lost their "stability and control", and the defeat was pretty serious, especially considering the fact that the team is not used to falling behind.
Up to date, Bayern Munich keeps its first position in the national Budesliga table, but it is now only five points clear of the runner-up Borussia Dortmund. The club has two more matches left in the Bundesliga before the winter break. It will first host a game against Ingolstadt that is to take place on December 12th. Then, the team is to visit Hannover 96 on December 19th to play its first match in the national championship for this year.
(Visited 134 times, 1 visits today)