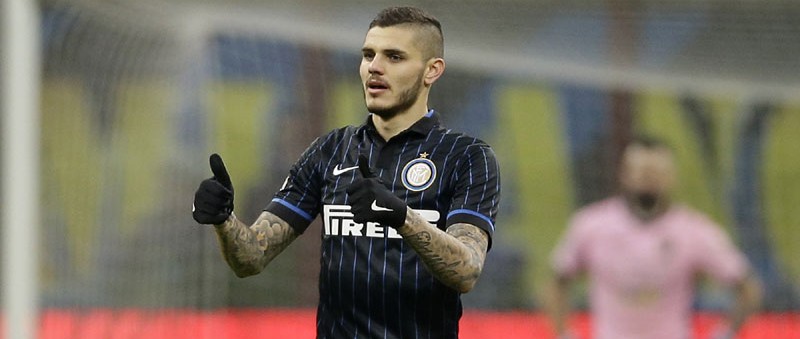 Sporting director, Piero Ausilio, is willing to negotiate for Internazionale's striker, Mauro Icardi. Guided by Inter's head coach, Roberto Mancini, the Argentine footballer quickly became one of the most sought-after players in European football.
Icardi enjoyed a rather successful campaign with Italy's Inter Milan, as he managed to net the impressive number of 27 goals during the 2014/2015 season. The 22-year old Argentinian joined Inter before the start of the 2013/2014 season and is among the club's top goalscorers He is highly-praised for his technique and tactical intelligence. Now his name is associated with a number of major league teams.
The truth of the matter is, Icardi has always been one of the most demanded players in Europe. Some of the leading clubs on the continent, including Barcelona, Real Madrid and Liverpool had disputed over him.
According to a number of reports, Icardi has attracted the strong interest of the legendary Premier League club, Arsenal. The Gunner's manager, Arsène Wenger, is said to greatly admire Icardi skills and style of play. Impressed by the number of goals, the Argentinian has scored, Wenger reportedly plans to recruit him on his own team.
Wenger is not the only one to openly demonstrate interest in the talented Icardi. Reportedly, Jurgen Klopp, Liverpool's manager, wants Icardi's services as well. Klopp is said to be determined to make some necessary improvements to his team. What's more, Icardi supposedly has expressed his desire to someday join the Reds. Chelsea is yet another club, associated with planning to buy Icardi.
Meanwhile Inter's director, Ausilio, did his best to fend off other European clubs. When first asked what he will do, if a major league club reached him with an offer to buy Icardi, Ausilio reportedly retorted "I would hang up immediately."
It seems, however, Ausilio has decided the sum of €35 million is sufficient, considering the potential and skill Icardi has to offer. At this point, Liverpool have not openly voiced their consent to the reported sum.
What is more important, Icardi himself seems to be content with his position at Inter Milan. The Argentinian has not expressed any desire to leave. When asked about the rumours of his possible transfer, the striker answered he had heard about the speculations, but from the first moment he signed with Inter, he had given his "total availability to staying [there]".
(Visited 135 times, 1 visits today)