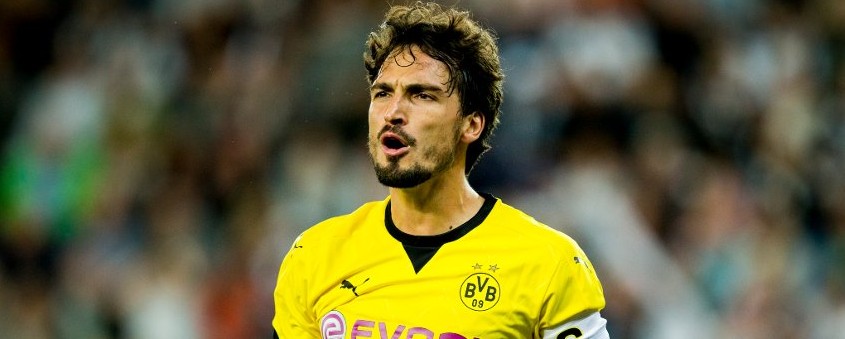 The Chief Executive Officer of the No.2 team in the German Bundesliga – Hans-Joachim Watzke – shared that everything between him and Borussia Dortmund's defender Mats Hummels is okay. This way he is considered to be trying to put an end to the rumours there is rift between them two.
The 26-year-old Hummels, who is also part of the national football team of Germany, has been put under a lot of criticism in the German media lately. The defender has been reported as a transfer target for two English teams earlier in 2015 – Liverpool and Manchester United, but no information about eventual negotiations has been revealed so far.
In October 2015, Hummels criticised some of his team-mates, which is why his relationship with Borussia Dortmund staff, including Chief Executive Officer Watzke, has been scrutinized. Earlier this week, Mats Hummels finally responded to public disapproval of media accusing him of having poor relationships with the Bundesliga's No.2 team.
There have been a lot of speculations about an approaching exit of Hummels from Borussia Dortmund, especially after pairing his name with some of the largest English teams.
Now Watzke defended the player, describing the massive criticism against Hummels as "unreasonably high". He also denied the speculations of a problematic relation between the defender and the club's staff. Watzke commented on Mats Hummels' qualities, calling him a "very decent guy" and describing him as a player of great importance for Borussia Dortmund. He also shared: "He is our captain. I have an excellent relationship with him."
The words of Chief Executive Officer Watzke were also confirmed by the head coach of the German team Thomas Tuchel, regardless of the fact that the centre-back is still being linked with Manchester United and Liverpool. Tuchel shared the sentiments of Borussia's CEO over the media conference he took part in ahead of the team's trip to Krasnodar as part of its Europa League fixtures.
Tuchel commented that he did not understand why the rumours in the media should have fill him with doubts if Mats Hummels is the most appropriate person for the capitan position in the team.
However, it still remains unknown if an exit of the 26-year-old player is really near.
Up to date, Borussia Dortmund keeps the runner-up position in the national Bundesliga after a total of 13 games. There is an eight-point gap between the leaders on the table Bayern Munich and the current No.2. The leader in the Bundesliga still remains unbeaten after winning 12 of their 13 matches so far.
(Visited 132 times, 1 visits today)