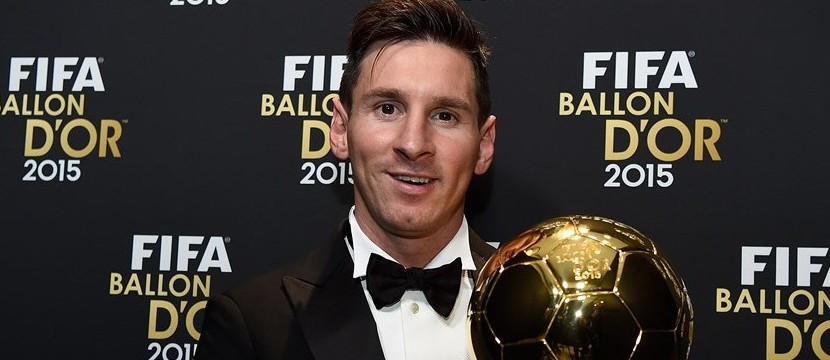 The star of Barcelona and the Argentina national team Lionel Messi was awarded the 2015 Ballon d'Or at a special gala in Zurich, beating his opponents Cristiano Ronaldo and Neymar. This is an unprecedented, fifth win of the prize for the 28-year-old Messi, who has also won the Ballon d'Or in 2009, 2010, 2011 and 2012.
The Barcelona forward had lost to Cristiano Ronaldo in both 2013 and 2014, but now Messi managed to break all the records by winning a fifth Ballon d'Or in his career so far. The top individual honour that could be granted by FIFA came to the player after a year in which his side won five trophies, including La Liga and the Champions League titles.
Over 2015, Messi scored a total of 52 goals and 26 assists in his 61 games for the Blaugrana and Argentina national football team, which makes him scoring a goal every 101 minutes and an making an assist every 202 minutes. The player was also involved in scoring 49 goals in La Liga, 34 of which scored by himself and 15 assists he took part in, not to mention he managed to find the net's back in all six club tournaments in 2015, with Barcelona winning five of them.
The 30-year-old Ronaldo managed score 57 goals in as many games in 2015 and has even scored 16 goals in the Champions League, but it turned out that was not enough for him to win a fourth Ballon d'Or. Messi's team-mate Neymar, on the other hand, became the first Brazilian to finish in the top three of the competition since Kaka won the award in 2007. He managed to net 45 goals in a total of 62 games and has also become a joint top scorer in La Liga in the current campaign.
Barcelona No.10 accepted the award saying it was a very special moment for him to be granted once again the most valuable individual honour of the International Federation of Association Football, especially considering the fact that he was present in the audience when Cristiano Ronaldo got the award two years in a row.
In his speech, Messi also said that getting the prize for a fifth time in his career was much more than anything he had ever dreamed of. The player also expressed his gratitude to everyone who had voted for him as well as to his team-mates.
Barcelona No.10 won by getting 41.33% of the vote. Cristiano Ronaldo was left in the runner-up position with 27.76% of the vote, while Messi's team-mate Neymar occupied the third position in the ranking after getting 7.86%.
The past eight awards have been won by either Messi or Ronaldo, making the competition more of a personal one.
(Visited 132 times, 1 visits today)