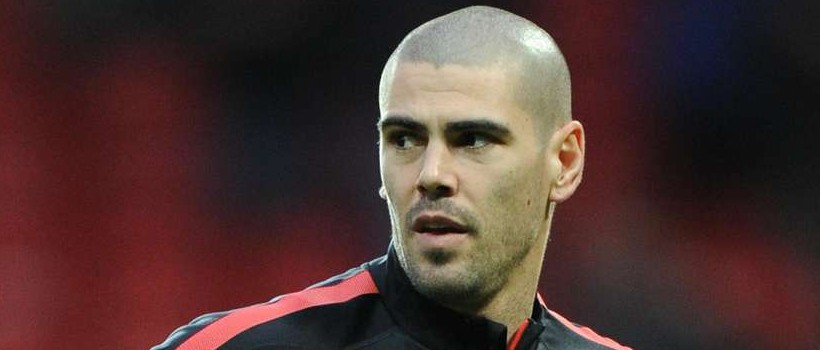 Victor Valdes, the Manchester United goalkeeper, is determined to terminate his contract with the Red Devils as soon as possible. The goalkeeper left Barcelona and joined United last year. However, he had a bust-up with the manager in the summer and soon, he was declared persona non grata.
The arguments between the goalkeeper and the Red Devils' manager created a lot of rumours and linked Valdes to Liverpool and Newcastle. For the time being, the Old Trafford club seems reluctant to part ways with him.
Last night Valdes tweeted that he did not want to disappoint those who want to see him playing again and said they were his motivation to continue his battle. He also added that his top priority was to continue enjoying his profession and currently, he was fighting to be free. In addition to his announcement, Valdes also attached a handwritten scrawl saying: "What doesn't kill you makes you stronger."
The tweet left no room for doubt that Valdes wants to leave Old Trafford. Although he remained tight-lipped about the argument with Van Gaal during the summer, he decided to use Tweeter to air his frustration. Interestingly enough, his tweet was liked by his teammates Herrera and Valencia, which immediately created speculations that the strict methods Van Gaal applies are not approved by some players.
Valdes joined United as a free agent in the summer as David de Gea understudy and he played an important part of United's squad especially at the time when de Gea was heavily linked with a move to Real Madrid.
After the bitter disagreement with Van Gaal, Valdes was frozen out. The reason for the disagreement was Valdes' refusal to play for the Under-21 side last season. According to the released information, Valdes is currently training with the academy but it does not look like Van Gaal is to consider him for the first team set-up anytime soon.
Valdes spent 12 seasons playing for Barcelona and made 387 appearances. He won the La Liga Goalkeeper of the Year award twice as well as Zamora Trophy five times.
Now, it seems the goalkeeper is absolutely prepared to leave Old Trafford and continue his career instead of riding the bench. According to reliable sources, Newcastle United have already targeted him. They are currently looking for a replacement of Tim Krul who was sidelined due to an injury. Although Newcastle is yet to release an official statement on the matter, they are said to be interested in signing Valdes in the January transfer window.
(Visited 69 times, 1 visits today)