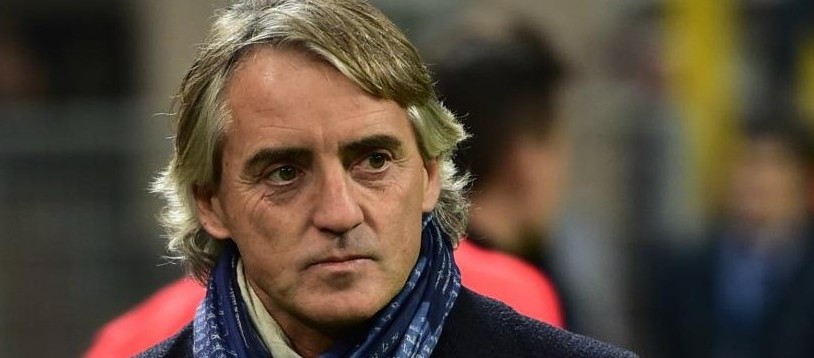 The head coach of Inter Milan – Roberto Mancini – has claimed he had become a subject to homophobic abuse and called Napoli's manager Maurizio Sarri a "racist" after the two of them clashed at their sides' Coppa Italia quarter-final game on Tuesday.
The game ended with a 2-0 victory for Inter Milan, after Stevan Jovetic and Adem Ljajic managed to net twice for the visitors over the second half of the match. This was only the second time when Napoli lost a game since August 2015.
The unfortunate series of events for Napoli was made even worse by the fact that Dries Martens got dismissed after earning his second yellow card. This all resulted into a clash between the two sides in stoppage time, when the managers of Inter Milan and Napoli clashed and exchanged some words before Roberto Mancini was finally sent to the stands.
Roberto Manchini managed to lead his side to the Premier League and FA Cup titles while occupying the position of Manchester City's manager in the period from December 2009 to May 2013. In a television interview following the match, he claimed that some unacceptable offensive qualifications had been used by his rival's head coach Sarri.
As already mentioned above, he called Sarri "a racist" and explained that such people should not be present in the football world. He also revealed that the insults had been heard by the fourth official at the field, but he had not reacted properly. Mancini got sent off, which in his opinion overshadows even the great performance of his side and makes the entire match an embarrassment.
Still, Inter Milan's head coach admitted that Sarri had tried to find him after the match was over and ask him for forgiveness. However, Mancini expressed his deep outrage with everything that happened at the pitch and commented that if such a thing had happened, Sarri would have never be allowed to enter a training pitch.
Napoli's manager Sarri also responded to the criticism and explained that he had never intended an offence. According to him, the argument had been something normal for two football managers on the touchline or at the pitch. He confirmed that he had offered an apology to Mancini in the locker room, but said that he had been expecting the same thing from the other coach.
Sarri explained he could not remember the exact words he used, but admitted it is "possible" he had used homophobic language, because he had been very angry. Napoli's coach said he had "nothing against Mancini", and he was just irritable without meaning no offence.
(Visited 140 times, 1 visits today)