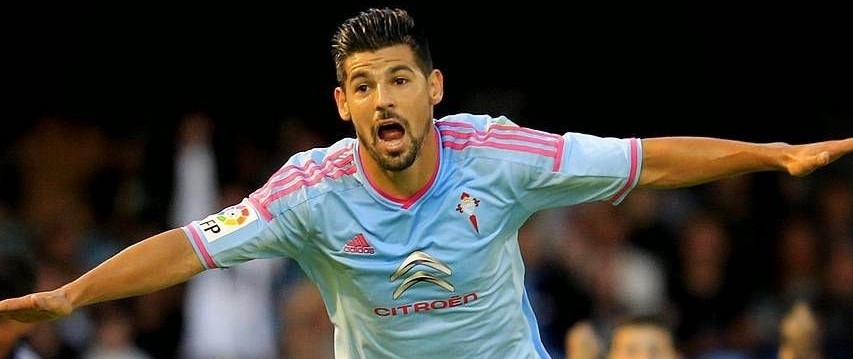 Nolito has denied speculations of his eventual return to Barcelona, saying he is happy with the club he is currently part of – Celta de Vigo. The 29-year-old player has been recently rumoured to be considering a return to Barcelona as he managed to attract Barca's attention back to him after netting seven goals in a total of 10 appearances over the current campaign so far.
The suggestions in the media reports said that the player's move to Barcelona had already been all but finalised. Celta de Vigo's manager, however, denied such rumours. Head coach Eduardo Berizzo said in an interview for a reputable sports media that he had received no news from his club that confirmed the speculations that Nolito is to leave the squad any time soon.
Manager Berizzo shared that these rumours were nothing new, because it was not the first time various media had been asking him for more information on the matter. He also said that the club would be forced to replace Nolito in case that such a deal finally went through, but once again claimed he does not know anything about an eventual transfer.
Apart from being in the ranks of Celta de Vigo, Nolito also plays in Spain national football team. He plays at the positions of midfielder and forward, but is currently sidelined due to suffering a hamstring injury. His great performance over the current season has provoked rumours that the player has been considering a return to Barcelona, but Nolito has said he has unfinished business at his current team, denying the speculations.
Nolito said that he feels comfortable exactly where he is now and does not have any plans. The player also shared that he is more than happy with the way Celta de Vigo fans treated him and expressed his hopes that the situation will remain unchanged for a long time.
The coach of Barcelona – Luis Enrique – is well-acquainted with the skills of Nolito since he have coached over the time the player spent in the club's B team that was then managed by Luis Enrique. Nolito made his debut as a senior player for Barcelona A team in 2010, but soon moved to the club of Benfica.
It was exactly the manager Luis Enrique who brought Nolito to Celta de Vego in July 2013. Since then, a total of 34 goals in La Liga competition have been scored by the player while being with Celta.
(Visited 65 times, 1 visits today)