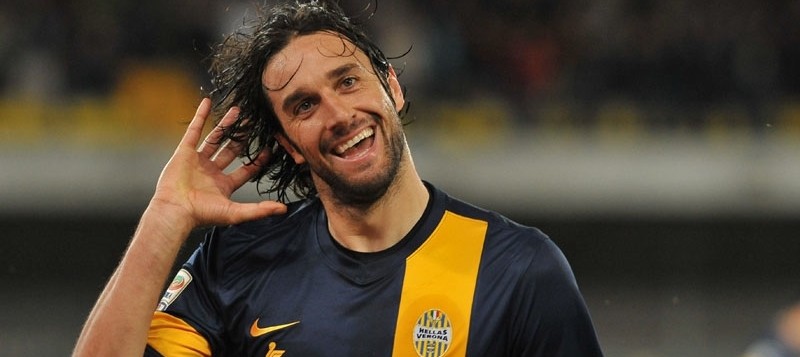 Luca Toni has announced that he intends to finally retire from professional football at the end of the current campaign. The striker expressed his hope that he would still be able to end his career after helping his club Hellas Verona in Italian Serie A.
The 38-year-old Toni has been sidelined for quite a long time over the season, due to an injury. He appeared in only seven games this season and has managed to score a single goal so far in the current campaign. In comparison, the striker has netted a total of 22 and 20 goals, respectively, in the past two season, which made him a joint-top scorer in Serie A over the 2014/2015 campaign along with Mauro Icardi. Now Luca Toni is considering whether the time has come to him to quit and put an end to his active sporting career.
After the Hellas Verona's 1-0 defeat over Empoli on Sunday, the striker shared with the media: "I think that maybe the moment has come for me to quit, celebrating it with a great survival with Hellas." He also explained that the club played "a good game", but the overall state of the team is not very good. Toni added that it was quite possible for Hellas to fight for its place in Serie A to the end of the season in case that things were going the same way as they currently did.
Currently, Hellas Verona occupies the 20th position in the country's Serie A. The Sunday win left the club four points above the bottom of the national championship's table.
So far, Luca Toni's goals turned out to be crucial for the team being ranked 13th in 2014/2015 campaign and the 10th position over the 2013/2014 season, respectively, which put the club away from any chances for relegation. Now, at a time when Toni has not taken part in the majority of the team's matches, the decreased number of goals have put the club in danger, making it struggle for form.
This is exactly why the forward, who is also a former player in Fiorentina and Bayern Munich, now hopes to help Hellas Verona maintain its positions in Serie A before retiring from playing career. The club has three remaining games to come before the winter break, which are expected to be quite tough for the team. First, Hellas is scheduled to visit AC Milan on December 13th. Then, the club visit Napoli in Coppa Italia Round of 16. The last game of the team before the winter break is against Sassuolo.
The striker has an amazing career, considering the fact that he won the 2006 World Cup with the national football team of Italy. He was also appointed as the Europe's top scorer in 2006. Two years later he lifted the Bundesliga title with Bayern Munich.
(Visited 156 times, 1 visits today)