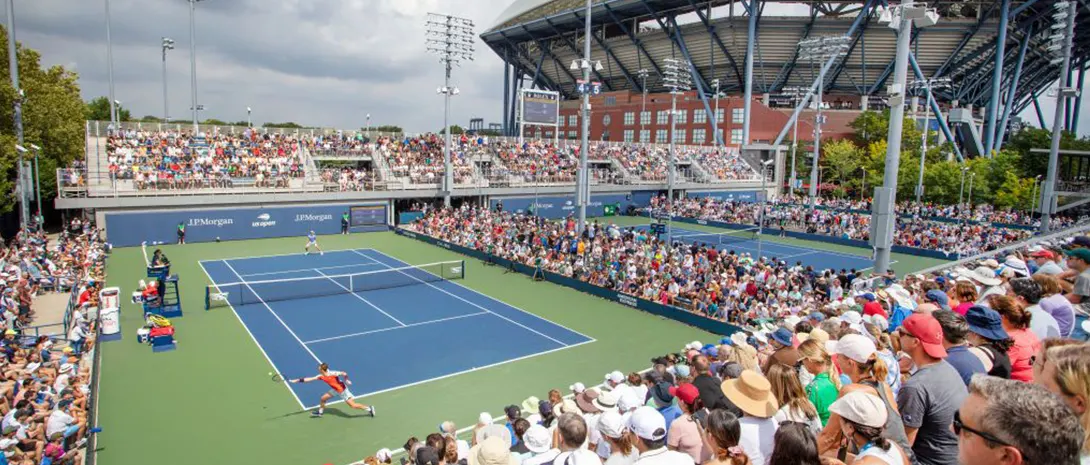 Key Takeaways:
A fan's collapse during the Madison Keys vs. Marketa Vondrousova US Open quarter-final caused a match delay.
New York is experiencing a severe heatwave, with temperatures reaching 100°F (37°C).
Daniil Medvedev expressed concerns about player safety in the extreme heat.
Despite the conditions, Medvedev won his quarter-final match but emphasized the challenges faced by players.
During the US Open quarter-final match between Madison Keys and Marketa Vondrousova, an unexpected incident unfolded that led to a temporary delay. This occurrence coincided with a persistent heatwave that has engulfed New York, resulting in scorching temperatures at Arthur Ashe Stadium, with the mercury soaring to 100°F (37°C).
As Keys and Vondrousova battled it out on the court in their last-eight match, the situation took an unexpected turn. A male fan collapsed in the stands, necessitating immediate medical attention. The match was subsequently halted for more than eight minutes to ensure the fan received the necessary care. The exact cause of the fan's collapse remained undisclosed.
"One player is going to die, and then they're going to see"

Daniil Medvedev had a strong message on the sweltering conditions during his US Open quarter-final match with Andrey Rublev 💬 pic.twitter.com/qvOLTFQ0Qa

— Sky Sports News (@SkySportsNews) September 7, 2023
Despite this interruption, Madison Keys managed to secure victory over her Czech opponent, Marketa Vondrousova, with a score of 6-1, 6-4. Her triumph paved the way for a semi-final clash against Aryna Sabalenka. Keys not only demonstrated her sporting prowess but also displayed kindness by offering water and towels to the affected fan. However, she remained focused on her tennis performance following her win.
New York you're loud and I ♥️ you! Semis tomorrow 💪🏽 @usopen pic.twitter.com/2kFj7H66NS

— Madison Keys (@Madison_Keys) September 7, 2023
In a separate quarter-final match, Daniil Medvedev, the 2021 US Open champion, delivered a stark warning to tournament organizers regarding the challenging weather conditions. Ranked as the world No.3, Medvedev expressed deep concerns, stating that a player
"is gonna die"
if the rising temperatures persist. These extreme weather conditions were expected to continue into the following day.
Medvedev's determination to overcome the scorching heat was evident in his quarter-final match against Andrey Rublev, which he won 6-4, 6-3, 6-4. He resorted to various tactics to combat the extreme heat, including removing his shirt and using a towel to cool down. Additionally, he required the use of an inhaler to manage the challenging conditions.
The Russian player's post-match comments underscored the severity of the situation, as he stressed the physical toll the extreme conditions had taken on both competitors. While Medvedev emerged victorious, he described the match as
"brutal"
and highlighted the considerable challenges faced by all players.
Who is showing up on Sunday? pic.twitter.com/pHARwxwJvV

— US Open Tennis (@usopen) September 7, 2023
As the US Open continues, the safety and well-being of players remain paramount, with organizers closely monitoring the impact of the ongoing heatwave on the tournament.
(Visited 12 times, 1 visits today)