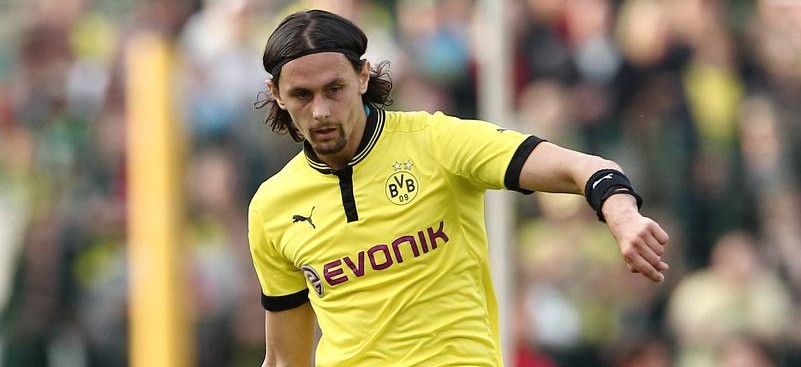 Borussia Dortmund's defender Neven Subotic, who has been rumoured as a transfer target for Liverpool, has not eliminated the chance to leave the German No.2 team this winter. The Serbian has successfully returned to the starting eleven of the club over the weekend for Borussia's match against Wolfsburg.
The 26-year-old player came back to play in the national Bundesliga since his side's 4-0 victory over Ingolstadt on August 23rd. Borussia Dortmund's managed to beat Wolfsburg 2-1 on Saturday. Subotic's presence in the game was rumoured to be due to the absence of the centrebacks Sokratis Papastathopoulos and Mats Hummels.
Last week, the sporting director of the Bundesliga's No.2 team Michael Zorc admitted that the defender was not happy because of him lacking match action under Borussia Dortmund's new coach Thomas Tuchel. After the match on Saturday, the player himself shared that there was little reason for him to believe his prospects have improved.
Zorc also explained that the team plans to hold negotiations with Subotic over his future in Borussia Dortmund, saying that they plan to "sit down and discuss the situation." In addition, the sporting director of the German club denied rumours that the team could make an active effort to sell Subotic. According to him, there is no reason for such a step at this stage.
Neven Subotic told reporters he would like to believe that one match would catapult him from the bottom to the top, but "reality looks different." Still, he explained that this is not the right time for "transfer thoughts", because the German No.2 still has several matches left until the winter break.
Lately, the defender has been associated with an eventual transfer to Liverpool. According to speculations, such a possibility is becoming even bigger now, considering the recent appointment of former manager of Borussia Dortmund Jurgen Klopp at the position of head coach at the Premier League team.
Borussia had experienced a tough clash with Wolfsburg over the weekend. The first goal for Borussia Dortmund was scored by the attacking midfielder Marco Reus in the first leg. The result was made equal by Ricardo Rodriguez after a penalty in the 91th minute. Shinji Kagawa netted the second goal for Borussia less than two minutes later to close the match at 2-1 for the Bundesliga No.2 club.
The dramatic 2-1 victory over Wolfsburg over the weekend put Borussia Dortmund closer to the current Bundesliga leaders Bayern Munich. The No.2 club managed to decrease the gap to the first place in the national championship's table to five points only. The team now has 35 points out of 15 games.
(Visited 257 times, 1 visits today)