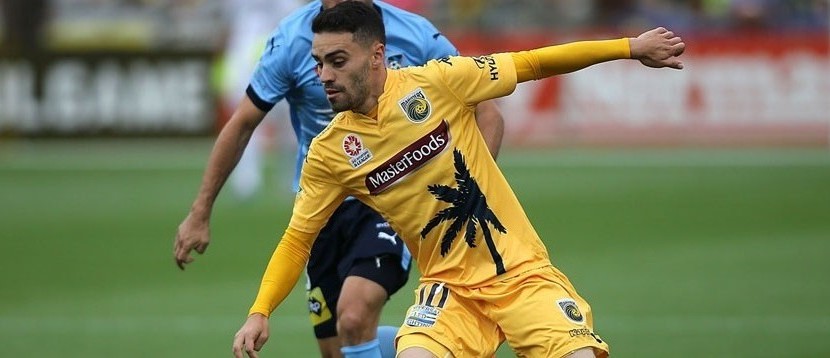 Manchester City have reached an agreement to sign a contract with the playmaker of Central Coast Mariners Anthony Caceres. The news of the transfer has been confirmed by the Australian club on Friday morning.
According to a statement published on the A-League side's official website, the club has agreed the terms proposed by Manchester City for the move of the player. The transfer to the Premier League club will take immediate effect, but the player is yet to be capped by his national football team at senior level.
Caceres is to become the second Australian player who has been purchased by Manchester City after Luke Brattan, who joined the team in October 2015.
The 23-year-old midfielder has demonstrated great form over the current season, while he has regularly entered the field for the club. The player has shown excellent qualities and good technique, which turn out to be attractive for the current No.3 in the Premier League.
The manager of the Central Coast Mariners – Tony Rallis – has also revealed that their side had been approached by Manchester City earlier this month seeking to negotiate a potential transfer for Caceres. The club called the midfielder "a product" of the club's Foxtel National Youth league and revealed that he is to join the great number of players who move from the squad to the global football stage.
The first professional contract of Caceres with the Mariners was signed in 2012. He has been constantly improving his skills and demonstrated amazing form over the 2014/2015 campaign, which ended with the midfielder winning the 2015 club's Medal. The midfielder made a total of 62 appearances for his side within the A-League.
The current manager of the team – Tony Walmsley – who was the one responsible for the Australian team to sign with the player in the first place, has been reported to be looking forward to seeing Caceres reach his full potential at a whole new level. The head coach of the Central Coast Mariners commented on the transfer news, saying that his side should celebrate every time when their players are sold to bigger clubs. According to Walmsley, such transfers should be one of the prior intentions of the squad.
Walmsley also said that Anthony Caceres' potential was obvious the first time he was brought to the Australian club. The manager believes that the current transfer demonstrates the midfielder's progress and comes as a proof that "young aspirational footballers" must be given a chance.
(Visited 97 times, 1 visits today)