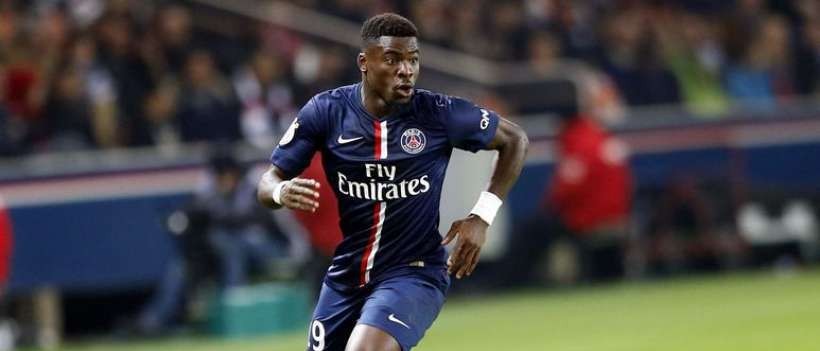 Paris Saint-Germain have officially announced that the 23-year-old full-back Serge Aurier has been imposed a suspension for an unspecified period of time due to the fact he insulted the club's manager Laurent Blanc and several players.
Aurier, who is also part of the Ivory Coast national football team, would not be entered in Paris Saint-Germain Champions League Round of 16 first-leg against the team of Chelsea that is scheduled for February 16th. The 23-year-old defender has been imposed a disciplinary punishment for insulting Blanc and a number of team-mates, including Zlatan Ibrahimovic, Salvatore Sirigu and Angel Di Maria over a live Periscope session.
The video has been quickly circulated by various local media outlets, after which Aurier was reported to be absent from Sunday training with his side. Paris Saint-Germain confessed that the behaviour of the player is being investigated. According to the club's statement, the video contains unacceptable comments made from the defender towards some of his team-mates and manager Blanc.
The truth is that Serge Aurier has been demonstrating impressive qualities as a right-back over the current campaign. Unfortunately for him, some disciplinary proceedings have been opened against the player, who have been suspended indefinitely after some discussions with the president of Paris Saint-Germain Nasser al-Khelaifi.
The club's president also took part in the French Champions' statement, saying that the players actions would not be allowed to hurt the squad in any way or make it unstable. He also explained that he would not allow anyone to distract Paris Saint-Germain from their goals.
According to the official club's statement, the player would also not be included in the squad for the Champions League first-leg game against Chelsea. The French grand expressed their "full support" for Laurent Blanc and all players who could have felt offended by Aurier remarks, which have been described as quite different from the club's values.
The player himself apologised for what he have done in a video uploaded on the French Champions' website. Aurier said he had done "something really stupid" and asked for forgiveness not only his team-mates and manager, but also the entire club and their supporters. The defender also said that he owed the biggest apology to his coach and shared he felt thankful for everything Blanc had done for him since the player's arrival at the ranks of Paris Saint-Germain.
Aurier also revealed that he would accept all punishments that the club could impose on him as a result of his stupid and unforgivable act. He explained that he was ready to take full responsibility for the consequences of his actions.
This is not the first time when Aurier has made forthright remarks. In 2015, he was forced to make an apology for his comments about referee Bjorn Kuipers in his side's Champions League's match against Chelsea. Later, UEFA imposed him a suspension for three games due to the comments that Aurier had made in a video uploaded on the social media.
(Visited 163 times, 1 visits today)