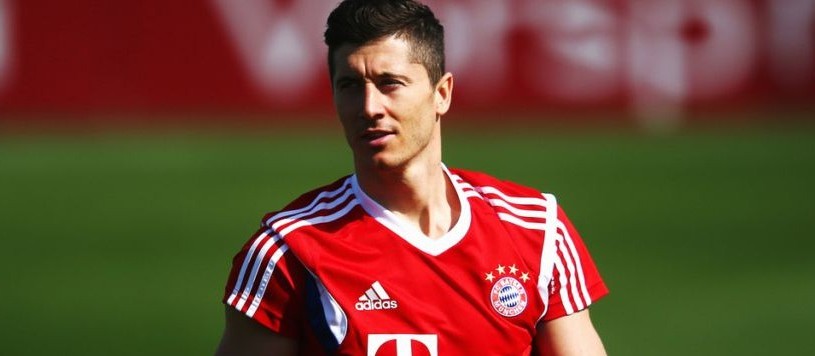 Bayern Munich have managed to restore the eight-point gap between them and the current runner-ups in the Bundesliga table with their 3-1 victory against FC Augsburg.
The squad, leaded by manager Pep Guardiola, won the match after two goals scored by their star Robert Lewandowski who netted his 20th and 21st goals in the current campaign, while the third goal came from Thomas Muller.
FC Ausburg was not a serious threat to Guardiola's men, especially considering the fact that Raul Bobadilla managed to strike a late goal, leaving his side only a point clear of the relegation zone right before Ausburg's visit of Liverpool in their UEFA Europa League Round of 32 second leg on February 25th.
On the other hand, the players of Bayern Munich entered the field wearing special shirts to support the injured defender Holger Badstuber, who has been sidelined once again due to suffering a series of traumas. His place has been taken by David Alaba to bolster Bayern Munich's defence alongside Joshua Kimmich.
The most important part of the Sunday game was the fact that it was exactly Bayern Munich who set the tone of the match. Both Lewandowski and Muller demonstrated great form and decisiveness by scoring a total of three goals. The strong attacking line made it hard for Augsburg who defended desperately in order for them not to allow another goal.
Unfortunately for Bayern Munich, their troubles associated with players' injuries spread throughout both halves of the game. Over the second half, Arturo Vidal was sidelined after being knocked to the head, while David Alaba lost a tooth in a clash for the ball. The latter, at least, was able to return to the bench and watch the match until the end.
The 24-year-old Spanish midfielder Thiago Alcantara also demonstrated not only great technical skills but also qualitative collaboration with his team-mates. The men of Pep Guardiola proved as focused on the game and ready to pursuit the victory until the very end.
Still, there was little for Ausburg to celebrate, with the late goal of the Argentinian forward Raul Bobadilla. Unfortunately for Markus Weinzierl's men, the only goal of their side came as a little consolation after they have been defeated 3-1 by Bayern Munich.
The German grand still occupies the first position in the Bundesliga table, with an eight-point lead over the second in the ranking – Borussia Dortmund. FC Augsburg, on the other hand, is now 14th in the Bundesliga, and only one point above the relegation zone line.
(Visited 313 times, 1 visits today)