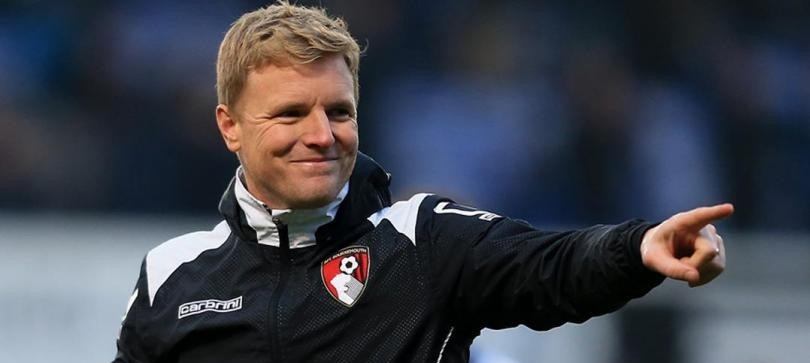 The manager of Bournemouth Eddie Howe has revealed that he does not feel quite comfortable with the club spending big money over the January transfer window. Big expenditures on new players come at a time when the club is trying to make its squad stronger hoping to retain their place at the Premier League.
Bournemouth were threatened by extinction in 2008, and now occupy the 16th position in the Premier League table. The club has managed to recently break their team's transfer record as it has been primarily focused on new additions. Benik Afobe has recently joined the club's rankings from the Wolverhampton Wanderers in a £11-million deal. Then, Bournemouth spent a further £7 million in order to bring back Lewis Grabban.
One of the new additions – the 22-year-old striker Afobe, who has scored 23 goals in a total of 48 appearances for Wolverhampton Wanderers, entered the field in Bournemouth's outfit for the first time in the club's 3-1 defeat against West Ham that took place on January 12th. Grabban, on the other hand, started as a substitute over the second half of the game.
Premier League No.16 seemed decisive on their course to beat the team of West Ham on Tuesday, especially after midfielder Harry Arter managed to score his first goal in the League after only 17 minutes of play. Unfortunately for Bournemouth, a fantastic second half followed for West Ham.
These are not the only players who joined the ranks of Bournemouth recently. The 22-year-old midfielder Juan Iturbe has joined the club from Roma on loan until the end of the current campaign. The club's manager Howe has also been reported to be interested in signing Hull City defender Michael Dawson and Norwich goalkeeper John Ruddy.
However, Howe has shared that spending so much money on new additions of the team had felt uncomfortable for him. This is Howe's second spell at the Premier League club, after spending there a period of three years between 2008 and 2011. He was in charge of the club at the time it was placed into administration for a second time in its history and was imposed an embargo over transfers eight years ago. His second spell at Bournemouth started in 2012 after serving in Burnley for about a year.
The head coach shared that he feels responsible for every penny spent and is focused on making good decisions for his side not only for the current moment, but also in the long term. He also commented that looking beyond this campaign is very important, and expressed his hope that the club has gotten the major decisions in the best possible way.
(Visited 102 times, 1 visits today)